Salesforce TrailblazerDX 2022 Opens with Flow, Slack, MuleSoft and Tableau News
Setting itself apart from other online-only 2022 developer confabs, Salesforce this week welcomes the Trailblazer faithful to TrailblazerDX 2022 at San Francisco's Moscone Center for a two-day conference. Along with hosting a conference for thousands of users and dozens of independent software vendors, Salesforce today announced a bevy of developer-related product announcements. Updates to the company's low code automation tool, Flow, received the most attention. Other announcements included new Force.com integrations for Slack, new MuleSoft API management and tooling offerings, and a new ability to embed Tableau insights into web apps.
At an earlier press conference, Salesforce co-founder and CTO Parker Harris positioned these efforts around the company's Customer 360 data platform efforts. Referring to using Salesforce clouds, Tableau, Slack and MuleSoft together Mr. Harris said, "How are we going to bring these systems together? We want to solve problems quickly and deliver incredible experiences for the end user. A little moment of magic makes all the difference." Most of the new features announced by Salesforce today will be available in beta in the summer of 2022 and generally available in October 2022.
Flow Takes Center Stage
Doubling down on Flow, the company's popular low code authoring tool, Salesforce made several announcements that clearly positions Flow as the go-to solution for business creators who compose business automations. Flow in Slack allows Flows to run inside of the Slack user interface. Flow Actions in Tableau lets Tableau users launch Flows directly from a Tableau dashboard. In addition, Salesforce announced Flow Orchestration which uses automation to support multi-user and long-running flows. Hooks to the robotic process automation (RPA) features of MuleSoft RPA are also now available as Flow RPA.
Salesforce says their customers love Flow because it saves them time. "Our customers save 109 billion hours every month using Salesforce Flow to automate manual processes in their businesses. This frees up time for employees to focus on higher value work," said Patrick Stokes, general manager, and EVP of Salesforce Platform in a press release.
Slack Gets Deeper Force.com Hooks
Salesforce is getting serious about Slack integration. At TrailblazerDX the company announced Salesforce Platform for Slack. It is a toolkit and integration platform designed to ease integration activities between Salesforce and Slack organizations. The platform automatically facilitates messaging between Slack and Salesforce, eliminating the need for users to craft middleware integrations.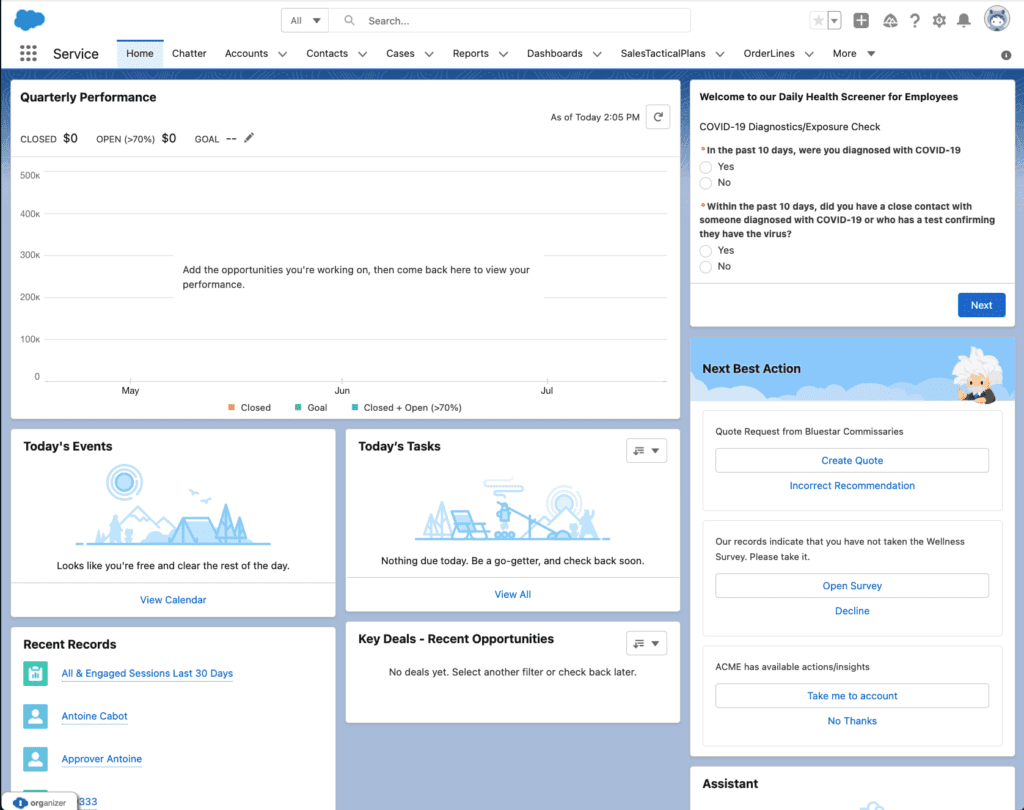 Besides Flow in Slack, the company announced Apex SDK for Slack. This new toolkit allows developers to write Slack integrations in Apex and automatically generate Block Kit code.  During the press conference, Tamar Yehoshua, Slack chief product officer, said the company used Flow for Slack and Apex SDK for Slack to develop new Customer 360 applications. Sales Cloud for Slack, Service Cloud for Slack, and Marketing Cloud for Slack are new Slack applications for group decision making, such as "swarming" a case in Service Cloud.
MuleSoft Advances API Management
There were several Anypoint platform announcements by MuleSoft. In a major departure from its existing Anypoint Studio product, MuleSoft announced Anypoint CodeBuilder, which is a new cloud service based on Microsoft VS Code.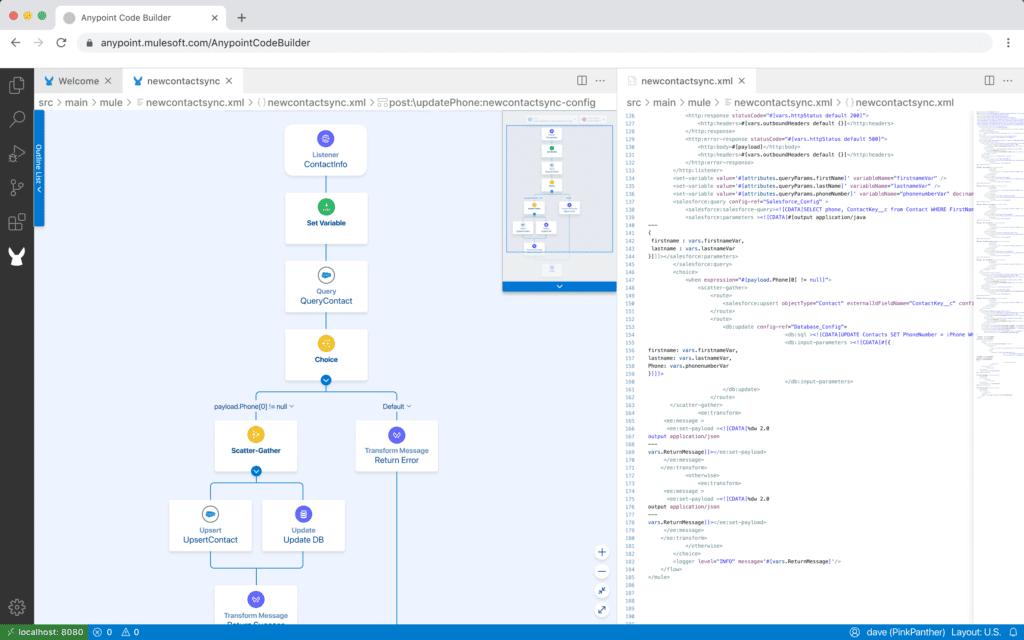 The new service will let users compose an application, service, or customer experience. The new IDE will let developers start quicker with built-in recommendations at design time, according to the company.
MuleSoft sees itself at the center of bringing in API resources to a Salesforce Customer 360 data platform. Shaun Clowes, MuleSoft chief product officer, said "APIs let people work together without being bound together."
Tableau Insights Get Embedded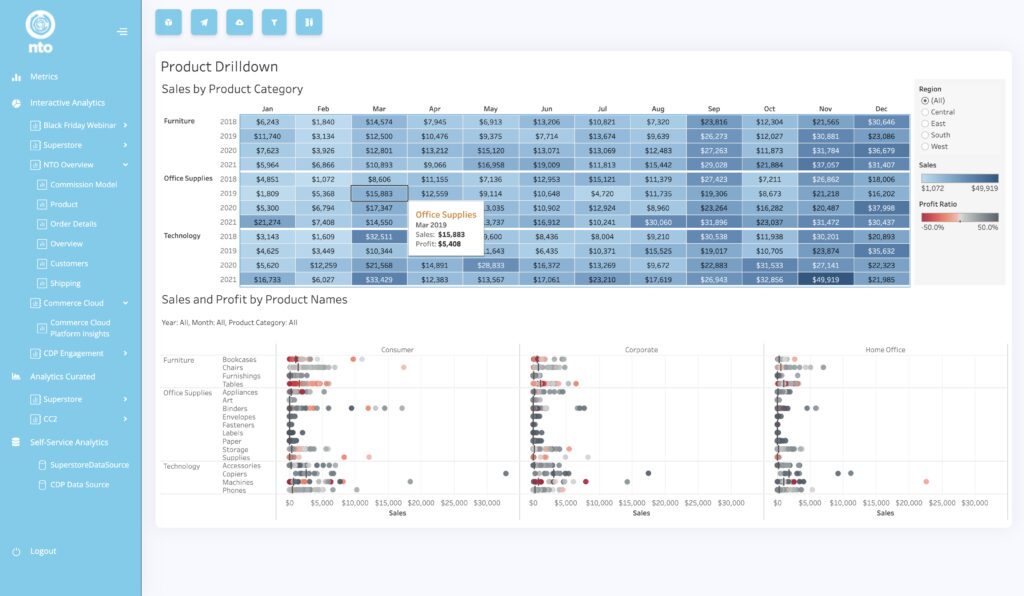 Salesforce analytics tool Tableau announced Web Data Connector 3.0, a new API for embedding Tableau insights into web applications, and integration of Flows into Tableau dashboards. "Developers are having a hard time embedding analytics. We are now making it easier for developers to infuse analytics and unlock the value of all their data," said Francois Ajenstat, Tableau chief product officer.
Multi SaaS Integration Improves
As Salesforce has added revenue and major user bases via acquisition in the last few years. But any attempts to provide an integrated development and architectural view of the different clouds have been lackluster.
At TrailblazerDX 2022 the company has made strides in multi-cloud integration. Flow improvements provide technical touchpoints between the clouds, which allows users to improve their automation efforts. And adding an Apex toolkit for Slack should help customers better use existing Salesforce customizations and data within Slack applications. Tableau API improvements should also let customers improve the use of intelligent insights into data. And improvements to MuleSoft API management and tooling should speed up the MuleSoft user experience.
But there is a crisis looming on the horizon, and it's not just Salesforce's problem. The cognitive load demanded of enterprise developer teams is overwhelming because of the crush of multi-SaaS capabilities. Salesforce platform can now be seen as five, loosely connected major SaaS systems. And MuleSoft as a gateway to dozens, if not hundreds, of APIs. Each SaaS system or API added to an enterprise's palate of options adds to the cognitive load borne by app creators.
The announcements made at TrailblazerDX 2022 helps to steer Salesforce away from being a software conglomerate. . Let us hope that the company innovates further to lower the cognitive load required by business app creators who make multi-cloud solutions.