Prodly DevOps Adds ALM and Integrates with Salesforce DevOps Center
Prodly, a leading Salesforce devops platform vendor based in Palo Alto, California, last week announced work management upgrades to its existing Prodly DevOps suite. The company also announced that Prodly DevOps may now be integrated with Salesforce DevOps Center. "Pairing work management with sandbox management and release management, gives decision makers visibility and control over what is getting built and why. Our integrated solution eliminates waste in the change management process, which enables customers to accelerate time to value, reduce costs, and deliver higher-quality solutions for the business—all while remaining in regulatory compliance," said David Clark, vice president of product at Prodly in a press release. The new work management features and Salesforce DevOps Center integration is immediately available.
Devops Is All About Management
I often hear people saying, "how do you do devops?" People say this instead of what we really mean, which is "how do you manage all the crazy pieces that work together to deliver your app?"
That is why I like to say that the people driving the devops effort in your organization are running a devops management program. And a key to running a management program today is having the right tools in place. That is where Application Lifecycle Management (ALM) tools like Atlassian Jira usually come into play. Jira, along with many other tools, emulate the Agile-inspired system of Epics, User Stories and Work Items to help keep things organized.
Prodly DevOps Adds ALM Services
Prodly now has a built-in ALM system. It does a base-level of tracking and management of projects and work items using the Agile-like work unit designations. "With these new integrations, Prodly provides greater flexibility and control over the full Salesforce DevOps workflow from a single pane of glass," the company stated in the press release.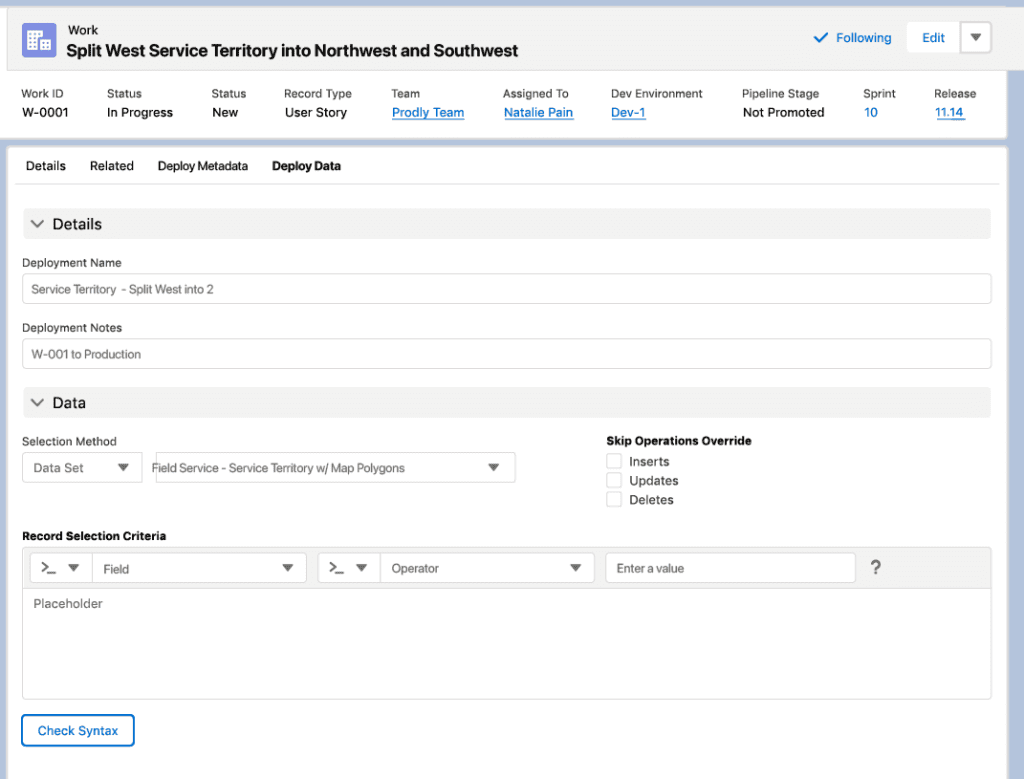 Salesforce DevOps Center Integration
Prodly is the first Salesforce devops platform vendor to integrate some release management functions with Salesforce DevOps Center. DevOps Center is not at all a Salesforce devops platform. It is a new way for Salesforce admins to command org release activities. Using branch-based source code management and GIT, Salesforce DevOps Center lets admin deploy org changes with a click, instead of using change sets.
DevOps Center works as a managed package. To achieve external integrations to vendors like Prodly, Salesforce allows vendors to read and write to the custom objects in the Salesforce DevOps Center package. To achieve the integration Prodly uses its new Work Management features to organize org modifications into a work item. Those items can then be loaded into Salesforce DevOps Center and run by an admin. This integration should allow Prodly users to take advantage of Salesforce DevOps Center, and it should provide a path for DevOps Center users to upgrade to Prodly.
Prodly Continues to Round Out Offerings
Prodly is the little engine that could in the Salesforce DevOps world. They have a long history of talking to their customers and listening to specialized needs. That is how they gained a foothold in the industry by focusing on CPQ, B2B commerce, and other types of ecommerce deployments. By managing all the ancillary data needed for a complete ecommerce application, Prodly has met with market acceptance.
These latest moves by Prodly show that they are paying attention to the general needs of the Salesforce devops marketplace. Adding better management and integration with a mainstream deployment tool shows they are listening to customers. And these moves should increase attention paid to Prodly by larger and more mainstream Salesforce customers.