Copado Fall Release Improves Testing and Integration
Copado, the market leader in Salesforce devops based in Chicago, last week announced the Fall 2022 Release of the Copado platform. The release further integrates Copado Robotic Testing into the platform, introduces a new Quality Automation Framework, and launches a community effort called DevOps Exchange. "In order to achieve continuous quality, testing has to be accessible to both citizen and professional testers," said David Brooks, senior vice president of product at Copado. "Copado has introduced a new click-based test creation and editing capabilities to improve collaboration across delivery teams. Businesses should shift-left and shift-right on testing to improve efficiency and achieve speed, security and quality," continued Mr. Brooks in a press release.
Fall Release Overview
David Brooks and vice president of product marketing Glenn Rhodes recently posted a video on the Copado YouTube channel. It goes over most of the product release and features an informative presentation by David Brooks.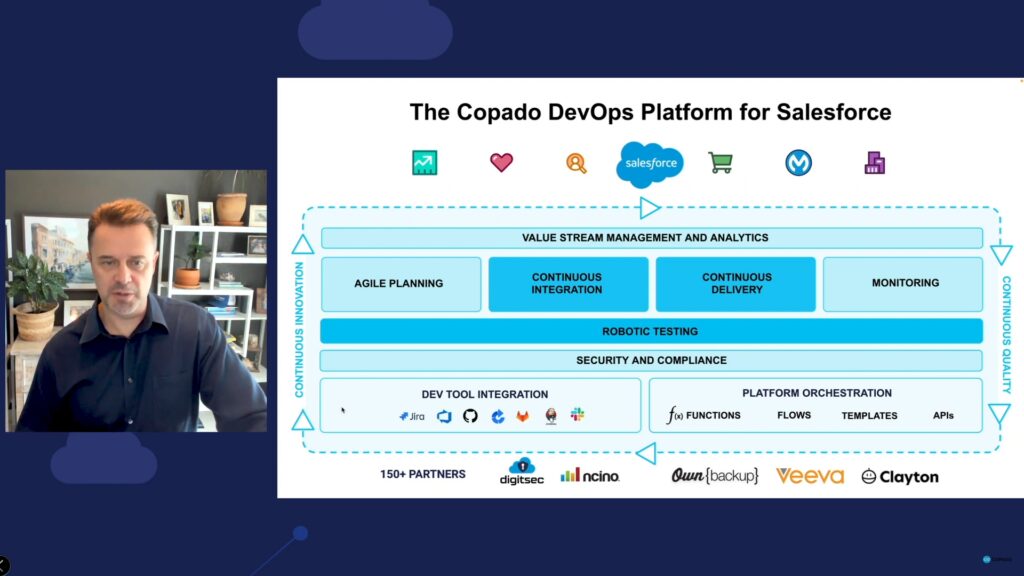 A theme in the presentation was that Copado is in the second year of extracting a devops solution implemented on top of Salesforce. Now, Copado feels like they have fully extracted their release management and devops platform. This now enables Copado to work on other SaaS systems such as ServiceNow and NetSuite.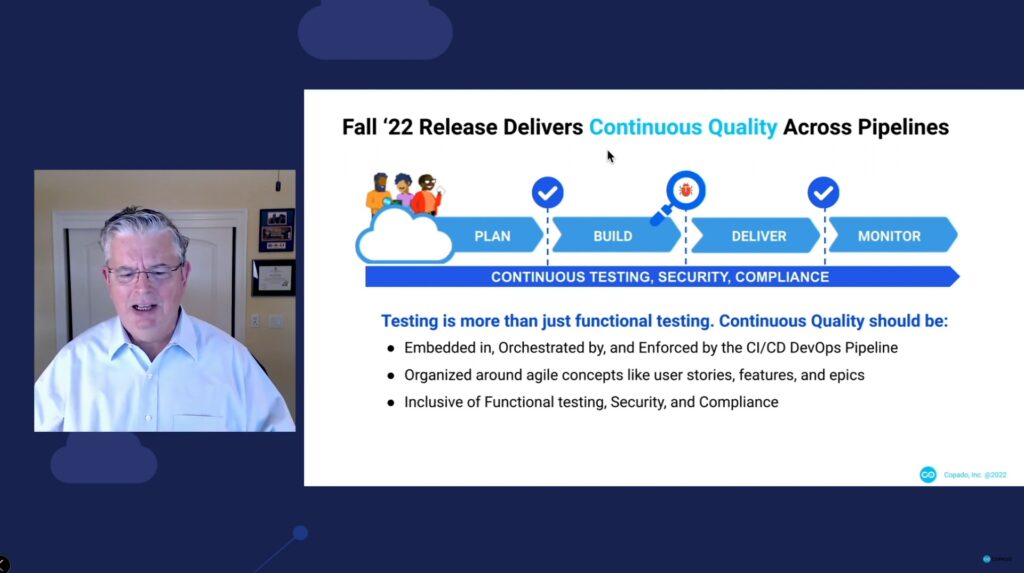 A strong theme within David Brooks' presentation was the need for continuous testing to be part of the Salesforce devops lifecycle. It is true that testing, until recently, has been the realm of Quality Assurance (QA) teams. QA Teams have specialists that can test web applications with tools best used by engineers.
Copado, with its Copado Robotic Testing service, aims to let anyone integrate testing into a Copado workflow. And since the service works on any web application, the company emphasized how testing can now be integrated into SAP, ServiceNow and other SaaS deployments.
The test flows described in the presentation are well-supported within Copado because of existing Application Lifecycle Management (ALM) features. Copado already organizes work into epics, user stories and work items. Now with integrated testing, test definition and execution can be integrated as well.
Quality Integration Framework
Mr. Brooks described the Copado Quality Integration Framework as a way for 3rd party systems to add functionality to a Copado release management pipeline. For example, DigitSec, a developer cybersecurity service provider, iintegrates directly into Copado pipelines using the Framework.  The goal is to make it easier for 3rd party services to plug into the platform.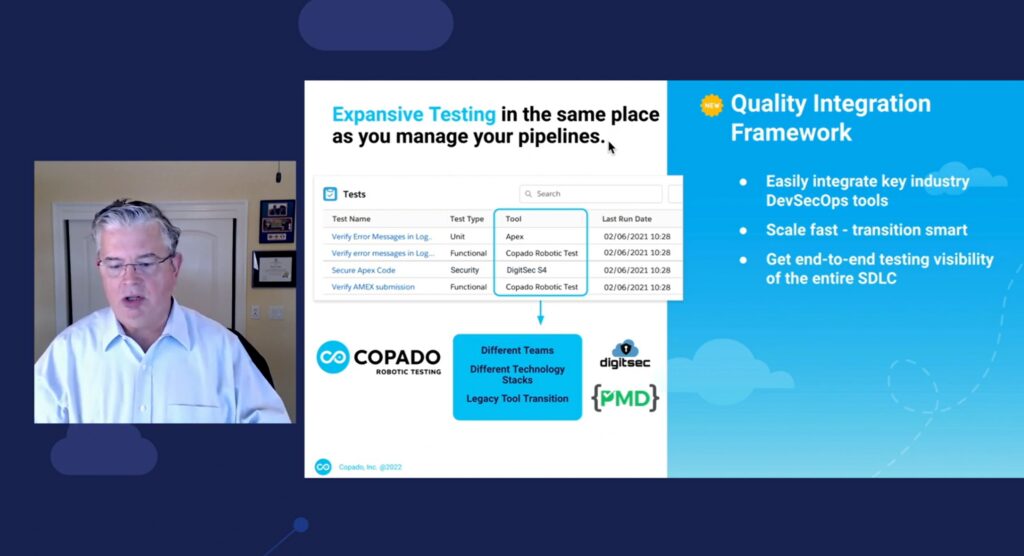 Other Release Highlights
Mr. Brooks shared several more release highlights in the presentation. There is a new "No-Code Flow Editor" for testing which "enables a noncoder to run through a process along the way and drag and drop changes just like building flows."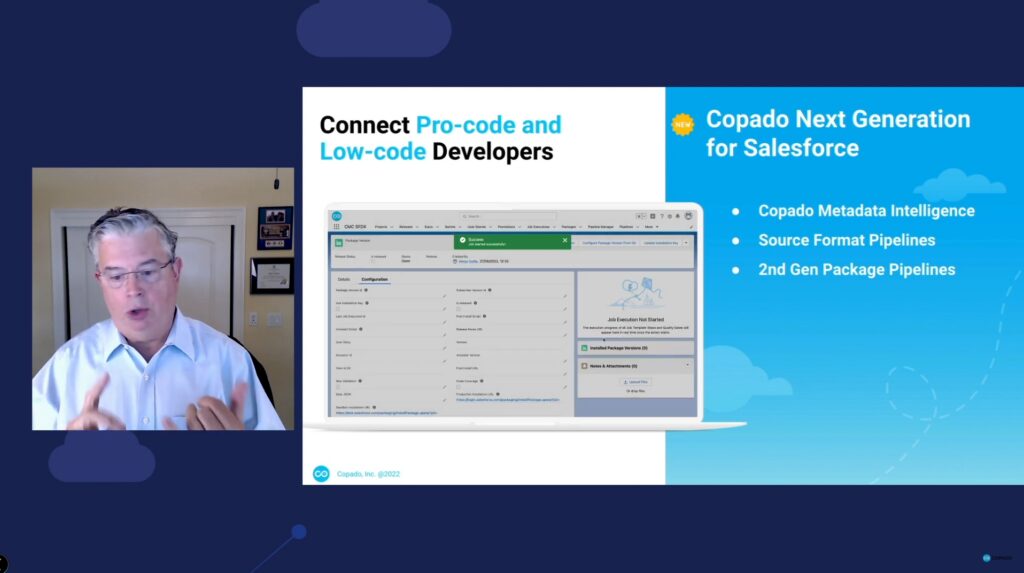 The presentation also discussed some roadmap items. The "next generation of Salesforce support" is how metadata intelligence drives much of the innovation on the Copado platform. Source format pipelines are a new way to move code through a coordinated development scheme. Some innovations along the lines of supporting 2nd Generation Packaging and migration were also described.
New – Copado DevOps Exchange
Perhaps the most ambitious effort described in the presentation is the new Copado DevOps Exchange. With this effort the company wishes to forge an open source-oriented community of developers and users. The Exchange is a place for Copado employees, customers, partners, and system integrators to share Copado solutions.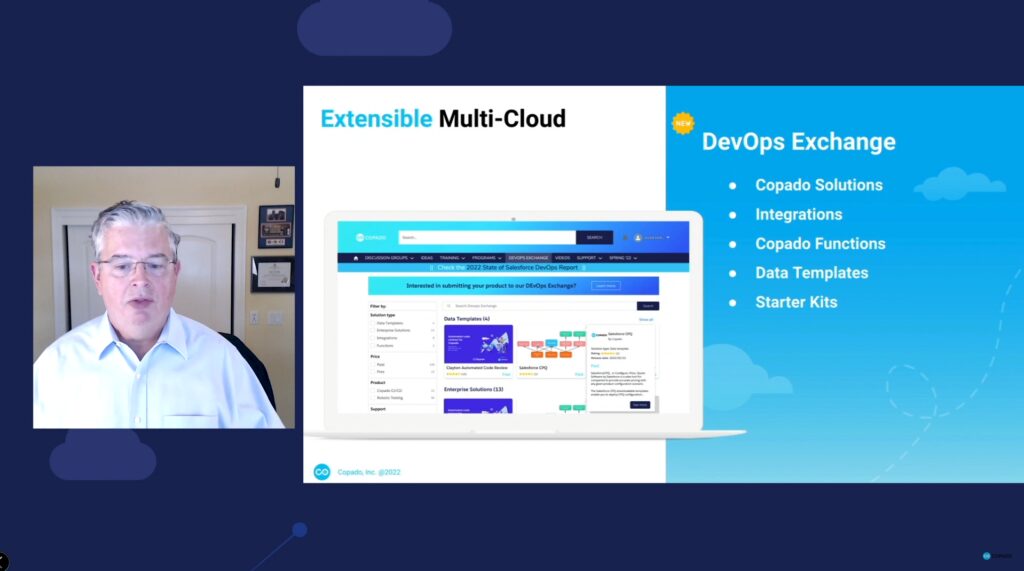 The Exchange will share complete Copado solutions and starter kits, integrations, and Copado Functions.
Still the Biggest Salesforce Devops Platform
With this Fall Release in time for Dreamforce 2022, Copado maintains its leadership position in the Salesforce devops platform ecosystem. By continuing to deliver on promised architectural advancements, providing a better-defined 3rd party ecosystem, and even valiantly establishing a DevOps Exchange, Copado does not seem content to rest on its laurels.