Salesforce Genie Seeks to Grant Magical Experiences
Salesforce (NYSE: CRM), the global leader in CRM, today announced Salesforce Genie to claim the intelligent data layer. "Every business leader wants to take advantage of real-time data to create compelling, personalized customer experiences — milliseconds matter in this new digital-first world," said Bret Taylor, co-CEO, Salesforce. "That's why we built Salesforce Genie, our most significant innovation ever on the Salesforce Platform. Genie makes every part of Customer 360 more automated, intelligent, and real time," continued Mr. Taylor in today's announcement. "Genie is the platform for delivering magical customer experiences," said David Schmaier, chief product officer and the new president of Salesforce at a press conference held at Salesforce headquarters in San Francisco.
Wishing For Customer-Centric Data Harmony
In many ways, Salesforce Genie is yet another iteration of connected data in the cloud. The industry has a 30-year history of working on the "swivel chair problem" in data management. In idea started in the mid-1990's when Marc Benioff, Larry Ellison, and others at Oracle conceived of a universal database "in the sky." At the time, people envisioned a single copy of every bit of data as hyperlinkable and could be viewed in "a single pane of glass."
Well, according to recent MuleSoft and Deloitte Digital research, we aren't doing very well at connecting everything in 2022. Enterprises surveyed had an average of 976 separate applications to run their business!
And making those connections and putting data in the hands of customer service representatives is a critical focus of today's organizations. The quantity and variety of data being ingested by organizations is only mounting. And there are plenty of "data intelligence" competitors using artificial intelligence (AI) to ingest, analyze, and run reactive models. This explains the high valuations placed on Snowflake (NASDAQ: SNOW) and private companies like Fivetran and Databricks.
How Salesforce Genie Works
Salesforce Genie is a cloud native, proprietary Salesforce service formerly known as Salesforce Customer Data Platform (CDP). Salesforce says Genie is "the heart of real-time Customer 360. Genie ingests and stores real-time data streams at massive scale and combines it with Salesforce transactional data. Genie includes built-in connectors that bring in data from every channel (mobile, web, APIs), legacy data through MuleSoft, and historical data from proprietary data lakes."
Furthermore, "Genie transforms and harmonizes the data into a real-time customer graph – a unified customer profile record. Because Genie is built using the Salesforce metadata model, everything in the customer graph is visible and actionable across the entire Customer 360, every industry solution, AppExchange, and custom apps," the company said in today's announcement.
Salesforce Genie promises to trigger Flows in real-time, and Einstein AI will instantly make predictions from new data. A "bring your own AI" feature lets you use Amazon SageMaker instead of Einstein.
Each Salesforce cloud needs a Genie adapter. So, we now have Sales Cloud Genie, Service Cloud Genie, Marketing Cloud Genie, Commerce Cloud Genie, Tableau Genie, MuleSoft Genie, and Slack Genie. Genie adapters for Salesforce Industries are also available.
Salesforce Genie Partner Ecosystem
Salesforce and Snowflake last week announced a new partnership where Salesforce will provide real-time, zero-copy access to Salesforce cloud data via Salesforce Genie. The company also announced a new Salesforce Genie gallery in the AppExchange. The new gallery has 17 initial partners, including Snowflake, Amazon, and Meta (Facebook) advertising. Snowflake also has a major presence at this week's Dreamforce customer conference.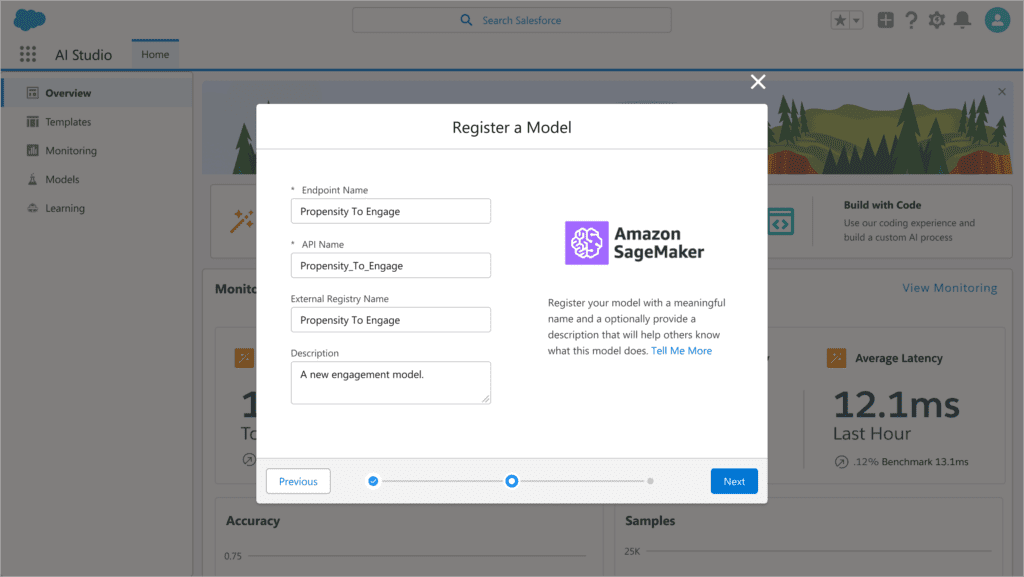 Mr. Schmaier also outlined how customers can get Salesforce Genie-trained experts. He said that Salesforce Professional Services is already working on the platform, and that several global system integrators were on board.
Continuing, Mr. Schmaier also mentioned that new Salesforce Trailhead trails for Genie are expected to be available at Dreamforce. Trailhead content for each Sales Cloud Genie, Service Cloud Genie, etc. will also be available. A Genie Developer certification will also be available.
Yet Another CDP
Salesforce Genie will certainly excite the imagination of Salesforce customers worldwide. And some will make the move to invest in Salesforce as their connective customer tissue. But, how successful will Salesforce be against CDP competitors like Snowflake, Fivetran, and Databricks?
A recent article in Protocol challenged the notion that Salesforce was even viable as a growth company in the intelligent data layer. Given their current position in the market, there is only a small chance that Salesforce Genie will help Salesforce regain the high ground as the fastest growth stock in enterprise IT. One wonders if Salesforce should make a major acquisition to vault to the top of the CDP industry.
But this re-launch of Salesforce CDP into Salesforce Genie lets Marc Benioff use his trademarked magic pixie dust to spark the imagination of IT leaders worldwide. Given the company's global reach and reputation, this new brand and push will increase Customer 360 adoption and move Salesforce Genie from the back of the pack to a more viable CDP leadership position.