Dreamforce 2023 Devops and AI Reporter's Notebook
It's a wrap! Dreamforce 2023 is over. At the end, everyone asked each other, "What do you think?" So, here is my "reporter's notebook" for this year's Dreamforce. Here's a summary of Dreamforce 2023 highlights for me and what I discovered talking to attendees, other analysts, international reporters, vendors, and Salesforce employees.
Einstein 1 Keynote
I arrived at Moscone Center on a bright and sunny San Francisco morning. I got there early to get my badge and go to the press center. In the keynote room I noted there were a lot more press here than in 2022; perhaps triple the number of foreign and national press and analysts.
The AI announcements at Dreamforce mainly centered around a rebranding effort to put all AI efforts under the Einstein 1 brand. Salesforce reiterated its industry-leading position that its existing data architectures combined with an innovative Einstein Safety Layer helps Salesforce customers deploy trustworthy AI in their workplace.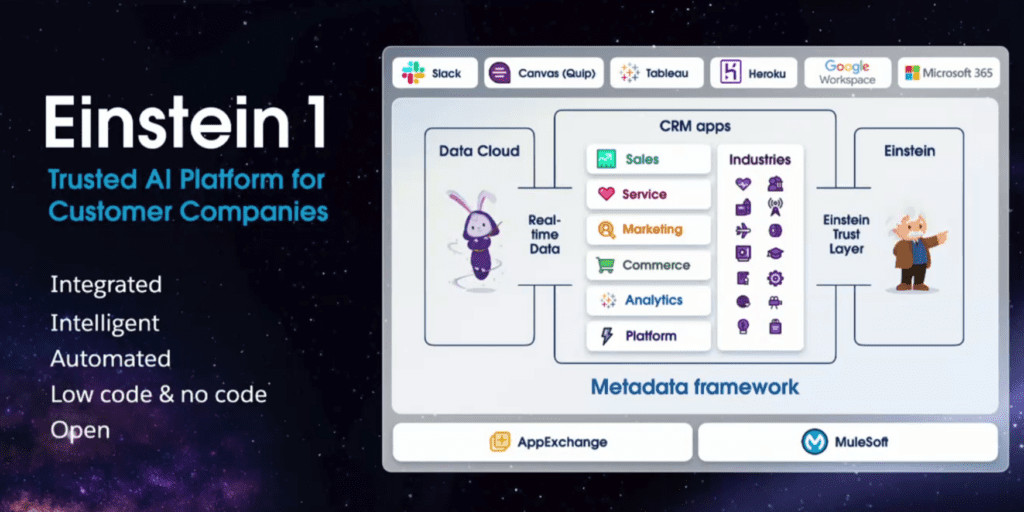 Salesforce removed the GPT labeling from its new products and now has generative AI a key architectural feature, like Flow. With this move Salesforce is on its way to infusing AI throughout its product line. "If this trend continues, the entire ecosystem will be turned upside down with new AI infused methods for executing business processes," said Mark Good, founder of AIForce Training and producer of GPT Dreamin'.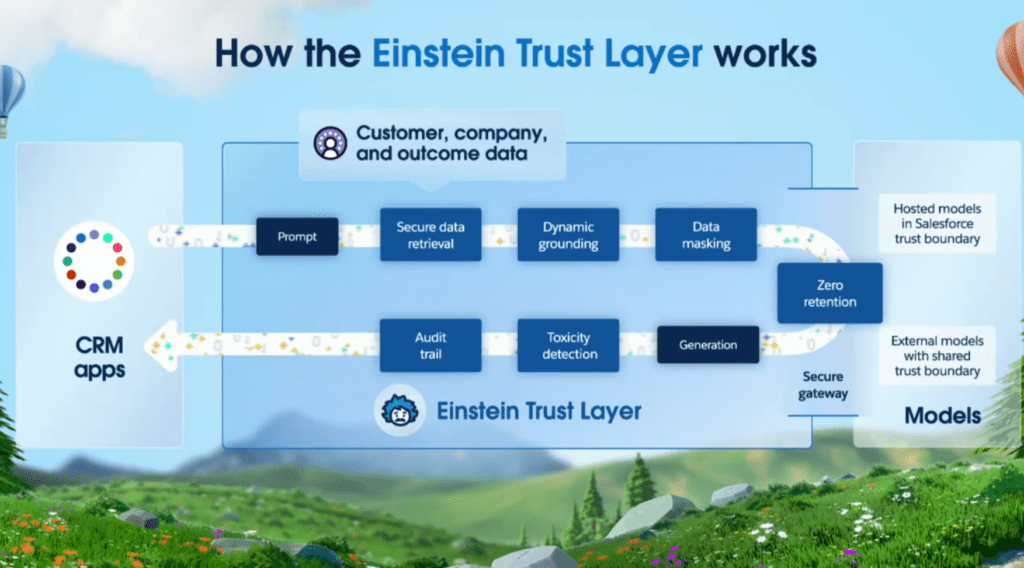 But there was also a familiar sense that the keynote pitch lacked substance. "Salesforce's commitment and focus on AI was in every keynote and every session," said Ian Gotts, CEO of Salesforce ecosystem vendor Elements.cloud. "And whilst there were compelling demos and GA dates announced, some of the details are still being worked out."
Metadata Unification
I did see glimmers of hope that some long-standing complaints, like lack of integration in the various clouds, were being addressed. Throughout the keynote and in other high-level sessions, metadata took center stage. This is because one needs a high degree of metadata definition, access, and implementation in a data set to make it useful to AI. This is one of the reasons why Salesforce currently has a leg up on the competition when it comes to integrating user data into AI.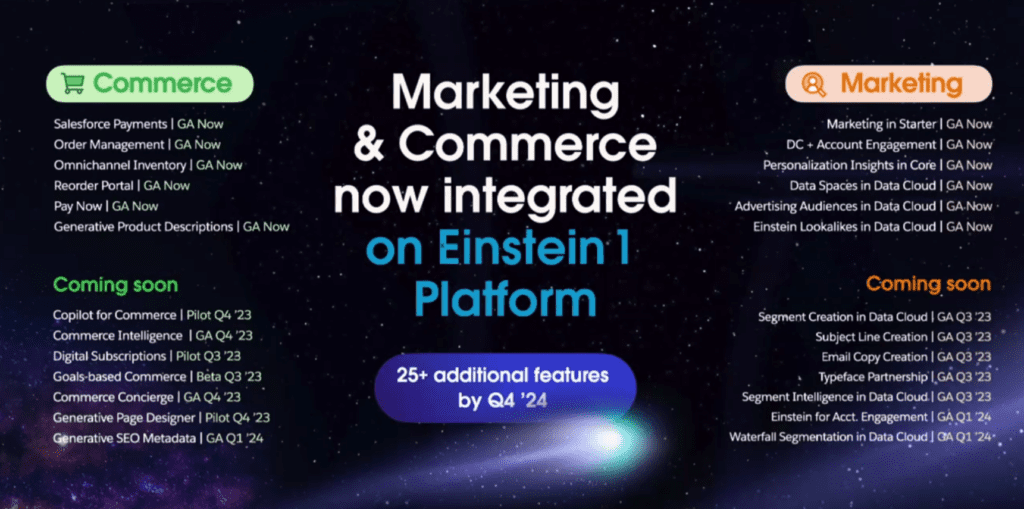 Reinforcing the need for good metadata management throughout the Salesforce clouds, the company announced that the same Force.com metadata management model will be applied to Commerce and Marketing clouds. Exact details are still murky, but reports indicate that Salesforce is working hard on metadata capabilities because of AI requirements. "The clear message is that AI is coming, and you need to get ready," added Gotts.
Einstein Copilot
In an ambitious announcement, Salesforce showed demos of Einstein Copilot. This is a conversational AI assistant that will be grounded in Salesforce knowledge as well as data from the user's org. The demonstration showed a Salesforce user interacting with Service Cloud application where any information in the Customer 360 view could be related.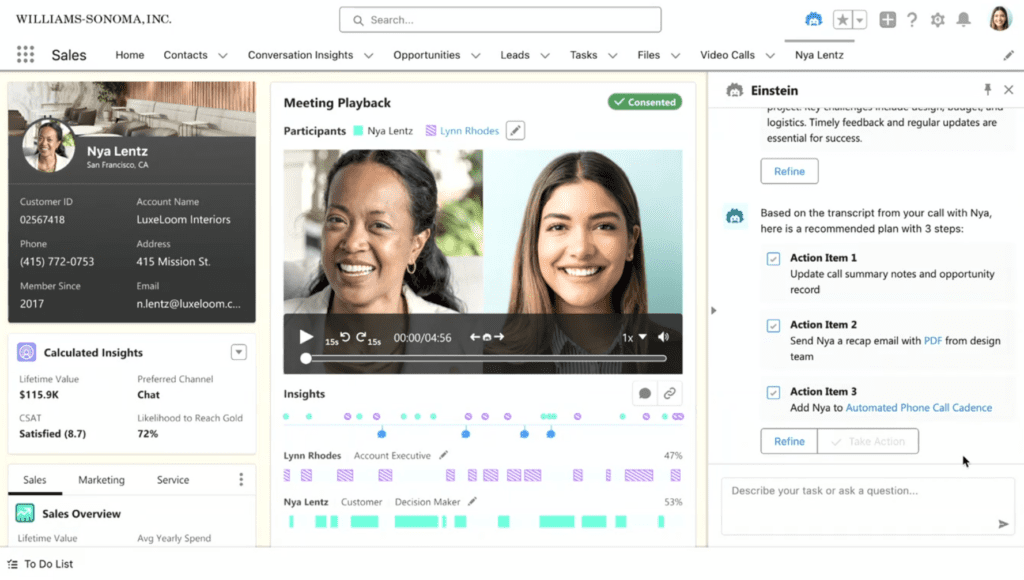 The demonstration also showed interactions with Einstein Skills, where a Flow, API, or web action could be initiated by Einstein Copilot. This showed glimmers of invoking an autonomous agent with a conversational interface.
While impressive and an obvious next-step capability, I am skeptical of a conversational agent, or Executive Thinking Partner (ETP), being safely deployed soon. This is because brand risk and other safety measures have yet to be fully worked out in ETPs.
Prompt Engineering Evolution
Salesforce continues to evolve its use of prompts and other user-authored elements in its AI system architecture. Now all authoring efforts are unified under the Einstein Copilot Studio. Here you get Prompt Builder, Skills Builder, and Model Builder. The company announced some incremental improvements to Prompt Builder, such as versioning.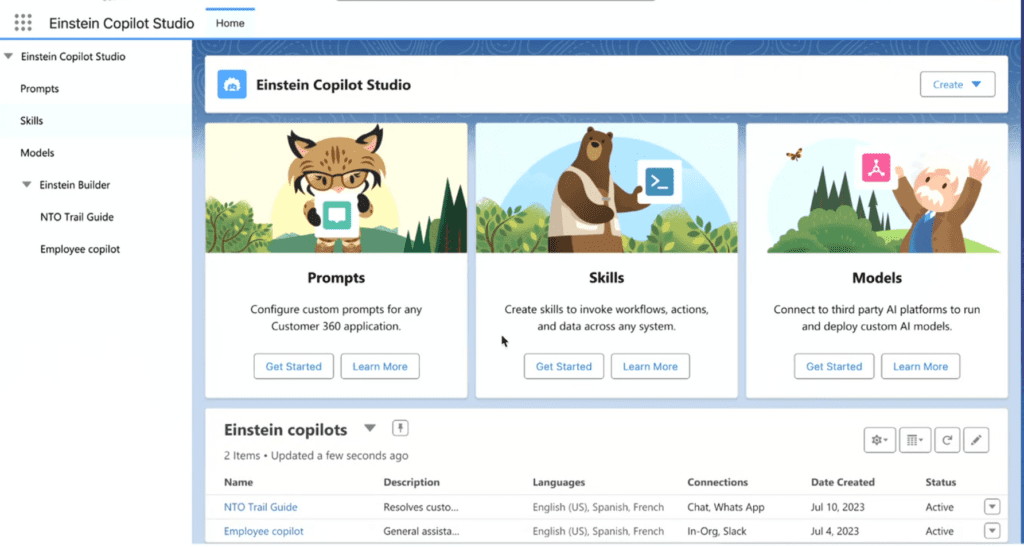 Skills Builder may be used to create workflows which execute actions, including executing other tasks or invoking external APIs. Model Builder is part of Salesforce's efforts to let customers "bring their own model", or BYOM. This allows customers with existing machine learning or LLM building efforts to add them to the Salesforce AI architecture.
Data Cloud at the Center
In nearly every presentation, Data Cloud is mentioned as a unifying aspect of Salesforce's AI strategy. It is offered as a connectivity platform as well as a data lake solution.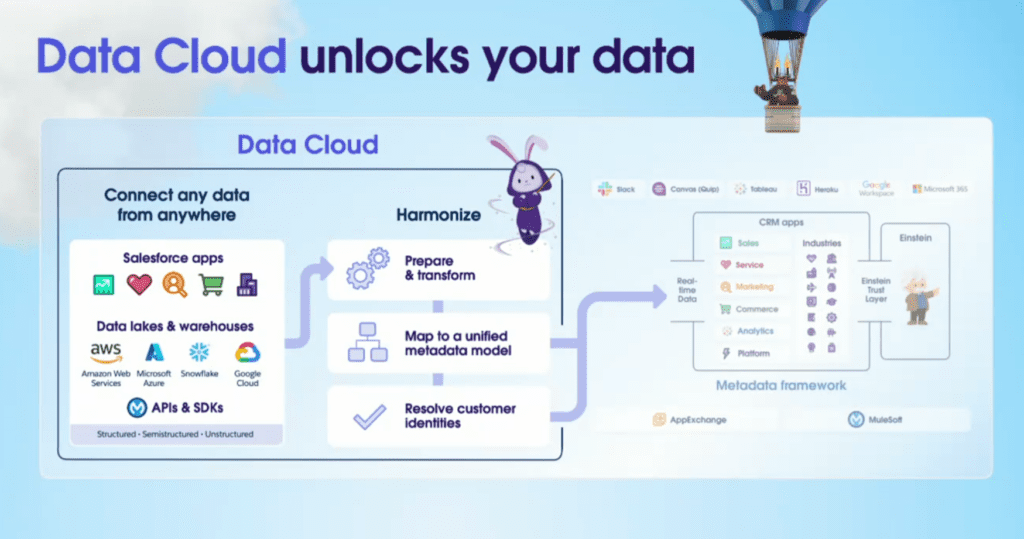 To make Data Cloud and Tableau more available to developers and users, Salesforce announced that all existing Enterprise and Ultimate licensees now have access to trail editions of Data Cloud and Tableau. The offer includes up to 10,000 profiles and two Tableau Creator licenses.
It should be noted that Data Cloud is technically not required for some Salesforce generative AI solutions. It certainly is not required in 3rd party solutions. There seems to be a disconnect when messaging that you need Data Cloud to use AI, which ultimately is not needed by most Salesforce customers.
"Data Cloud's role as a necessity to feed the prompts the amount of data needed confused the message further," said Chris Pearson, Salesforce Engineering Director at Jostens. "While the interface is point and click, the ETL work requires a data engineering background, as mentioned in Salesforce's own documentation."
True To The Core?
At every Dreamforce and TrailblazerDX there is a "True To The Core" session hosted by Parker Harris, Salesforce co-founder and CTO. This is where customers and partners get to line up and put hard public questions to Salesforce product people.
"While AI might have been the focus for Dreamforce, True To The Core showed there is still a lot of work to go on the core platform," said Andrew Russo, Enterprise Architect at BACA Systems. "If Salesforce does not remain true to their core values and roots, then it will be tough for admins and developers to deliver on the promise of AI to their companies," added Russo.
Other key industry figures, such as Max Rudman, CEO of Salesforce ecosystem vendor Prodly, and formerly a Salesforce senior executive, agree. "I feel like we are at or near 'Peak of inflated expectations' with AI. Everybody and their mother have announced AI-enabled this and AI-powered that," said Rudman. "While I am certainly excited about the long-term potential of the technology, I prefer to focus on solving the problems with business software that move to the cloud has not fully solved — the overhead of maintenance."
Developer Platform Stagnation
Salesforce developers have long been crippled by a lack of a cohesive approach to creating, deploying, testing, and maintaining Salesforce applications. If we just narrow our attention to the "core" Sales and Service clouds, major issues still abound in developer tooling. There are undone projects and lack of attention to details in developer tooling in every major Salesforce cloud.
Not only that, but major shifts in platform direction, like Flows, often complicates release management. And these new tools are introduced without consideration of the software developer lifecycle (SDLC). This is due to lack of adequate forethought on deployment implications. Unfortunately, it looks like the same thing may be happening with Prompts and Skills.
Plus, there are dramatic shifts in basic tooling that leave developers in the dust. This includes having three versions of the SF command line tool.
And I'm sad to say that recent efforts like Salesforce DevOps Center have only served to create a golden path that only works for a small percentage of Salesforce orgs. Aside from DevOps Center and the CLI, there has been no contribution by the Salesforce platform teams to the developer SDLC in years. And based on Salesforce executive conversations and interviews, I don't believe that the company will move to invest more in platform development tools. In my opinion, Salesforce has ceded the developer and devops tool market to vendors and community members.
Ecosystem Companies Thriving
Salesforce ceding the developer tooling market to vendors and community members is not news to Salesforce devops vendors. I found most vendors I track, including Gearset, Copado, Opsera, Provar, Prodly, Salto, Elements.cloud, OwnBackup, ACCELQ, CodeScan, AutoRABIT, Flosum, Odaseva, to have a strong presence at the show.
Copado
Copado made a big announcement at Dreamforce about Copado 1, it's new unification of their Salesforce devops platform.
"This was our most successful Dreamforce yet. The Salesforce DevOps and testing market is as vibrant as ever and it is gratifying to hear directly from our customers how our Salesforce-native Copado 1 DevOps platform is making release days obsolete," said David Dahlberg, Chief Marketing Officer at Copado.
Provar
Salesforce testing leader Provar was pleased with this year's Dreamforce. "Dreamforce '23 was a huge success for many companies in the Salesforce ecosystem," said Richard Clark, Chief Stratgegy Officer at Provar. "We saw new product announcements, Salesforce giving away freemium access to Data Cloud, and a myriad of new features for developers, admins, and users alike. At Provar we announced Infinity as our new product offering which provides an integrated hybrid cloud suite designed to manage testing throughout the application lifecycle," added Clark.
AutoRABIT
Another leading devops platform vendor, AutoRABIT announced FlowCenter, which unifies their AutoRABIT Release Management (ARM), Vault backup solution, and CodeScan cybersecurity solution under on roof.
"FlowCenter provides actionable intelligence, as well as simple drag and drop functionality for managers and developers to really understand what's working, what's not," said Christopher Stern, VP of Product Marketing for AutoRABIT.
Opsera
One Salesforce devops vendor who has a solution for other SaaS platforms, Opsera, found greater awareness of its products at this Dreamforce.
"Opsera had a good Dreamforce 2023. We had a significant increase in the number of interactions where prospective customers already knew who Opsera was," said Kumar Chivukula, CEO of Opsera. "This year we had much more meaningful interactions with prospective customers. Our session with Infoblox was well attended, and we showed off our DevOps 3.0 initiative," added Chivukula.
Salto
Another devops vendor who offers SaaS devops solutions, Salto, also has a good show and debuted a popular new plushie, named Knuckles. Pablo Gonzolez, a Salesforce Architect at Salto, said "I spoke to a lot of people about devops and realized a lot of people have issues dealing with configuration data apps like CPQ, Field Service, Conga, etc. It was great to learn that our 'data as metadata' approach resonated well and created a ton of excitement for many individuals."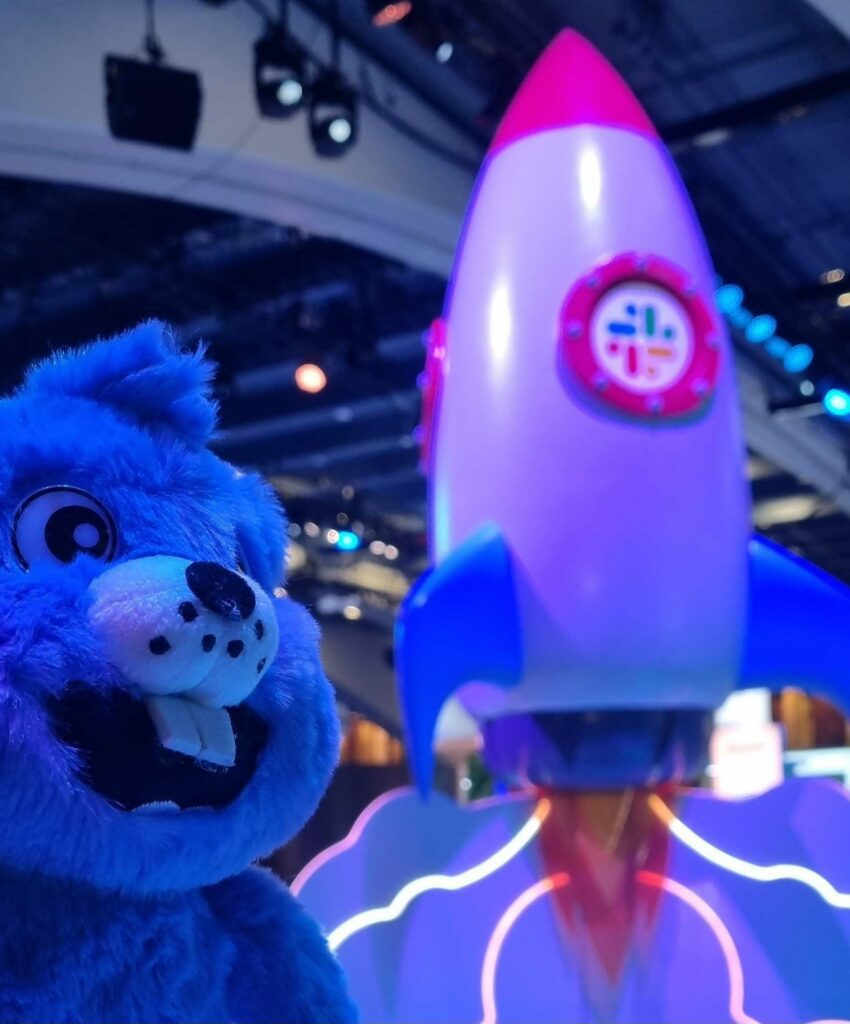 Salto announced a new series of free educational programs called Salto Leap. This series of five free educational programs is authored by community favorite Mr. Gonzolez.
Metazoa
One Salesforce ecosystem tool vendor, Metazoa, found a receptive audience off the show floor. The company showed off its currently-shipping tool Snapshot, which adds several generative AI features. These help admins research existing metadata configurations and generate administrative recipes for removing technical debt from existing orgs. And new features seem to be coming all the time.
"I think our AI solution really resonates with people," said Bill Appleton, CTO of Metazoa. "They're able to see how we're turning AI into a practical and reliable assistant that can deliver benefits for org management," added Appleton.
iDialogue
One vendor, Salesforce ecosystem vendor with more of an operational focus, iDialogue, was able to find traction for their AI-infused products as a show attendee.
"With Salesforce doubling down on their Data Cloud and enterprise AI strategy, we're very optimistic about the SMB opportunity," said Michael Leach, CEO of iDialogue. and providing a turn-key AI solution that will extend existing Salesforce investments with minimal implementation costs.
GPTfy
Another vendor with an opertational focus also found Dreamforce to be a profitable visit. GPTfy is offers a prompt engineering platform solution which is targeted towards automating everyday tasks.
"Dreamforce reiterated the value that Salesforce plus AI brings for businesse. But customers are struggling to figure out how to go about it, without spending a fortune and waiting 11 months," said Saurabh Gupta, found of GPTfy and also CEO of Salesforce vendor Cloud Compliance. "Everyone is looking for a smooth transition from current grunt work to a more AI automated world, without the hype, cost and complexity," added Gupta who noted their app is currently available on the Salesforce AppExchange (as is iDialogue).
Community Projects Fill the Gap
Even with Salesforce losing focus on developer tooling, community enthusiasm for devops remain strong. Open-source projects, including sfdx-hardis by Nicolas Vuillamy, who is also CTO for Salesforce system integrator Cloudity France.
"During Dreamforce, I've been able to present sfdx-hardis CI/CD, dine with the devops guru Pablo Gonzales, see DevOps Center presentations on the official booth," said Vuillamy. "I even have a rib broken by Vernon, the Einstein of Salesforce devops! And even though I'm an open-source advocate, I had great discussions with techies at Salto, AutoRABIT, Odaseva and Copado sponsor booths! Dreamforce was clearly THE place to be for Salesforce devops," added Vuillamy.
Devops and AI in Salesforce
I believe the industry is still working on how exactly to integrate AI into devops. There is a lot of experimental work going on. Take Copado, for example. They are using orchestration to create a Copado GPT conversational agent. This executive thinking partner is trained in Copado documentation as well as the user's org context. The only vendors who have advanced shipping products for development are Metazoa and Elements.cloud.
There appear to be some no-brainer adoptions going on now, and that includes user story generation. I can only imagine how useful ChatGPT could be for business analysts in requirements analysis and story generation. However, we still lack good security frameworks and privacy models which will work for most enterprises. There is still a long way to go to fully integrating AI into Salesforce enterprise application development.
Salesforce Leads Enterprise AI For Now
In the press room, I had the opportunity to talk with other reporters and analysts about what they thought about Salesforce and enterprise AI after experiencing Dreamforce. If there was one consensus, it was that Salesforce has done an excellent job positioning themselves in enterprise AI. The Einstein Trust Layer resonates as a reasonable AI risk mitigator. And no other vendor, including Microsoft, has as good a story for how to keep customer data secure in the age of AI.
When I spoke to Salesforce customers who were making decisions about what to do next about AI, the matter of cost and implementation details came up. There is a lot of cost uncertainty with proposed Salesforce AI services. The problem is Salesforce has complicated prerequisites to use generative AI services. And many required licenses are very expensive, such as the $300/seat Unlimited license. There are also data storage cost concerns associated with Data Cloud. Plus, consumption pricing will come into play for AI usage, and there are very few guidelines on how much that will cost in production scenarios.
Salesforce was right to emphasize how pervasive a metadata framework they have. It basically AI-enables their most important offerings: Service and Sales Clouds. In fact, when one examines the architecture of the Einstein Trust Layer, it isn't different from an existing reference AI architecture used to build AI startups. But the Trust architecture derives key information from existing metadata which classifies and secures the data. Most competing enterprise AI efforts will need to replicate this information framework which Salesforce has already established.
Salesforce's power in AI right now doesn't come from AI innovation – it arises from its existing data, metadata, and security models. They are benefiting from the fact that foundational LLMs with extraordinary power, like GPT-4, are just one API call away. Since AI integration is now relatively easy, as is Salesforce integration, Salesforce will have to work harder on actual AI innovation to keep their lead.