Salesforce and Microsoft Deliver Enterprise AI at High Prices
The race for a new global technology crown is underway. This is occurring because Generative AI has shuffled the enterprise technology deck. Now every tech company is infusing their products with Generative AI capabilities. This past week both Microsoft and Salesforce took their turns making moves on this new, multi-billion-dollar enterprise AI market opportunity. And by doing so, both companies let Wall Street investors know that fancy new AI features won't be cheap.
In this post I will take you through the Microsoft and Salesforce announcements. Then I'll go over some reactions I got from a Salesforce MVP who has used Sales GPT pilot plus other Salesforce ecosystem vendors. Additionally, I'll profile four Salesforce OpenAI integrations by ISVs which are currently available. I'll conclude with some forecasts on what might happen next in enterprise AI.
Microsoft Copilot Blitz
Microsoft this week announced Bing Chat Enterprise, the pricing for Microsoft 365 Copilot, and the launch of Microsoft Sales Copilot. These offerings are aimed at breaking down data silos, turning insights into actions, and inspiring businesses to embrace the cloud. "Microsoft 365 Copilot is built on Microsoft's trusted and comprehensive approach to enterprise-grade security, privacy, identity, compliance and responsible AI — so you know it's enterprise ready," said Yusuf Mehdi, a Microsoft Corporate Vice President & Consumer Chief Marketing Officer in a blog post.
Bing Chat Enterprise
An AI-powered chat for work, Bing Chat Enterprise, is rolling out in preview, granting over 160 million users access. This tool ensures user and business data protection, preventing data leakage outside the organization. The chat data is not saved, and Microsoft does not have access to it. And the data is not used to train the models. Bing Chat Enterprise is included at no additional cost in Microsoft 365 E3, E5, Business Standard, and Business Premium, and will be available as a standalone offering in the future.
Microsoft 365 Copilot
With pricing starting at $30 per user per month for Microsoft 365 E3, E5, Business Standard, and Business Premium customers, Microsoft 365 Copilot is built on enterprise-grade security, privacy, identity, compliance, and responsible AI. It can reason over all your content and context to take on any task using Microsoft 365 email integrations and Microsoft Graph semantic search.
Microsoft Sales Copilot
The new role-based copilot designed for sellers, Microsoft Sales Copilot is accessed in various tools like Outlook, Microsoft Teams, or Dynamics 365 Sales. Microsoft also said it connects to other CRM systems like Salesforce. It saves time with CRM task automation, auto-generated email, meeting summaries, and provides real-time insights, according to the company.
Salesforce Delivers
On the other hand, Salesforce, a company known for its slow pace in product rollouts, is defying its own legacy. Salesforce is sprinting ahead with the timely release of its AI-powered tools: Service GPT, Sales GPT, and the Einstein GPT Trust Layer. This aggressive and timely rollout of AI features marks a significant shift in Salesforce's ability to deliver major innovations on time.
While these parts of AI Cloud represent a relatively small part of Salesforce's promised solution, this move is still encouraging. "Salesforce's generative AI features, which take an open ecosystem approach and are powered by real-time, proprietary data, are empowering every organization to tap into the productivity and efficiency benefits of AI while ensuring enterprise-grade trust and data security remain at the center," said Clara Shih, CEO of Salesforce AI in a press release and video.
Service GPT
The Salesforce AI-powered solution designed to revolutionize customer service is called Service GPT. It aims to deliver personalized customer service at an enterprise scale, bringing all support needs onto one platform.
With this release Service GPT allows users to auto-generate personalized replies and automatically summarizes customer interactions for future reference.
Service Replies: Auto-generate personalized responses based on relevant, real-time data to help service agents resolve customer issues quickly.
Work Summaries: Create summaries of completed service cases and customer engagements using case data and customer history.
Sales GPT
Salesforce's Sales GPT is an AI-powered tool that aims to transform the sales process through task automation, data-driven insights, and integration with the company's CRM platform. With last week's announcement, Sales GPT for Email is now generally available
Sales Emails: Auto-generate personalized emails containing customer data from CRM, accessible within Sales Cloud or through Gmail and Outlook, with one click. This streamlines a critical yet time-consuming sales process step.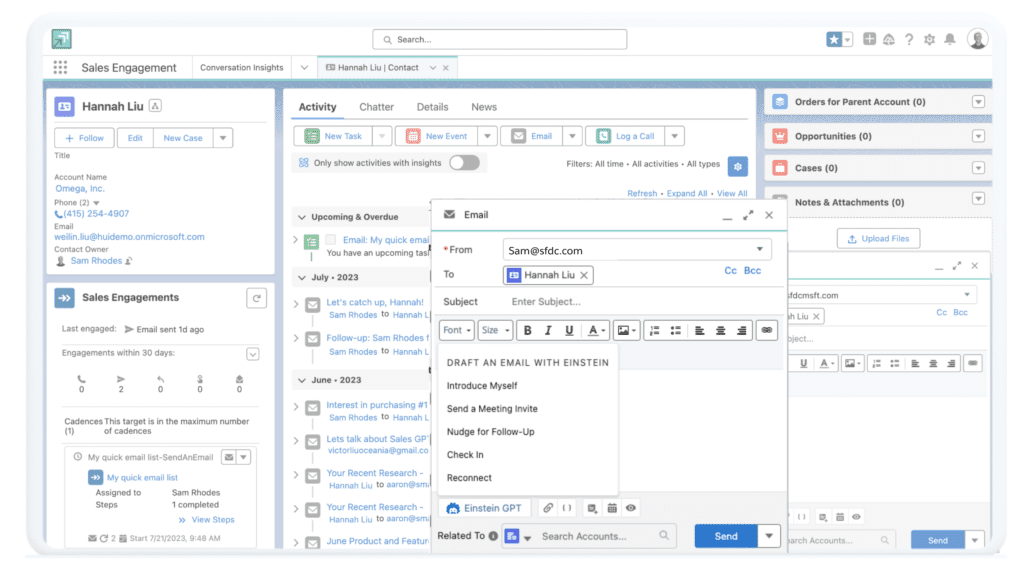 Einstein GPT Trust Layer
The Einstein GPT Trust Layer ensures that customer data is not stored outside Salesforce, meaning prompts and responses are not stored by third-party LLM providers, or used to train their models. The main features include:
Zero Data Retention: Prevents customer data from being stored outside Salesforce.
Encrypted Communications: Encrypts communications over TLS safeguards prompts sent to an LLM, along with the responses sent back to Salesforce.
Data Access Checks: Governs prompts by restricting data grounding to only the data allowed by the user's permissions.
Feedback Store: Collects feedback data to improve the quality of prompts over time.
Audit Trail: Securely logs all prompts, outputs, interactions, and feedback data so teams can benefit from generative AI while meeting their compliance needs.
Salesforce Announces Pricing
Sales GPT is included in Sales Cloud Einstein at $50/user/month and includes a limited number of Einstein GPT credits. Service GPT is included in Service Cloud Einstein at $50/user/month and includes a limited number of Einstein GPT credits. As usage grows, customers can purchase Enterprise Expansion packs for Sales and Service teams. Initially, only customers who have purchased Unlimited Edition, which includes the Einstein SKU, will be eligible to use GPT-powered capabilities.
Sales GPT Reports are Extremely Positive
I talked to Andrew Russo, a Salesforce architect and community member about his experience with the new Salesforce products. Among other responsibilities, Russo manages Salesforce for a sales team that used the Sales GPT Email Generation pilot. They used it for sales email generation, primarily for outbound sales representatives. Russo noted that Sales GPT cannot yet consider previous emails, but he is excited to eventually have that ability. This limitation highlights enterprise AI areas needing improvement, like indexing and orchestrating unstructured data across LLM systems.
Russo indicated that Sales GPT Email Generation increased the number of emails sent out by salespeople and increased recipient engagement. The AI-generated emails provided greater personalization and higher response rates compared with previously used preformatted templates. Sales GPT also increased the open rates of the emails, possibly due to better customized subject lines.
The results are impressive. Perhaps even "too good to be true," according to Mr. Russo. Email open rates were boosted dramatically, as well as salesperson productivity with cold email engagement and follow-up. With the abnormally positive sales metrics, as a Salesforce Ultimate subscriber, Russo is eager to continue using Sales GPT Email Generation as it moves into General Availability.
It's Going to Cost, A Lot
The incumbent cloud providers are ready to add AI pixie dust to your existing applications if you are ready to pay. The pricing announcements from Microsoft and Salesforce indicate these services are going to be expensive addons to existing top-tier offerings. Salesforce's pricing likely will restrict initial access to Ultimate-tier subscribers. These pricing announcements indicate the mounting costs of AI add-ons are now a major factor in customer funding decisions about AI.
There is also the value question. Bing Chat Enterprise is a nice new base feature for business editions of Microsoft 365. But, for both Microsoft and Salesforce, the number of currently available AI-enhanced capabilities remains limited. The market will need to wait for the end of 2023 to fully evaluate whether the delivered functionality is worth the sky-high prices.
This AI pricing news brings many questions to mind for IT leaders. Which, if any, existing SaaS investments warrant additional spending to utilize AI capabilities? What other major vendors are getting ready to drop a pricing bomb? And will increasing your investments with an incumbent SaaS provider be preferable to waiting for 2nd- or 3rd-generation offerings arriving in 2024?
ISV Opportunities Everywhere
These prices will make many Salesforce and Microsoft 365 customers immediately start looking for AI alternatives. I talked to four Salesforce ecosystem members who are filling the gap.
Elements.cloud Reaction
AI has taken center stage at Elements.cloud, and they have a new offering called ElementsGPT which generates user stories and makes implementation recommendations.
I talked to Ian Gotts, CEO of Elements.cloud, about his reaction to Salesforce shipping the first parts of AI Cloud. "It is fantastic to see Salesforce launching the GPT capabilities so quickly and including the Einstein AI Trust Layer. ISVs need to use it to underpin their GPT-powered apps to ensure customers have the confidence to get started. That said, there is work to be done to ensure the quality, sources, and governance of data that powers AI. That requires a comprehensive analysis of the org metadata using Change Intelligence Platforms like Elements.cloud. What was important, it just got urgent. So, we are also delighted to see that Salesforce is encouraging customers to start their AI readiness evaluations," said Mr. Gotts in email correspondence.
AI Force Reaction
Mark Good is a Salesforce community member who runs AI Force Training. He offers a GPT Specialist and FlowGPT training experience. He is organizing the free online event GPT Dreamin', where I will be a guest speaker. That is coming up on August 7-11.
"Salesforce is aggressively accelerating its feature rollout, despite a 3-week delayed start. The GPT Trust Layer is a key deliverable for many businesses before they take the dive. Given the limited availability, high cost, and scope of functionality, companies like AI Force Training will continue to play an important role in developing AI professionals for many businesses. Companies are ready to spend on AI, but they aren't ready to commit to spending $600 annually per user yet. I see companies using services like AI Force to stay competitive with AI technologies until the big vendors can offer more value," said Mr. Good in email correspondence.
GPTfy Reaction
The first pure Salesforce-OpenAI solution to come on the market was GPTfy, which comes from Saurabh Gupta and team. I am acquainted with Mr. Gupta because he also runs Cloud Compliance. I track Cloud Compliance because they offer data compliance services for Salesforce devops workflows. Mr. Gupta and team is also organizing Enterprise Dreamin', which is another free, live muti-day virtual conference on AI where I will also be a speaker! That is scheduled for August 23-25.
GPTfy is the first secure prompt engineering platform for Salesforce. It comes with dozens of pre-engineered prompts ready to go in Sales Cloud, Service Cloud, and Financial Services Cloud. GPTfy also has data masking, so it automatically masks and de-masks data as it is sent out to your chosen LLM API service. GPTfy also lets you use all fine granularity of Salesforce security. This lets you assign permission sets and other security settings to each prompt. GPTfy comes in both a free and paid version.
"Companies are looking to do more with less, and Salesforce CRM + Data + AI lets them do it. That will work well for big companies with lots of data. But there are a lot of smart, smaller Salesforce organizations focused on killing grunt work without a costly and complex AI solution for their CRM. That's where GPTfy comes in," said Mr. Gupta in email correspondence.
Metazoa Reaction
When orgs get too complicated, Metazoa Snapshot comes to the rescue. Snapshot provides a suite of tools for compliance, documentation, optimization, cleanup, and security in complex orgs. Removing technical debt helps to advance release management, so that's why I include Metazoa in my Salesforce Devops Map as an admin tool.
Recently, Metazoa CTO Bill Appleton demoed the Metazoa take on generative AI. I was impressed with the breadth of devops-related tasks that have been developed by Mr. Appleton. This includes the ability to have a multi-turn conversation with parts of your metadata. He also previewed the Metazoa take on a prompt engineering platform.
Metazoa is excited about how their free OpenAI integration improves user productivity. "Our new Intelligent Search capability helps Salesforce Administrators and Architects to understand the complexity of their org and follow best practices. We expect our Prompt Engineering tool Metadata Studio to ship before the end of the month. This is a revolutionary capability that integrates Salesforce with AI both as a source and a destination for Metadata Assets," said Jennifer Mercer, CEO of Metazoa, in an email conversation.
Enterprise AI About to Explode
Incumbent vendors like Salesforce and Microsoft are doing their best to get generative AI into their customers' hands fast. And, based on their internal customer research, these vendors believe customers want AI so badly they are willing to pay for it with premium addons to existing top-tier products.
But not everyone is ready to buy every bell and whistle from the big vendors to whom they are already paying high subscription fees. Looking at the crop of Salesforce ecosystem vendors who are making a stab at OpenAI integrations, one wonders how quickly 3rd party vendors will fill the pricing gap with more affordable AI solutions.