Salesforce Revitalizes Clouds with Einstein GPT
Salesforce unveiled a strong set of Generative AI offerings today at TrailblazerDX 23 in San Francisco. "Einstein GPT, in combination with our Data Cloud and integrated in all of our clouds as well as Tableau, MuleSoft and Slack, is another way we are opening the door to the AI future for all our customers, and we'll be integrating with OpenAI at launch," said Marc Benioff, CEO of Salesforce in a press release. Einstein GPT is currently only available to selected customers in pilot programs.
Salesforce has done a deal with the company behind the ChatGPT sensation to help launch Einstein GPT. "We're excited to apply the power of OpenAI's technology to CRM," said Sam Altman, CEO of OpenAI in the press release. "This will allow more people to benefit from this technology, and it allows us to learn more about real-world usage, which is critical to the responsible development and deployment of AI — a belief that Salesforce shares with us."
What is Einstein GPT?
Salesforce Einstein currently offers the "next best step" in a sales process. And it surfaces important correspondence lost in your email. So, most Salesforce users haven't been very impressed with Einstein. Now, with Einstein GPT turbocharged by OpenAI, Salesforce hopes to make Einstein much more conversational and useful.
It is worth remembering that Salesforce has been an AI research leader for years. Behind the scenes, Salesforce has made waves in the global AI research community since 2020. The results of the research can be found here.
Now, with the Einstein GPT launch, Salesforce goes big with large language models. The effort seems spurred by the popularity of OpenAI ChatGPT, where you have a human-like conversation with a chatbot. As demonstrated by Salesforce today, most of the new Einstein GPT features seem quite comparable to what can be done with OpenAI ChatGPT. This includes summarizing content, writing correspondence, and collating information from multiple sources.
To get conversational AI into Einstein the company uses OpenAI services. But Einstein GPT seems to be more than just a front end to OpenAI. "Einstein GPT is a combination of natural language components and dialog design that is building on the experiences customers are having," said Jayesh Govindarajan, SVP of engineering for Salesforce, at a press conference held yesterday at Salesforce headquaters. "We will be working with an ecosystem of partners at various levels," added Mr. Govindarajan. He also explained that customers will be able to swap out OpenAI models for their own. Plus, individual customer models will be supported through Data Cloud, also known as Salesforce Genie.
What was Announced?
Although the breadth of new offerings is impressive, when asked about when customers could use Einstein GPT, Clara Shih, EVP & GM of Service Cloud for Salesforce, could not give an answer. Currently, all the pilot programs are booked with selected customers, and no timeline for a beta program was announced. AI safety was cited as one reason for the slow rollout. In any event, here are all the products rolled out today.
Einstein GPT for Sales: Auto-generate sales tasks like composing emails, scheduling meetings, and preparing for the next interaction.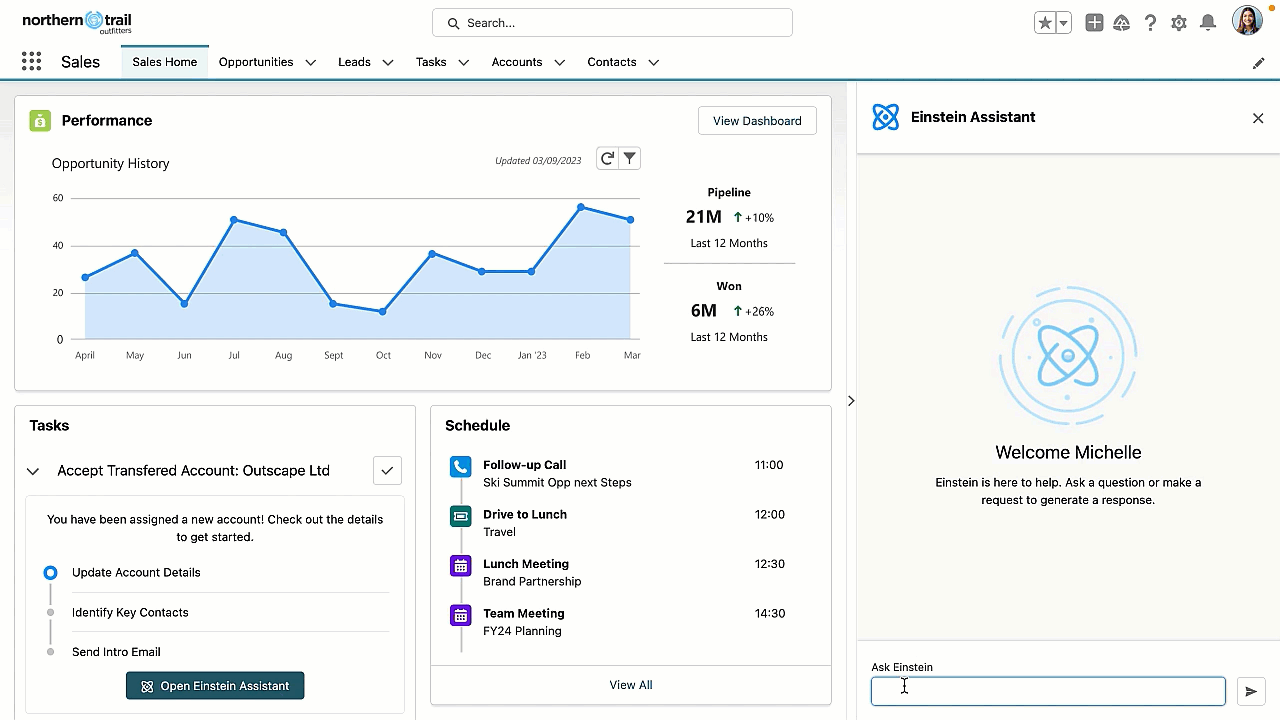 Einstein GPT for Service: Generate knowledge articles from past case notes. Auto-generate personalized agent chat replies to increase customer satisfaction through personalized and expedited service interactions.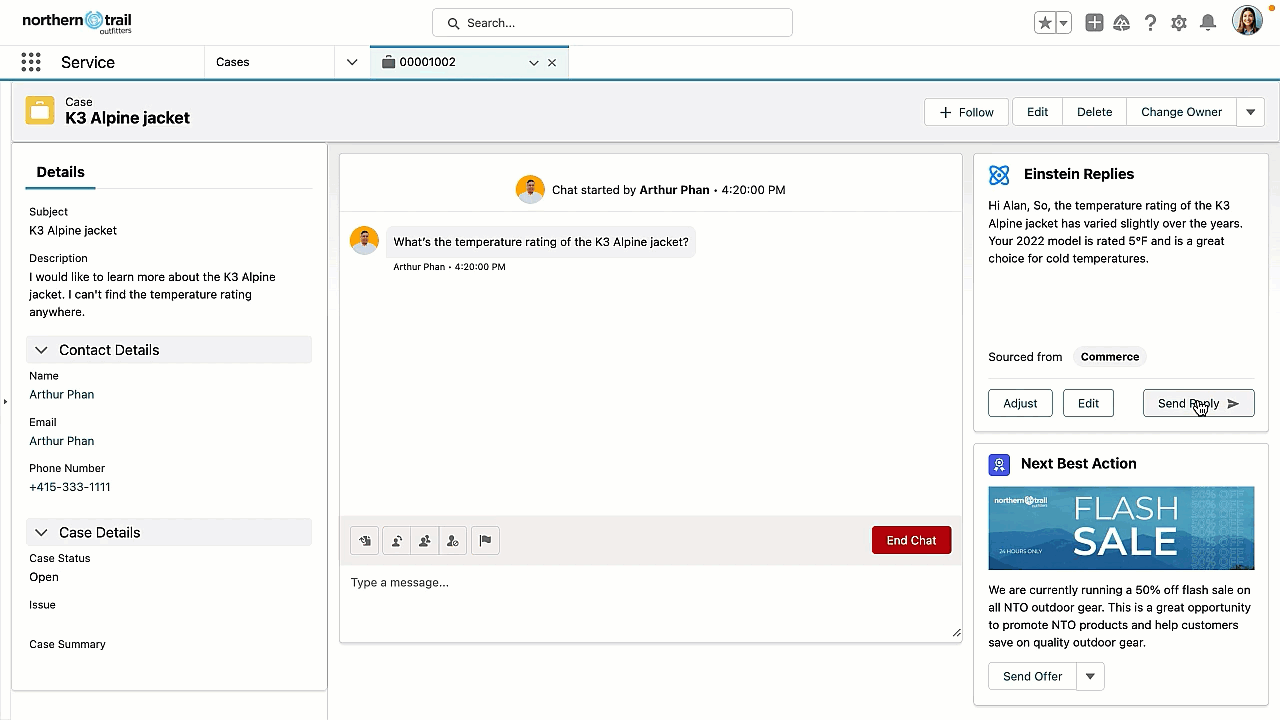 Einstein GPT for Marketing: Dynamically generate personalized content to engage customers and prospects across email, mobile, web, and advertising.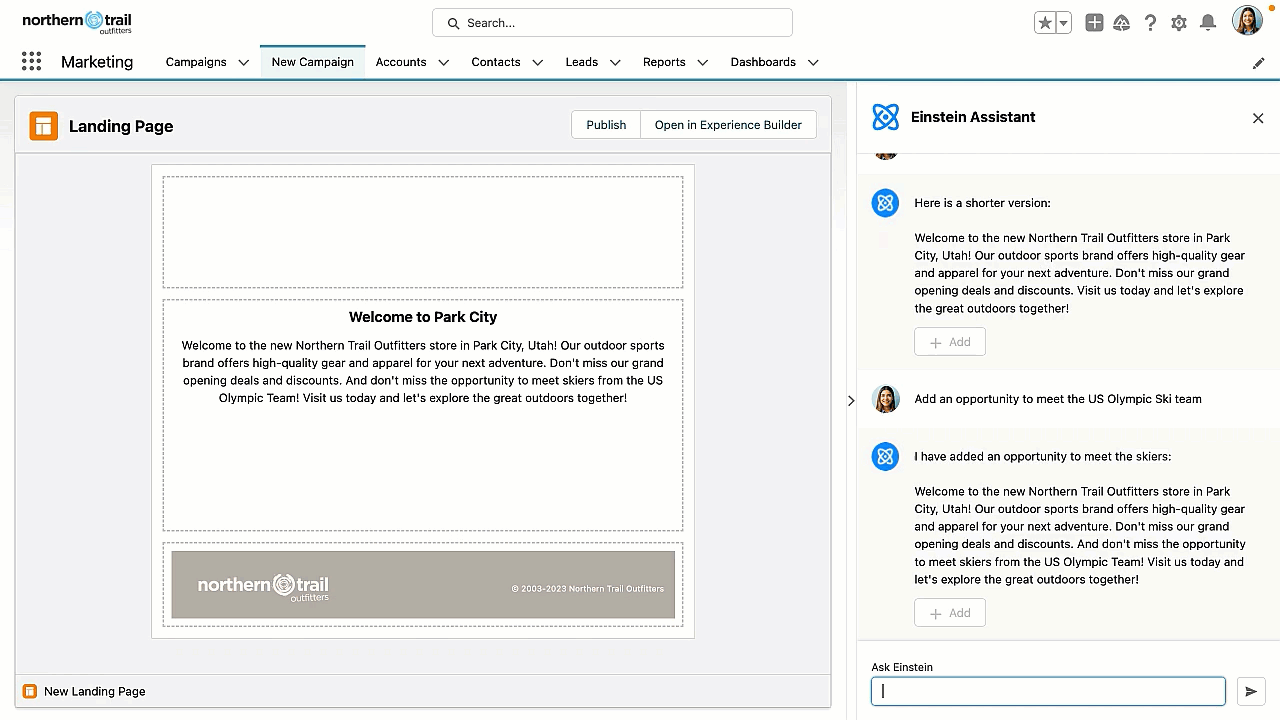 Einstein GPT for Salesforce's Slack apps: Deliver AI-powered customer insights in Slack like smart summaries of sales opportunities and surface end user actions like updating knowledge articles.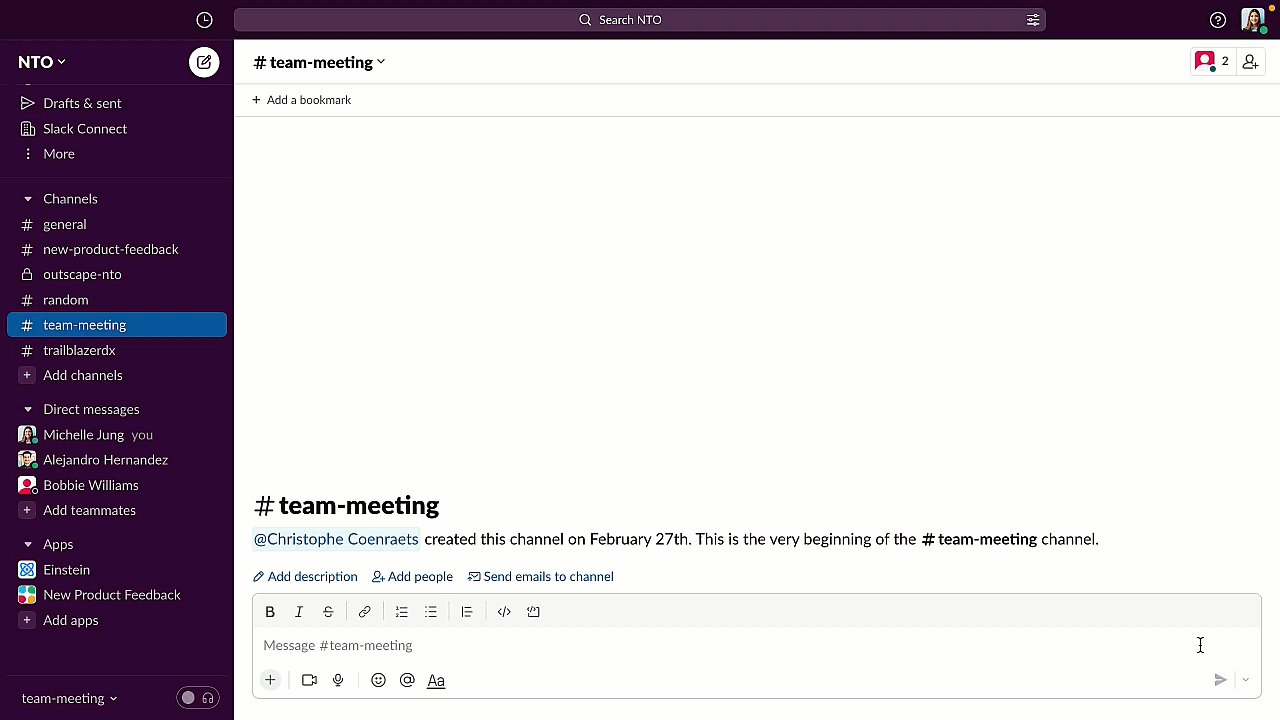 ChatGPT for Slack, built by OpenAI: Salesforce and OpenAI are also today announcing the ChatGPT for Slack app. This app provides new AI-powered conversation summaries, research tools to learn about any topic, and writing assistance to quickly draft messages.
Einstein GPT for Developers: Improve developer productivity with Salesforce Research's proprietary Large Language Model by using an AI chat assistant to generate code and ask questions for languages like Apex. See below for illustration and commentary.
$250 Million AI Venture Fund
In addition to the product announcements, Salesforce also announced a $250 million venture fund to be run by Salesforce Ventures. In a press release today, Salesforce announced initial fund investments in Anthropic, Cohere.ai, Hearth.AI, and You.com.
"Salesforce Ventures has been investing in high-potential enterprise technology businesses for more than a decade, and these initial investments from the fund in generative AI companies fit squarely into that strategy," said John Somorjai, EVP at Salesforce Ventures, in the press release.
Salesforce AI Pair Programmer
Einstein GPT for Developers caught my attention because I am currently a user of GitHub Copilot, which is an AI pair programmer. GitHub Copilot watches you type into VS Code, and then Copilot suggests new code related to your task. You can also write a comment that describes a task you want to complete, and Copilot will suggest an implementation. And Copilot also works nicely with Salesforce languages, including Apex and VisualForce.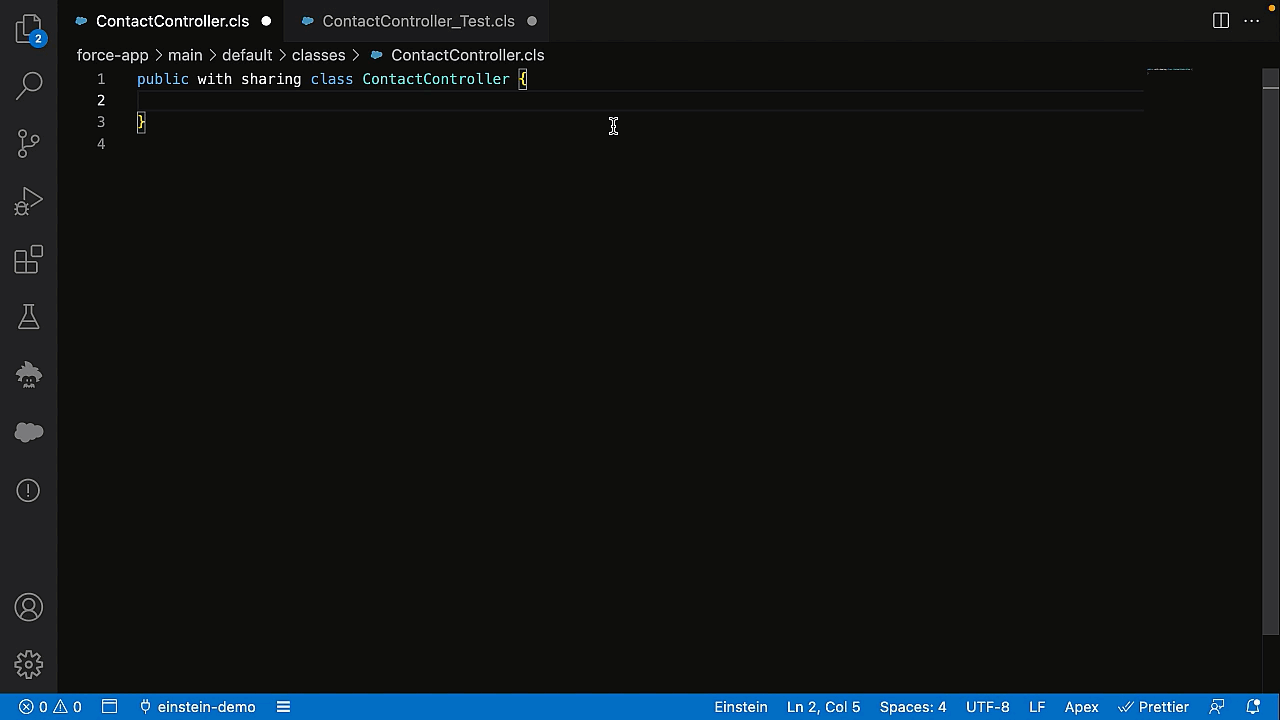 Einstein GPT for Developers appears to work the same way as GitHub Copilot. In the press release, Salesforce claims an advantage because they have a separate language model. Salesforce had better get moving because Microsoft recently announced an upgrade to GitHub Copilot. With Copilot Business edition, enterprise customers can now train Copilot on their proprietary code bases. GitHub Copilot Business edition is now generally available.
Microsoft Already Leads
Microsoft already leads the generative AI technology competition on several fronts. As noted, Microsoft shipped GitHub Copilot in mid-2021, and they recently upgraded the AI pair programmer with the Business edition. On February 2, Microsoft made a big splash announcing an OpenAI integration with Bing. At the same time, Microsoft also announced an OpenAI integration with Viva Sales, which is a lightweight CRM system integrated into Microsoft 365 and Teams. It seems to work basically like Einstein GPT for Sales Cloud.
And just yesterday Microsoft Dynamics 365 Copilot was launched. "With Dynamics 365 Copilot, organizations empower their workers with AI tools built for sales, service, marketing, operations and supply chain roles," according to the blog post. Now, doesn't Dynamics 365 Copilot sound a lot like Einstein GPT?
Einstein GPT Has Potential
I've been using generative AI tools for a few months, and I think this technology is going to take off fast. Take my experience, for example. Now that I am using the tools I can tell that my productivity, especially as a coder, has improved. Now I feel like I must use generative AI, or I will fall behind other coders and analysts. Many others will have this powerful FOMO sensation because they will see people who push the generative AI boundaries, hard. It is frightening to think how much generative AI will soon transform American "hustle culture!"
Because of this, I believe that 2023 will be the year of generative AI not so much because of the vendors selling it, but because customers will demand new generative AI integrations. Things are going to keep moving fast because business leaders will see makeovers happening in their personal business connections. New, transformative skills and specialties will pop up very quickly. Who would have thought that "prompt engineering," or the art of crafting just the right question to ask the AI chatbot, would now be an in-demand skill?
Other big companies must also have generative AI FOMO. Google had better figure out what to do with Google Workspace data fast. And Meta can't create much economic value out of generative AI because they have already milked the social graph dry. Salesforce and Microsoft have the clear advantage given their place as enterprise data utilities.
Even though Microsoft is a few steps ahead, Salesforce is confident they will win this important new technology competition. "At Salesforce we have the advantage of being the market leader across every CRM category, from sales, service, commerce, to marketing. With our user base providing the reinforcement learning our models need, we gain a clear advantage," said Sanja Parulekar, senior director of product marketing for Salesforce. "This market is ours to win," added Ms. Parulekar at the press conference.
Benioff and team get credit for getting Sam Altman of OpenAI to join in on Einstein GPT. It diminishes the OpenAI-Microsoft relationship, and re-positions OpenAI as more of a neutral dealer in the upcoming AI arms race. Now Salesforce must deliver on Einstein GPT fast, or people might start using Microsoft Copilot products to keep up their hustle.