New Research: SaaS Devops Grows to Critical Importance
Everyone I know assumes that software-as-a service (SaaS) and the cloud are growing fast. The industry seems to be defying gravity in a negative economic environment. In response to those feelings and assumptions, I wanted to measure how successful the SaaS industry really is! So, I undertook an industry research project and then used that data to anticipate what may be coming next. To do this, I analyzed the annual reports of 126 public companies that generated all or part of their revenue from the cloud. And I found some interesting things that should interest IT planners and executives. Based on the rate of companies entering the SaaS industry, I found that enterprises will be dealing with mounting multi-SaaS challenges within the next three to five years. And with architects and cybersecurity analysts facing an insurmountable cognitive load, SaaS Devops will soon emerge as a required software solution needed by many large organizations.
In this research project report, I confirm that SaaS sales are continuing a strong trend and grew 27% in 2021 to $125 billion. A recent spike in the number and variety of SaaS companies going public was also uncovered. Strong growth will continue at 25% and the SaaS industry will reach $279 billion by 2024. The survey data to used construct an industry revenue model. Also, the major SaaS categories for today and the near future are described and charted. Finally, I wrap things up with a vendor-independent SaaS devops architecture.
Research Methodology
I started by designing a public equity study aimed at charting cloud revenue over time. Annual reports filed with the United States Securities and Exchange Commission (SEC) were used as source material. Strict rules of analysis were used.Only audited, cloud-based revenue was tabulated. Revenue was included in the tabulations only if it was specifically listed as cloud, subscription, recurring, or SaaS.
The survey selected subjects from a public equity database of 306 technology and ancillary industry companies. Only annual reports from the 2000s were used; older annual reports were not analyzed. Company fiscal years were used to define the annual period for each company. If the fiscal year ended by June 30, then that year was counted as the previous year. For example, the Salesforce fiscal year FY2022 ended on January 31, 2022. But, according to the recoding rule, the company's revenue is counted in the 2021 calendar year.
Public Cloud Sectors
The following categories of cloud revenue were analyzed.
Software-as-a-Service – SaaS revenue was counted as subscriptions to a website which delivers personal computing or business functionality. Salesforce, Adobe, Workday, and ServiceNow are examples of SaaS companies. In the case of Adobe, SaaS revenue included recurring license revenue for desktop applications.
Infrastructure – Cloud computing platforms and application delivery networks were counted as infrastructure. Cloud computing platforms include AWS and Microsoft Azure. Application delivery networks include Akamai, Cloudflare, and Fastly.
Communication Service Providers – These are the cloud-based alternatives to traditional telephony services, including video conferencing. CSPs surveyed included Zoom, Twilio, RingCentral, and Vonage.
Devops – This includes companies offering cloud services for enterprise application development. Devops companies used in the model include GitLab, HashiCorp, Atlassian, and Datadog.
Analysis Methods
Analyzing revenue from some large companies, such as Microsoft and Google, presented categorization challenges. Each company has a different approach to tabulating cloud revenue, which made some categorizations arbitrary. This disparity evolved the need for this survey to be comprehensive and to include both infrastructure and other cloud services. The comprehensive cloud survey is designed to compensate for arbitrary distinctions of cloud revenue types.
Google, for example, combines the revenue of Google Cloud Platform (GCP) and Google Workspace into one line item. GCP is more in the infrastructure category than in SaaS but given the lack of distinction, all of Google cloud revenue was categorized as SaaS. Conversely, while Microsoft's Intelligent Cloud revenue includes Azure and Office 365, all of Microsoft's cloud revenue was categorized as Infrastructure.
Some large technology companies who offer cloud services were not included because their annual reports did not sufficiently categorize enterprise cloud revenue. The omitted companies include Apple, IBM, Intuit, and ADP.
Major telecommunication companies, including AT&T, Comcast, and Verizon, were also not included in the survey. Again, the annual reports did not offer sufficiently granular information to identify pure cloud-based revenue. Future editions of this research will continue to look for audited cloud revenue data from all public companies.
Some offshore companies, including China-based Alibaba, were included in the survey because they filed a 20-F with the SEC. But most offshore cloud companies, including UK-based Sage, were not surveyed.
Survey Results
From that population, 126 companies were found that had cloud-based revenue in their annual reports. A total of 1,140 SEC annual report filings were then checked for cloud-based revenue.
| | |
| --- | --- |
| Cloud Type | Number |
| SaaS | 77 |
| Infra | 24 |
| Devops | 10 |
| Cybersecurity | 7 |
| CSP | 8 |
| TOTAL | 126 |
Public Cloud Revenue
The sum of cloud revenue was tabulated by year and company type. The dataset collected provided 22 years of cloud revenue data from 2000 to 2021 for analysis. Data was summarized and tabulated and presented in Table 1 and charted in Figures 1 and 2.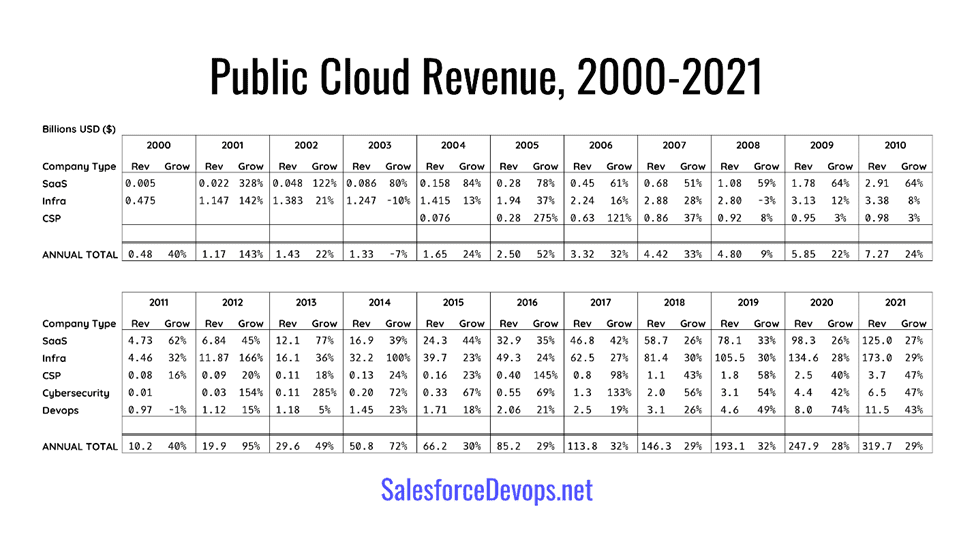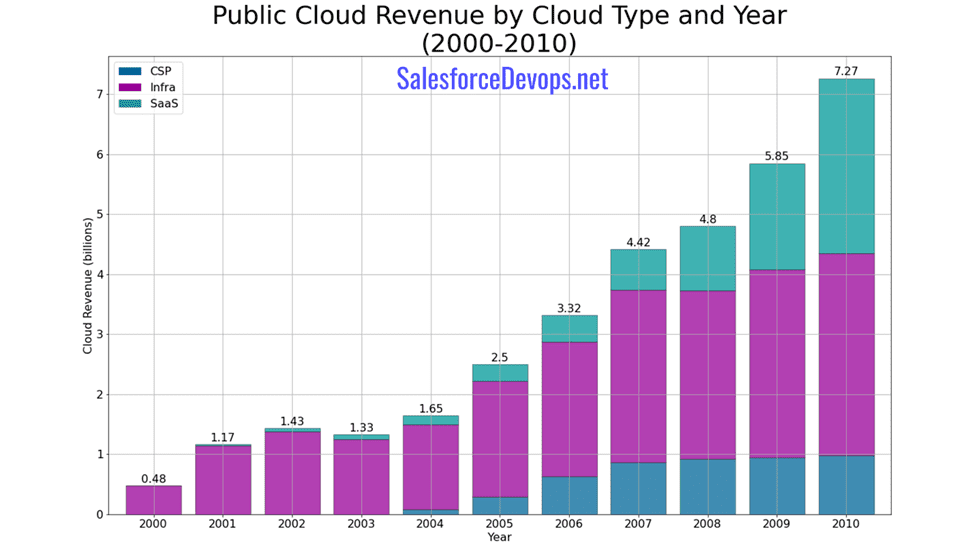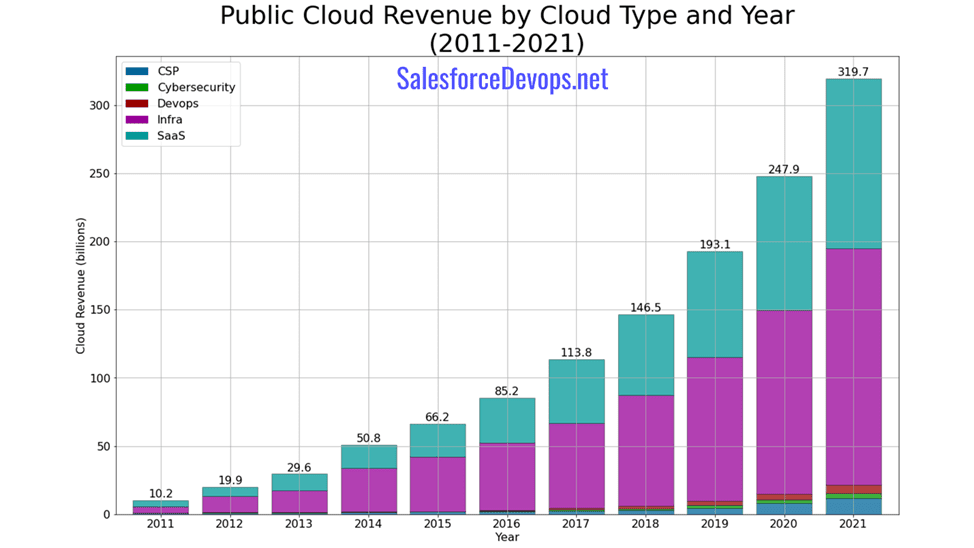 Enterprise SaaS Revenue
The SaaS category had the greatest number (N=77) of companies generating cloud revenue. SaaS revenue is substantial, with $124 billion spent in 2021. Remarkably, SaaS expenditures grew 27% in 2021, from $98.3 billion to $125 billion.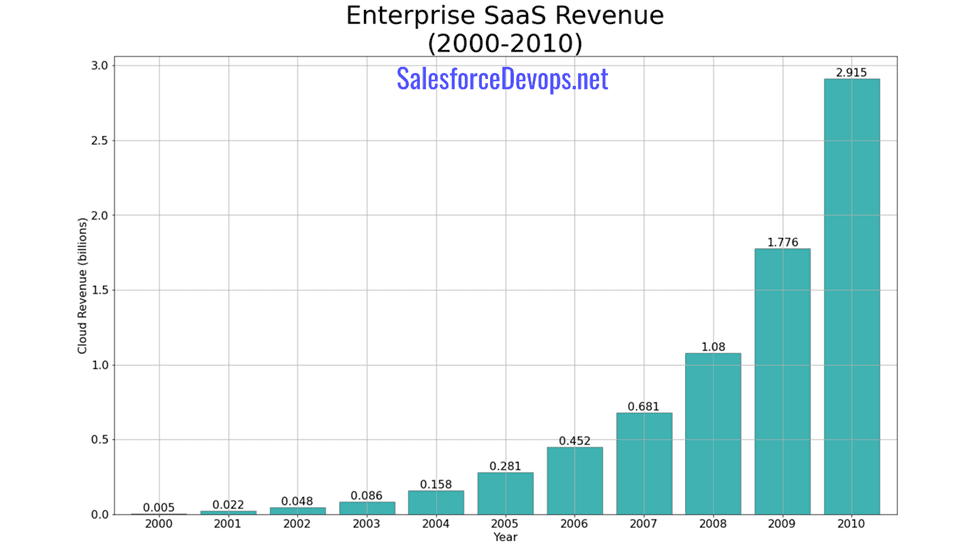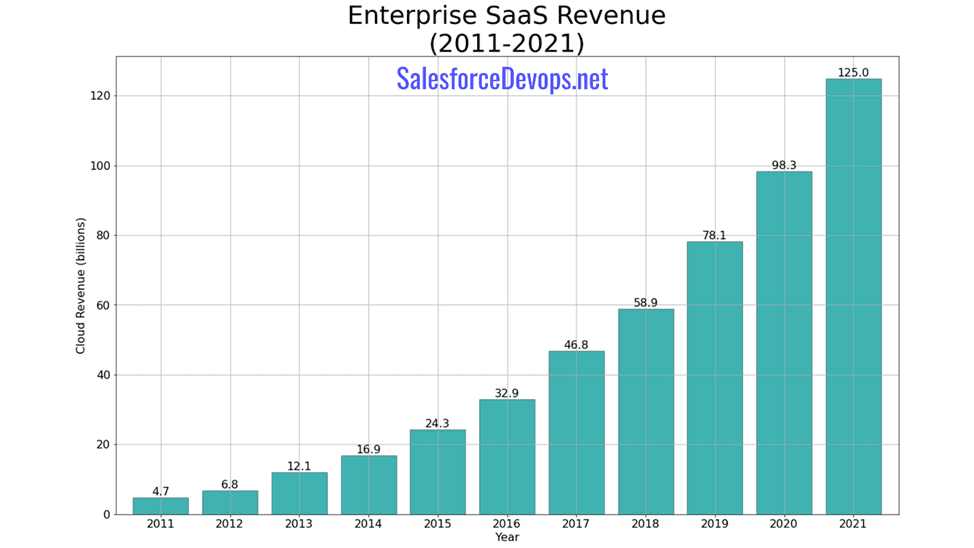 SaaS Revenue by Company
2021 SaaS revenue is dominated by 10 companies, led by Salesforce, Google, Adobe, SAP, ServiceNow, and Oracle.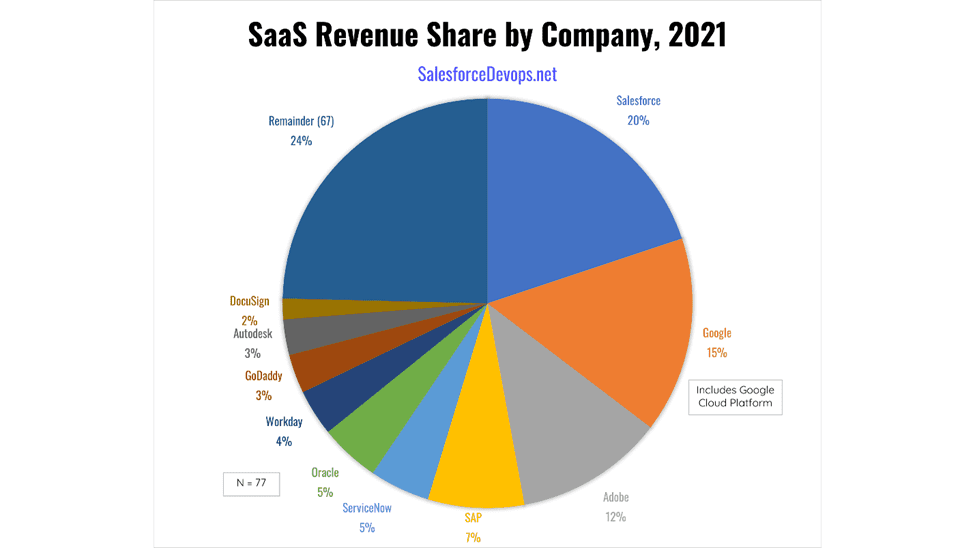 SaaS Growth Analysis
How can SaaS sustain 27% annual growth of a $125 billion industry? To research that question, the year that each of the 77 SaaS companies first reported audited SaaS income was tabulated and plotted. Audited data from two to four years before a company went public was used to determine the year a company first offered cloud services.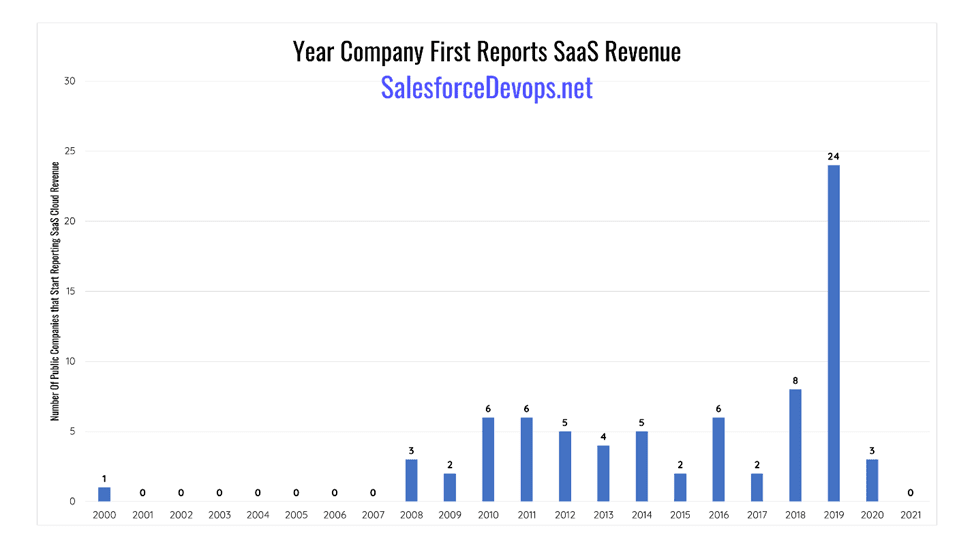 New SaaS Companies by Year
Analysis of survey data indicates the number of new public companies which report SaaS income has recently surged. From 2018 to 2020, 35 new public companies started reporting cloud revenue. This is the largest surge of new public SaaS companies in industry history. After this surge, there is now an increasing breadth of applications offered by SaaS companies.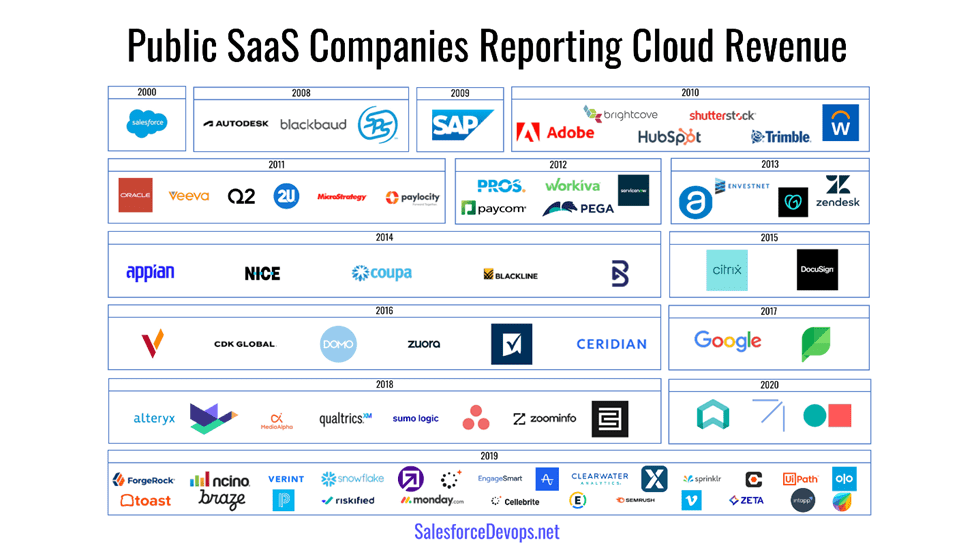 There has been a sharp drop in new SaaS public companies since November 2021. No new public cloud IPOs have been tracked since then. This parallels a decline in total IPO production due to major stock indices taking a downward trend between November 2021 and June 2022.
SaaS Potential Analysis
The SaaS industry now produces the best-in-class business applications in some categories. Customers recognize this by increasingly making the choice to redirect IT budgets to SaaS applications. And there are more categories of potential SaaS applications that will drive the growth of the industry. This research envisions current and future enterprise SaaS companies grouped according to these eleven categories.
CRM & Revenue Operations
Productivity & Workflow
Experience Management & Marketing Services
Service Management
Enterprise Applicatgions, no including ERP or FinTech
Data Warehousing
Enterprise Resource Planning (ERP)
FinTech Services, including payments and POS
Life Science Data Management
Supply Chain Management (SCM)
Manufacturing Resource Planning (MRP)
Most SaaS revenue currently comes from the first four categories: CRM & Revenue Operations, Productivity & Workflow, Experience Management & Marketing Services, and Service Management. And, several major categories of enterprise applications, such as human capital management (HCM), are now dominated by SaaS competitors. Data warehousing is clearly moving the cloud, led by Snowflake plus several strong private competitors and ancillary companies. Life sciences data management, while technically an enterprise application, is called out as an example of a critical, regulated industry doing well in SaaS.
SaaS Industry Opportunities
Based on industry growth potential, there are several more IT sectors available for SaaS to eventually dominate. Although SAP and Oracle have made some gains in cloud ERP, the entire enterprise resource planning (ERP) market has barely been dented by SaaS. And the introduction of devops into SaaS enterprise application development opens the door for the use of SaaS in more critical business functions. While it is nearly impossible to dislodge an operating ERP, new and acquired companies will increasingly turn to cloud ERP as the category matures.
Other major markets available for SaaS include banking and traditional financial services. Also, financial technology (fintech) API services and neo banks will continue to offer disruptive B-to-B transaction services. Clinical research and other pharmaceutical industry applications are ripe for upgrades, as well as supply chain management (SCM) and manufacturing resource planning (MRP) applications.
SaaS Adoption Spectrum
Analyzing the rate of adoption in each category can help to anticipate future activity. To gauge market potential each category's market acceptance rate was estimated, and then plotted. This plot illustrates estimated adoption rates of these categories by the current revenue observed in each category. Several major categories, such as SCM and MRP, are still waiting for SaaS to have an impact. This indicates the SaaS industry still has category expansion opportunities. As all industries slowly digitize, SaaS revenue will continue to grow.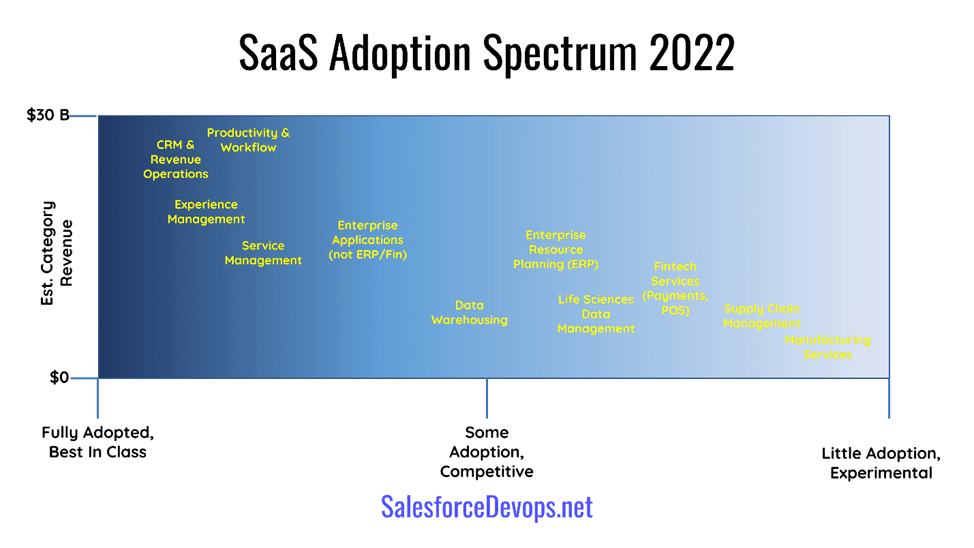 Revenue Model Predictions
The results of the public equity research were used to construct a predictive revenue model. Here is some of the analysis used to make the model predictions.
Historical Analysis
SaaS industry growth appears at first glance to be following patterns found in other new, disruptive industries. The survey found that SaaS revenue grew exponentially throughout the 2000s. By 2010 total industry SaaS revenue had grown from $5 million to $2.9 billion. Though the 2010's, growth rates have slowly decreased, as expected. From 2018 to 2021, annual growth was still in the 33% to 26% range. By 2021, SaaS revenue had grown to $125 billion.
However, a 27% annual growth rate in a $125 billion industry is unusual in the history of new product adoption and revenue growth. Typically, industry growth rates diminish faster due to market saturation, but SaaS is defying those expectations.
Most of SaaS companies which recently emerged are in marketing services, enterprise applications, ERP, and data warehousing. While market saturation is a reality, the SaaS industry seems to be challenging that force for now. Growth even ticked up in 2021 due to the introduction of new SaaS companies.
Public Cloud Revenue Model

To get a total industry picture, the revenue survey found total public cloud revenue to be $318 billion in 2021. Analysis of growth rates in the infrastructure, cybersecurity, communication service provider, and devops sectors was done in a similar manner to the SaaS industry sector. This analysis generated estimated growth rates for 2022 thru 2024. Based on these estimates, the model approximates total public cloud revenue to be $713 billion in 2024.
Also, inflation is a now a global economic force, so it has been included in the predictive model. Indeed, several SaaS vendors have recently raised prices, including Salesforce/Slack.
The public cloud sector growth rates and derivates were analyzed to construct a predictive model. The model estimates that SaaS growth will continue at a 25% rate in 2022 and 2023, based on the positive business outlook for SaaS. The rate will eventually decrease to 23% in 2024 due to market saturation in some categories. Based on these assumptions, the model estimates that total SaaS revenue will be $279 billion in 2024.
It's a SaaS World
This research confirms enterprises are spending hundreds of billions every year on the cloud towards full digitization. Organizations, especially the big ones, are committed to digitization because it helps them deflate expenses and endure unanticipated upsets, like a pandemic. If supplier inflation continues, then organizations will look even harder at gaining operational efficiencies through digitization. And, as companies digitally transform, they have increasingly turn to SaaS solutions like Salesforce and ServiceNow. It is only with these low code solutions can organizations find the information workers who can implement digitization.
Additional factors point to SaaS adoption and proliferation. IT buyers have been focused on the cloud for the last three years. And new software expenditures are aimed at cloud-based solutions.
Perhaps one way to sum up the importance of cloud computing is to paraphrase Marc Andresen and proclaim that software is eating the world, and it's being delivered by the cloud. Consequently, cloud and SaaS subscriptions are now gobbling up IT budgets formerly spent on-premises enterprise software or hardware.
But the most important research finding is that there is a sharp increase in the number and variety of SaaS applications. And, as noted by the earlier description of the 11 SaaS categories, there is a spectrum of SaaS adoption rates in each category. With all these categories staged for eventual full adoption, the growth of SaaS should continue steadily through the 2020s.
SaaS Needs a Devops Management Program
But governance issues occur when enterprises use SaaS applications for financial or regulated activity. And more issues abound when managing multiple SaaS platforms that have governance concerns. Plus, cybersecurity concerns often sneak in with customer or employee personally identifying information (PII). As the number and variety of SaaS applications increase, the following devops-related concerns will only multiply for enterprise platform owners and IT managers.
Platform Cybersecurity
Application Lifecycle Management
Low Code Application Development
Software Development Lifecycle (SDLC)

Developer Cybersecurity (Shift Left)

Extract Translate Load (ETL)

Data Warehousing/Customer Data Platform (Customer 360)

Artificial Intelligence Model Ingestion (AIOps)

2nd Generation Testing
Change Management Documentation
Environment Management
There is an explosion of complexity when each enterprise deals with multiple SaaS applications. This is because each of these activities may be performed differently for each SaaS system. The cognitive capacity required of an architect or cybersecurity analyst to fully understand multiple SaaS systems is now impossibly complex.
SaaS Application Management Features Required
As SaaS proliferates, vendors need to increase their release management support. SaaS systems need to accept configuration commands and receive data from external systems. If a customer cannot fully configure a SaaS system with an application programming interface (API) or command line interface (CLI), then that should be viewed as a system deficiency.
The ability to ingest and manage each SaaS system's metadata is a critical requirement. This need to manage SaaS metadata is a distinguishing feature of SaaS devops from traditional, or cloud native devops. Multi-SaaS metadata systems are needed for identity management compliance (e.g., GDPR), personal identifying information (PII) cybersecurity, and customer data platform (CDP) implementation.
SaaS metadata management is a complicated matter. It requires systems to use metadata intelligence to cope with the dynamic nature of SaaS metadata. Salesforce devops vendors have achieved success in managing the metadata in very large Salesforce projects. This gives the SaaS industry a pattern of success to emulate. The following Salesforce platform features have facilitated devops vendors:
Metadata API – Salesforce Metadata API, while a work in progress, supports most Salesforce configuration activities to be performed programmatically. The API allows for periodic ingestion of metadata changes, so devops platforms become aware of low code system modifications.
Data APIs – Salesforce REST API allows for full database management, the Bulk API 2.0 supports additional data management activities, and S
Sandboxes – The Salesforce sandbox feature provides the ability to manage releases in multiple environments. Sandboxes are required for those organizations who require low code change management.
Platform CLI – SFDX-CLI, and eventually a unified SF-CLI, provide an important touchpoint between cloud native scripting activities, devops platforms, source code repositories, and the Salesforce platform.
These features are used by devops platforms to properly manage a rigorous release management strategy. Most platform vendors have functionality that covers the Salesforce Devops Industry Map.
SaaS Devops Architecture
What is clearly needed is an ancillary system that assists with the management of multiple SaaS systems. This is not a new idea. SaaS Devops, like Salesforce Devops, requires a separate SaaS platform to manage the multitude of activities involved. The following diagram shows an idealized system that uses a plug-in architecture to expand capabilities. It shows how a SaaS devops platform implements a multi-SaaS control plane using another SaaS platform. The SaaS devops platform does this using APIs and features exposed by those systems which it manages. Sometimes, robotic process automation (RPA) can be used by a SaaS devops platform where no API or CLI exists.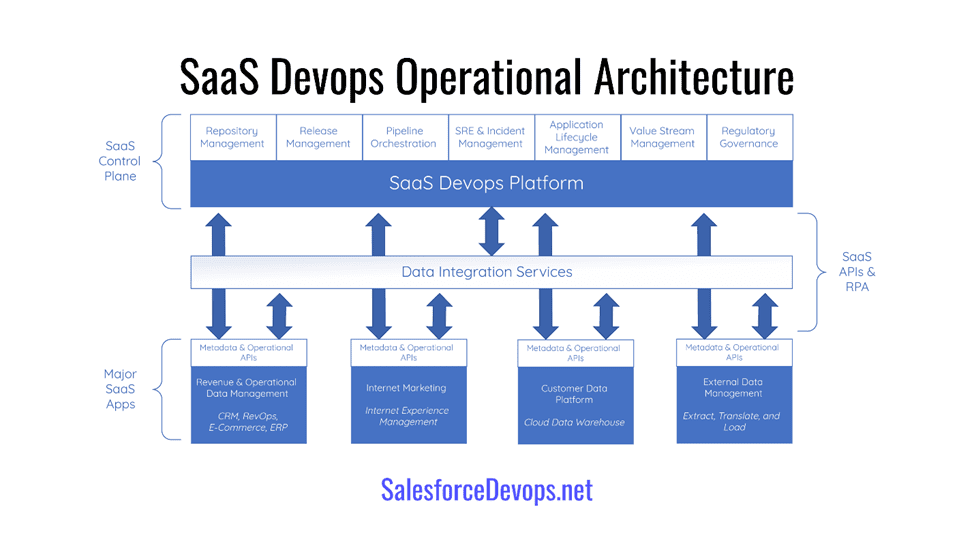 Conclusion
What did I learn from doing this research? For starters, I confirmed that global IT is in the middle stages of a grand conversion to the cloud. We have passed the tipping point of the SaaS companies dominating the future of enterprise computing. But as illustrated in the adoption spectrum, there is a still a way to go on the SaaS adoption curve with major categories yet to be fully adopted.
The thirst for continued improvements in efficiency and resiliency by big enterprises has not been quenched. To meet demand, even more SaaS companies in new categories should emerge throughout the 2020's to serve new markets. By the end of the decade, SaaS should dominate most software categories and may finally reach market saturation.
All of this has implications for corporate IT and the way the people operate in the workplace. This is because difficulties will accompany SaaS proliferation. To help, SaaS devops platforms will emerge to help with cognitive overload and to make software releases more efficient. Lessons learned from Salesforce devops will help big companies accomplish systematic management and governance of critical SaaS systems. But to make all this happen SaaS vendors must cooperate with the SaaS devops vendors and let them in with better APIs and CLIs.
As the decade marches on, I expect more Salesforce devops vendors to extend their platforms to include managing other SaaS systems besides Salesforce. The huge challenge of managing multiple SaaS systems and their metadata catalogs is a complex problem with several possible solutions. This means different approaches will emerge to meet a variety of requirements.
For now there will are independent vendors feeling out SaaS devops by listening to customers and crafting a variety of solutions. By 2025 I expect SaaS Devops to be a must-have enterprise software category covered by independent software vendors, major devops platform companies, and possibly larger players like Microsoft or Salesforce.