Copado Essentials Adds 2nd Generation Testing
Copado, a leading Salesforce devops platform vendor based in Chicago, yesterday announced it has added Copado Robotic Testing to Copado Essentials. Now designed for smaller teams, Copado Robotic Testing Essentials launches a version of the 2nd generation test automation tool used in its enterprise offering. "We're now providing affordable, AI-powered automated testing, delivering a fast and easy way to improve the quality of any company's releases on the Salesforce platform," said Andrew Leigh, CMO at Copado in a press release. Copado Robotic Testing Essentials is an add-on for Copado Essentials and is available for an extra cost. It is available immediately to all new and existing Copado Essentials customers.
Salesforce Testing Looms in Importance
Orgs have taken on heavy enterprise duties. This is because Salesforce is now a mission-critical application delivery platform in finance, health care, life sciences, communications, and more. Since customers in those industries manage critical data, activities in those orgs are now governed by an alphabet soup of regulatory bodies.
Frequently, regulators require companies to fully document all changes made in an org. Some regulations even require an org's owner to prove that the org is working properly through a series of functional tests with documented results. Most of these customers already use Salesforce devops to add governance to their change management processes. So, they are looking to add automated testing to existing pipelines to satisfy regulatory requirements.
2nd Generation Testing
Copado Robotic Testing and other 2nd generation testing tools are popular today because they greatly expand the number of business creators who may add Salesforce testing to devops pipelines.
Previously, there were many challenges encountered when producing tests with 1st generation tools such as Selenium. The only way to produce an automated, screen-based test of a Salesforce org was to employ a software engineer. That person used a tool which examined the underlying structure of a web page, like Selenium. It could wind up costing tens of hours of engineering work to complete one test sequence. This makes Selenium impossibly expensive to use on a complex org.
Most of the 2nd generation Salesforce testing tools use Robotic Process Automation (RPA) to improve automation in testing. RPA is a technology that reads a screen, document, or web page and uses a mouse and keyboard like a person. Most RPA-based testing tools, like Copado Robotic Testing, define tests by following along as you do the mouse clicks and keyboard entries required to complete the task you wish to test.
After defining a test, a test creator sees their actions expressed in a series of English-like steps. Test creators edit and copy their test scripts instead of re-recording them. That script is later executed as a step in a scripted command server, or CI/CD engine.
Copado Essentials Grows
Copado Essentials has grown considerably since it was known as ClickDeploy.io from Australia. In yesterday's press release, Copado claims they have over 1,000 enterprise customers and over 15,000 Essentials customers. That number for essentials must include free tier users, because that is quite a jump in the total number of companies using Copado.
The company has number of pricing and options choices for Copado Essentials. You get up to 15 deployments per month with the free tier. With the "Essentials" tier at $79/user/month you get unlimited deployments and more management features. And with the "Essentials+" tier at $195/user/month you can run devops pipelines in a scripted command server.
Copado Robotic Testing and Copado Version Control, which integrates external GIT repositories, are available as add-ons for the Copado Essentials and Essentials+ tier members. Both add-ons are available for an extra charge.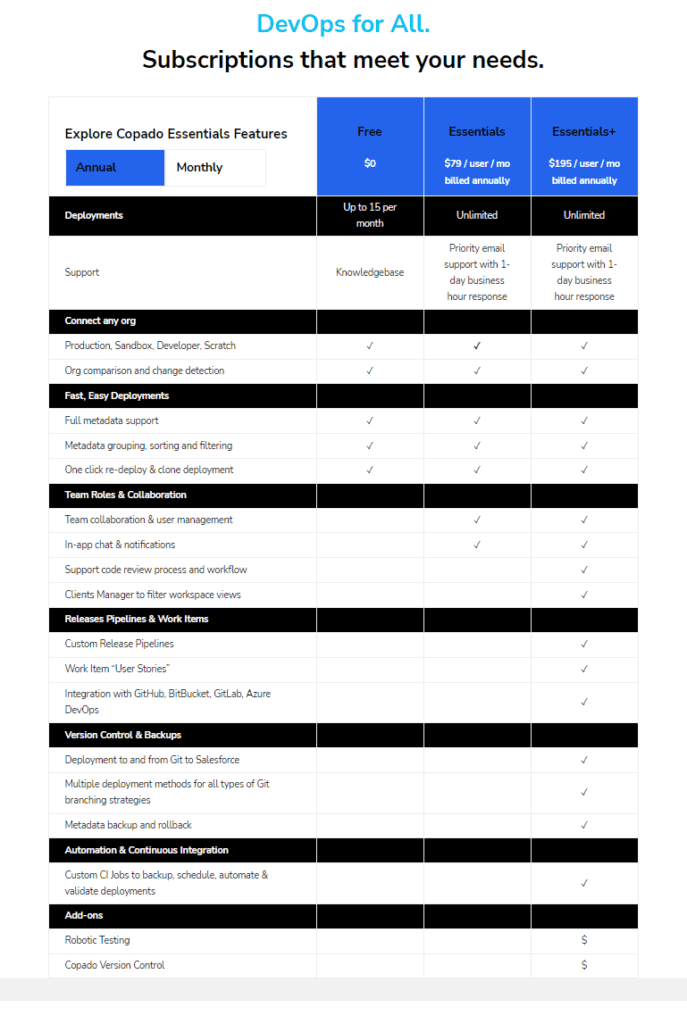 2022 – The Year of Test Automation?
Copado claims to be the only Salesforce devops platform vendor who has integrated screen-based application testing directly into Salesforce devops pipelines. By adding a version of Copado Robotic Testing to Essentials they have backed up that claim.
Copado Robotic Testing offers Salesforce users a 2nd generation solution adapted specifically for Salesforce. The system can also test any web-based application, like solutions available from Provar, testRigor, Eggplant, Tricentis, Parasoft, and ACCELQ. By the way, some of these cloud native testing solutions are increasingly being used for Salesforce testing.
Testing is challenging because of the costs associated with creating, maintaining, and running the tests. We have yet to see adequate solutions from any vendors which fully address the challenges of test automation. As 2022 goes forward, it will be interesting to see how those competitors from the cloud native world will impact Salesforce testing.