Strongpoint Has Tools for the Regulatory Rush
The energetic growth of Salesforce over the pandemic era has generated several significant trailing impacts. The most apparent of those impacts is the global Salesforce staffing crisis. And there are more trailing impacts sneaking up on new Salesforce platform owners all the time. One of these is when a Salesforce org makes the transition to being the primary source of critical data. The org turns into special thing known as a system of record. As more companies use Salesforce as a system of record, regulators will force information technology managers to govern how they manage Salesforce. For companies facing regulatory documentation requirements, Strongpoint by Netwrix, gives Salesforce admins and platform owners the change management tool they need for regulatory compliance.
Compliance is Center Stage for Salesforce Devops
As the world becomes more dependent on information technology, governments make laws and regulatory bodies that regulate how critical data is managed. Critical data regulations focus on information technology systems that generate and hold financial, scientific, health, security, and safety data. Public companies, plus many private organizations, are governed by regulators who scrutinize how critical data gets created, stored, managed, and analyzed.
Advanced compliance needs are very specific, and they are generally referred to by their statute name or acronym. Here are just three examples of federal regulations that impact platform owners.
United States Sarbanes-Oxley Act – Also known as SOX, the Act requires specific change management and platform cybersecurity compliance for public companies. "SOX compliance" is most frequently cited as the need for a Salesforce compliance management program.
European Union Directive 2014/56/EU and Regulation (EU) No 537/2014 – These are financial auditing and other regulations that roughly correspond to SOX.
United States Code of Federal Regulations Title 21 Food and Drug Administration – Many US life science industry companies are governed by CFR 21. Similar life science industry regulations are in place in the UK, EU, and other geographies.
Beyond data safety and integrity, these regulations focus on documenting change in infrastructure and operational activities concerning critical data. These regulations demand logging and analysis of changes to code, metadata models, and access procedures. Besides developer considerations, regulators include platform cybersecurity documentation in reporting requirements.
The growth in compliance services explains some of the growth in Salesforce devops in 2021. Thousands of companies have now decided to invest in fully-featured Salesforce devops platforms to provide complete automation, documentation, and testing systems. But, without a focus from the beginning on compliance, some devops platforms are incomplete compliance solutions. So, more targeted compliance solutions can fill the gaps when a company isn't quite ready to invest in a complete platform.
Strongpoint Description and Overview
Strongpoint is a suite of change intelligence tools targeted for Salesforce orgs under regulatory scrutiny. The product currently dominates the change intelligence market for Oracle NetSuite. Netwrix recently acquired Strongpoint, but Strongpoint retains its company and branding identity.
Pure Salesforce Solution
Strongpoint for Salesforce works 100% on the Salesforce platform using an AppExchange package. Data never goes off-platform, so Strongpoint is compliant in stringent implementation environments. It also doesn't use any Chrome extensions, which improves end-user platform compatibility. The app works in the Salesforce user interface and uses extensive Lightning and VisualForce customizations. The system uses a metadata intelligence platform to ingest each org's metadata. It then uses that platform to deploy tools for metadata reporting, documenting, and optimization.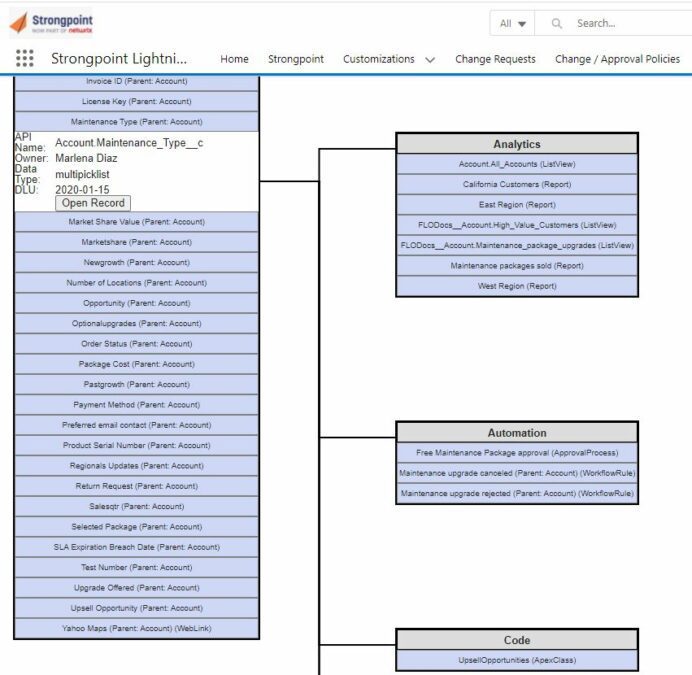 Uses Metadata Intelligence
The system focuses on tracking changes and producing audit-quality reporting on a Salesforce org. The system does periodic log file ingestion and storage to overcome Salesforce limitations, such as maximum audit log length. And it offers dozens of administrative reports that may be heavily customized. Many are audit-oriented, such as reports on changes to access rights, user access activities, security audits, database values, and metadata changes. Strongpoint exports report results to Excel, does Salesforce environment comparisons, and it exports objects.
Opinionated Change Management
Strongpoint is opinionated about how to organize change management. The system is centered around Change Requests, where users define metadata or profile setup changes, for example. The change request then forms a root for all the workflow and other activities. One activity is an automated presentation of impact analysis specific to a change request. Several change requests may be managed, and a summary of the impact analysis for each change request printed in a report. Change requests may automatically sync with application lifecycle management tools like Jira. Strongpoint should work well with agile project management activities because of its change request orientation.
Strongpoint does perform limited deployment management. However, it lacks some features found in larger platforms, such as a robust deployment preview function.
Welcome to The System of Record
As Salesforce explodes in popularity, there are several trailing impacts. The global Salesforce staffing crisis is the most apparent of those impacts. The increase in the number of Salesforce orgs used to store critical data is another huge trailing impact. More companies must now make documentation that proves they have a compliance plan for managing critical data governed by a regulator.
When platform owners and Salesforce admins are confronted with heavy regulatory requirements, they frequently look to a Salesforce devops platform vendor for solutions. But sometimes going for a full-fledged Salesforce devops platform solution is overkill for some users. And, complete devops platforms may have gaps when it comes to specific compliance needs. For companies focused on meeting specific compliance demands, Strongpoint from Netwrix is worth a look because it has advanced Salesforce admin, reporting, change intelligence, and platform cybersecurity services targeted for compliance management.