Copado Adds Multi-Cloud Testing with Qentinel Acquisition
Copado, a Chicago-based devops platform vendor, today announced it has acquired Qentinel, an Espoo, Finland-based vendor of robotic testing software for Salesforce and SAP. Terms of the deal were not announced, but it is expected to close quickly. "Devops is becoming the de facto way to deliver software in a digital-first world. Yet without automated testing, it becomes almost impossible to successfully practice devops," said Esko Hannula, Chief Executive Officer for Qentinel in a press release.
Fills Out the Copado Solution
In 2021 so far Copado has taken on a big Series B investment, claimed they have over 1,000 customers, announced a multi-cloud strategy, and has acquired (or maybe acquihired) two technology and service companies to fill out their stack of solutions. The company is clearly trying to spread its success derived from Salesforce into other parts of the IT world, and it seems to be doing the right things to get there.
Like the recent New Context acquisition, by not announcing the terms to acquire this small Finnish company, it looks like this is another attempt by Copado to bring in-house the talent and products needed to fill in a missing piece in their multi-cloud strategy.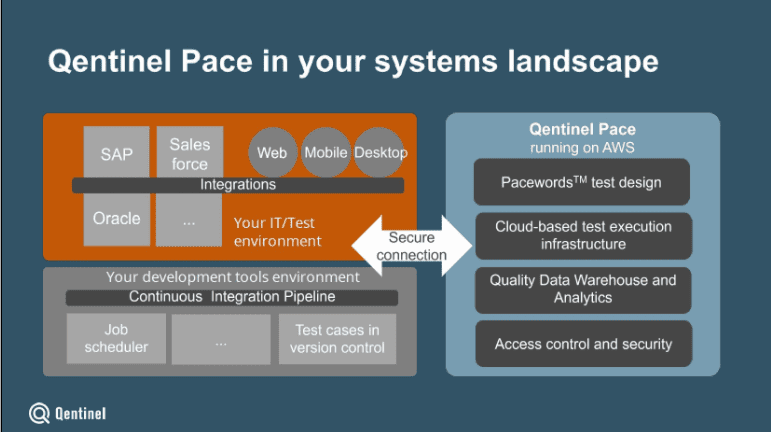 According to information on the Qentinel web site and the Salesforce AppExchange, the system runs in an AWS cluster and interacts with developers and test operators who define tests. Those tests are then access via scripting interfaces to a pipeline management system for later execution.
Qentinel uses "robotic test automation" technology which refers to the use of artificial intelligence and other advanced software systems to deal with the complexities of test automation.
More Salesforce End-To-End Tests are Needed
Testing seems amorphous and is hard to understand for many Salesforce devops practitioners. It currently is done only by the companies who can afford the additional time and expense to test a Salesforce implementation. Much Salesforce user interface testing is either done manually by testing technicians, or by using a devilish tool known as Selenium. The type of testing automation promoted by Qentinel is desperately needed to advance Salesforce devops.
I am also tracking San Francisco-based testRigor, who, like Qentinel, uses an AI-based testing engine. testRigor tests off-platform events, such as confirming the receipt of a Salesforce-generated email message, which contributes to better end-to-end testing.
Salesforce Devops: An Ecosystem or a Hegemonic Duopoly?
The frenetic M&A activity in Salesforce devops is centered around the Top 5 devops platforms I wrote about last week, plus a few others like Opsera. All of the tool vendors want to be in one or all of the Top 5's app store. But another business factor may get in the way of building a perfect Salesforce devops ecosystem – economic hegemony.
As most new markets emerge, they go through a period of frenetic activity just like what we are experiencing in Salesforce devops. But, instead of things turning into a happy, cooperative ecosystem, the competitive landscape becomes bloodier with ruthless competition, acquisitions, and investor power plays ruling the day.
A successful company in a hot, well-funded industry, like Copado, practices what I call economic hegemony when it consolidates the market by conquering their opposition. When this starts in a new market, what usually happens is that the second-place company gathers its forces, and then seeks to conquer the remaining competition. After the dust settles, and what usually results are two companies that control an important new market. To put a phrase on it, I call this kind of situation a hegemonic duopoly.
By taking Qentinel off the market Copado is practicing economic hegemony by making it harder for the other Top 5 vendors to put Qentinel into their app stores. This could make it less likely Salesforce devops practitioners will get to pick and choose the best tool for the job in 2022 and 2023. Time will tell if companies getting snapped up and integrated into a devops platform is good for the industry. But it is good for Copado and their customers right now, that is for sure.