Salesforce Unleashes New AI Innovations for Smarter Selling
Salesforce today started shipping a suite of new AI-powered capabilities aimed at boosting sales productivity and revenue growth. The updates to Sales Cloud leverage advanced AI to help sellers work smarter throughout the entire sales process.  In this post I will take you through the announcement and reactions from Salesforce executives and customers.
AI Assistant Provides On-Demand Support
On the heels of big Dreamforce announcements, this update from Salesforce reinforces Salesforce's commitment to AI and to clean up the buying options for customers ready to jump in.
One of the most notable innovations is Copilot for Sales, a new AI-powered virtual assistant for sales reps. Copilot acts like an extra team member, assisting sellers with everyday tasks such as updating CRM records, looking up account details, and preparing for meetings.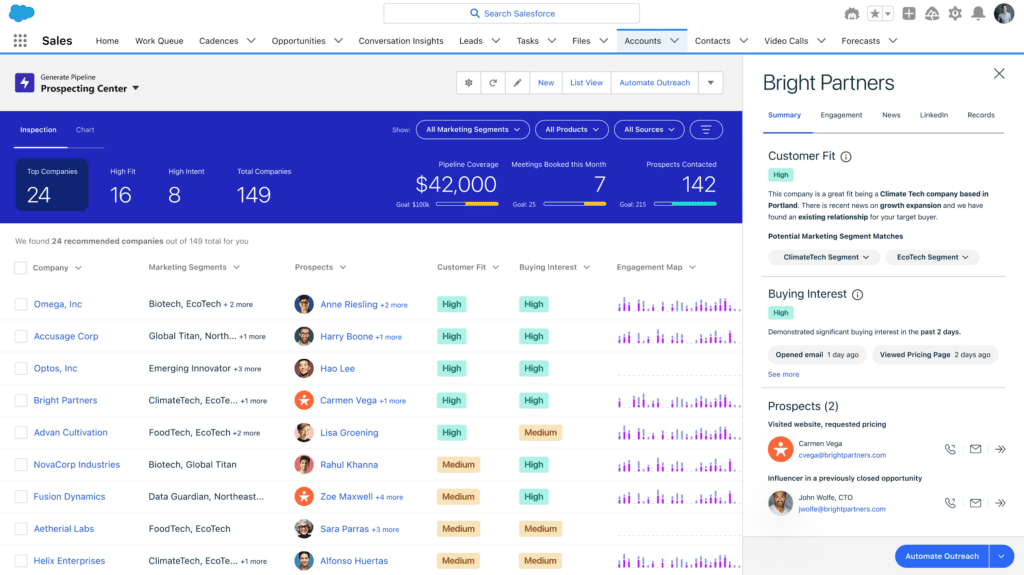 Copilot can be accessed from within Sales Cloud, via mobile, and through web browsers. This gives sellers on-the-go support no matter where they are working. Copilot leverages generative AI to provide customized guidance specific to each rep's needs and selling style.
Early feedback on the copilot has been positive, especially from Salesforce's in-house sales teams. Salesforce's Karkhanis described it as "having an Einstein AI agent riding shotgun with sales reps to assist them throughout the day."
Meeting Summaries and Email Generation
In addition to being an AI assistant, Salesforce has introduced new Einstein capabilities to eliminate tedious administrative work for sellers.
Call Summarization uses AI to automatically create summaries of sales meetings. Key discussion topics, next steps, and action items are extracted and compiled into shareable summaries. This eliminates the manual notetaking and reporting that salespeople often must do after client meetings.
Similarly, Sales Email generates customized email templates for reaching out to prospects and customers. The AI recommends contextually relevant messages and content for emails based on the rep's previous communications and CRM data.
Prospecting and Performance Optimization
On sales prospecting, Automated Prospecting gives sales teams an AI-powered engine for identifying and prioritizing new accounts. It analyzes internal CRM data plus external signals to build targeted prospect lists automatically.
Sales operations leaders also gain new AI capabilities with Process Intelligence. This solution uses data modeling and optimization algorithms to uncover factors impacting sales performance. Teams can leverage insights to tweak strategies and workflows to boost metrics like win rates.
Unified Sales Platform with New Unlimited Edition+
Importantly, all these innovations and more are now unified into Salesforce's new Sales Cloud Unlimited Edition+. This simplified offering consolidates essential sales technologies like Einstein AI, Slack collaboration, and Customer Data Platform onto a single platform. Sales Cloud Unlimited Edition+ marks the first time Salesforce has bunded Slack with its flagship offerings.
Karkhanis believes this integrated sales stack will provide major value, especially for SMBs. "The Sales Cloud Unlimited Edition+ brings together powerful AI and a robust data foundation in one easy-to-use product," he said. "This eliminates the need for piecing together disparate point solutions.
Early customers like GrubHub and Esquire Bank are already reporting increases in sales productivity after implementing Salesforce AI capabilities from the new offering. "These innovations will enable us to scale our business by identifying, qualifying, and engaging more of our target clients with personalized content, aligning with their business goals on their terms and timeline," said Mai of Esquire Bank.
The Future of Smarter Selling
With trusted AI capabilities woven directly into daily sales workflows, sellers can focus their time on actual selling rather than manual tasks and drudgery. As more salespeople become familiar with the capabilities of AI tools like Sales Cloud as well as ChatGPT, I expect that salespeople will come to expect AI features soon.
Salesforce is committed to further enhancing AI-powered selling through continued listening to customer needs. Salesforce's Karkhanis expects upcoming innovations like predictive sales guidance and enhanced conversation intelligence to build on this vision.
"Today's updates underscore how AI can make individual sales reps and entire teams more effective," Karkhanis said. "This is only the beginning, as AI paves the way for the future of smarter selling."
Customers Still Evaluating Generative AI
Despite all the AI hype, it seems like most Salesforce customers are taking a wait-and-see attitude about AI adoption. "I think customers have a healthy amount of skepticism, as with any new technology. That's why our message doesn't start with AI but starts with trust," said Karkhanis about AI adoption.
Salesforce has certainly capitalized on Marc Benioff's "Trust is our greatest value" philosophy by showing itself as a steward of customer data in this AI gold rush. Also, by bringing in 3rd party foundational LLMs, a prompt-centric architecture, and support for customer-developed AI models, Salesforce has established itself as the premier platform for deploying AI-enabled enterprise applications. And, by offering a vendor-integrated AI platform, Salesforce takes away some of the risks of sorting out a dynamic AI engineering landscape.
But there is growing tension between enterprise IT, corporate management, and rank-and-file workers who are considering generative AI in their work. Personal experiences with ChatGPT have already shown many people how powerful AI technology can be. And there is mounting academic evidence for productivity gains, such as the Harvard and Boston Consulting Group study on knowledge worker productivity and the Microsoft and MIT Sloan study that shows up to 55% gains in developer productivity with GitHub Copilot, this means that workers will soon start demanding AI enablement in their daily workflows.
Because of the tangible gains, some workers will start to see restrictive AI policies as anti-worker and unreasonable. The real question may not be whether a big corporation can afford to take on the risk of using generative AI but are they willing to let their workers perceive their anti-AI stance as anti-worker.