Salesforce AI Push: Merging Generative AI and CRM
Salesforce, a global leader in enterprise application delivery, made strides today in using advanced AI technologies to redefine customer interactions, productivity, and data security. The company announced a series of strategic developments, backed by research. The initiatives are aimed at integrating generative AI and large language models into its suite of services. In this post I'll cover the new AI products and report on the new Deloitte partnership. At the end I'll evaluate the enterprise AI competitive landscape. And I'll give some advice for IT leaders on what to do about AI today.
AI Cloud Rolls on in London
Salesforce's AI Cloud employs the Salesforce Customer 360 platform and Data Cloud. It provides businesses with a unified view of their customers across all channels. The platform also includes Einstein, Salesforce's AI engine, which powers a variety of AI-powered features across Salesforce products.
Einstein GPT Trust Layer: This layer helps prevent large language models (LLMs) from retaining sensitive customer data. This helps businesses maintain data governance controls while still leveraging the immense potential of generative AI.
Sales GPT: Helps sales reps quickly auto-generate personalized emails tailored to their customer's needs.
Service GPT: Helps service teams auto-generate personalized agent chat replies and case summaries.
Marketing GPT: Helps marketers auto-generate personalized content to engage customers and prospects across email, mobile, web, and advertising.
Commerce GPT: Lets commerce teams auto-generate insights and recommendations to deliver customized commerce experiences at every step of the buyer's journey.
Flow GPT: Lets business users auto-generate workflows and automations.
Slack GPT: Allows Slack users to auto-generate personalized responses to messages and commands.
Tableau GPT: Helps Tableau users auto-generate visualizations and insights from their data.
Availability For New Products
AI Cloud is available now in preview. Salesforce have moved the general availability dates for all products to the end of 2023:
Service GPT is expected in 2023.
Sales GPT is expected in 2023.
Sales Emails is expected in 2023.
Call Summaries is expected in 2023.
Sales Assistant is expected in 2023.
Service Replies is expected in 2023.
Work Summaries is expected in 2023.
Knowledge Articles is expected in 2023.
Flow GPT will be in pilot in October 2023.
Slack GPT is in beta today and will be available later this year.
Tableau GPT will be in pilot in November 2023.
Sales and Service GPT
Salesforce's proprietary Einstein GPT powers the Sales and Service GPT. They are designed to revolutionize how sales and service teams work across industries. Salesforce's research underscores the potential of these tools. More than 60% of sales and service professionals believe that generative AI will help them serve their customers better. Yet, the same research also reveals a skills gap, with 63% of sales professionals and 59% of service professionals stating they do not yet have the skills to use generative AI effectively.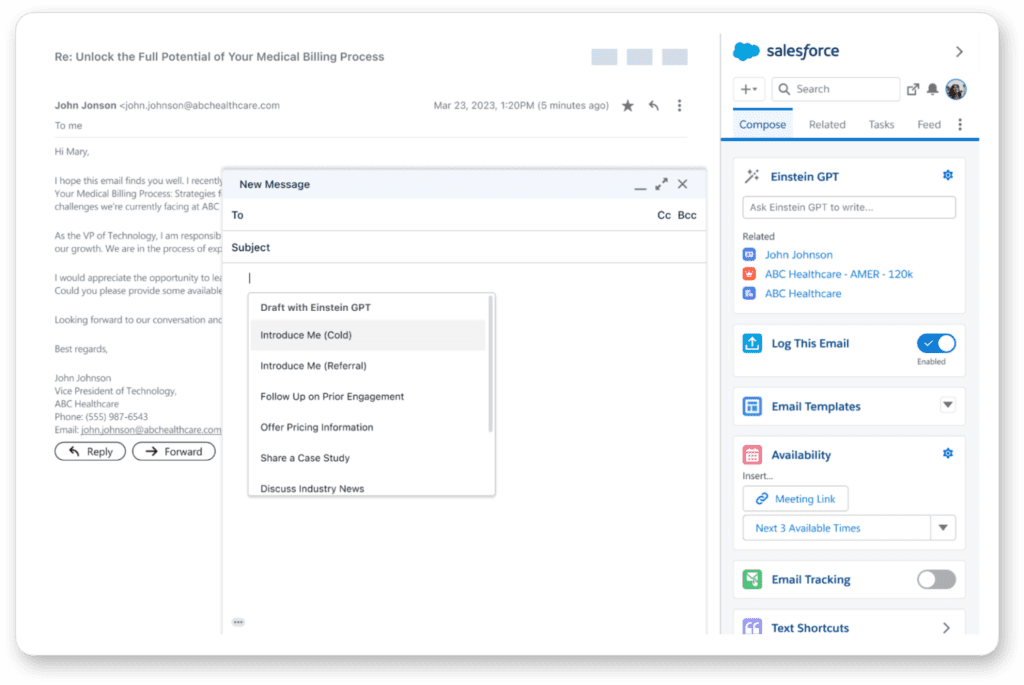 Data security and compliance are key concerns when it comes to AI deployment. Recognizing this, Salesforce has ensured that its new products come equipped with the Einstein GPT Trust Layer. This feature is designed to prevent large-language models from retaining sensitive customer data, thereby helping maintain data governance controls.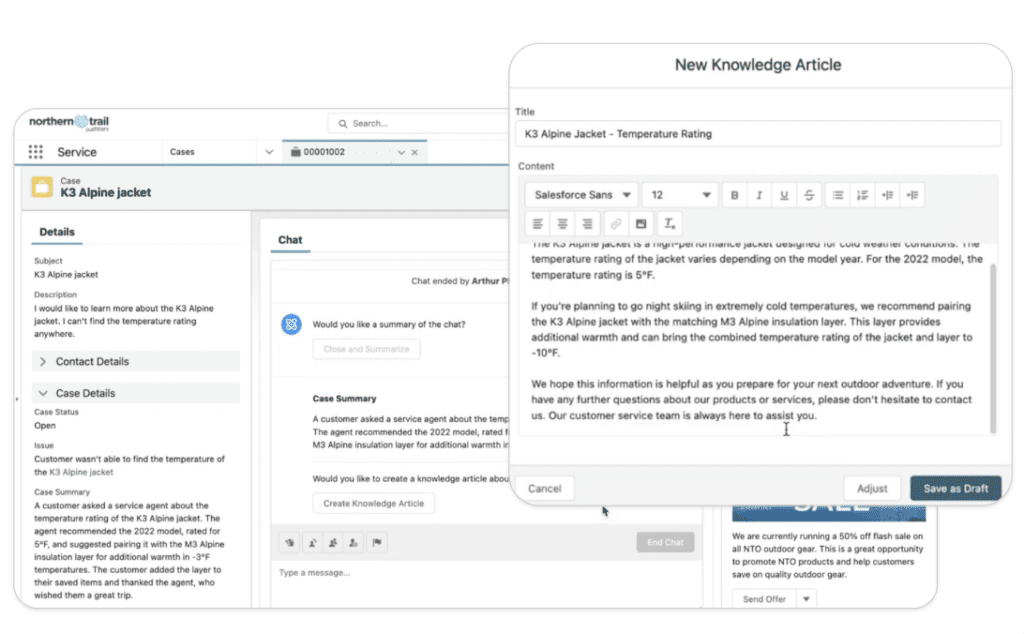 What is the Einstein GPT Trust Layer?
The London event let Salesforce expand on its June 12th launch of AI Cloud. Einstein GPT Trust Layer is a new feature that helps businesses mitigate the risks associated with generative AI, such as hallucinations, toxicity, privacy, bias, and data governance concerns. The Trust Layer does this by separating sensitive customer data from the LLM. This ensures that the LLM cannot access or learn from sensitive data, which helps to protect customer privacy and data governance.
The Trust Layer employs a technique known as data masking.. Data masking obscures sensitive data so that it cannot be accessed or used by unauthorized users. In the case of Einstein GPT, the Trust Layer uses data masking to obscure sensitive customer data before it is passed to the LLM. This ensures that the LLM cannot access or learn from this data, which helps to protect customer privacy and data governance.
The Trust Layer is also designed to be compatible with a variety of LLMs, including those from Amazon Web Services (AWS), Anthropic, Cohere, and others. This means that businesses can use the Trust Layer with any LLM that they choose, which gives them more flexibility and control over their generative AI deployments.
Salesforce Partners with Deloitte Digital on AI
Salesforce today also announced a collaboration with Deloitte Digital to accelerate the implementation of trustworthy AI for CRM applications. This partnership will use Deloitte's Trustworthy AI framework, which emphasizes fairness, transparency, responsibility, robustness, privacy, and safety. Deloitte Digital will also provide industry-specific AI use cases and training programs to foster the next generation of talent within the Salesforce ecosystem. This strategic move aligns well with Salesforce's research findings, which revealed that 73% of employees perceive generative AI as introducing new security risks.
Salesforce's recent developments reflect a significant push towards integrating advanced AI capabilities into its services. The company is demonstrating a strategic vision that pairs advanced AI technologies with research insights, aiming to deliver powerful, secure, and trustworthy AI-driven CRM solutions. Salesforce's partnerships with AI leaders like OpenAI and Deloitte Digital underscore its commitment to transforming industries through AI, addressing skills gaps, and ensuring robust data security.
The AI Hype Cycle Continues
Salesforce seems well-positioned against its big rivals, such as SAP, Microsoft, and Snowflake, in the AI race so far. Salesforce already has much of the structured business data used by its customers. And Salesforce knows about an enterprise's data security structure based on how Salesforce is configured. The GPT Trust Layer, which includes data masking and PII protection, gives Salesforce a leg up in the enterprise AI race.
However, relying on Salesforce's promises concerning product delivery remains challenging. Marc Benioff, CEO of Salesforce, and Clara Shih, the newly appointed CEO of AI at Salesforce, could be turning an aircraft carrier on a dime. But I believe making this number of product promises is a daunting challenge for Salesforce to meet. Nevertheless, Salesforce has been in the AI business longer than most of its competitors. That counts for something.
Enterprise AI leaders need to understand how products like Salesforce GPT Trust Layer and Microsoft Confidential AI are built. This is because many of the AI projects are coalescing around common AI architectures. These "AI Ops" pipelines and data processing flows remind me a lot of devops pipelines and the orchestration we do in code deployment. A recent article published by venture capital firm Andreessen Horowitz provides what I believe is essential reading for senior IT leaders about operational AI architectures.
Understanding how AI operates under the covers is essential because of the rapidly moving market, which has yet to provide a clear picture of how enterprises will eventually use AI products. As we wait for Salesforce, Snowflake, and other enterprise companies to deliver products, startups will deliver on Salesforce's promises before they do.
I anticipate competitive pressures may prompt enterprises to adopt AI before Salesforce's solutions are ready. You may need to assemble some AI building blocks on your own to get AI services into your enterprise.
Overall, I agree that LLM availability will push enterprise IT into a new buying cycle. The challenge for existing enterprise companies like Salesforce, Microsoft, and Snowflake is to capture that revenue. It will be interesting to see if AI customers will be best serviced by these existing giants, or if a new crop of startups will grab the prize.