Flosum Adds Demerge, Domain Security, Trust Center, ACCELQ, and Veeva in Winter Release 2023
Flosum, a leading Salesforce devops platform vendor based in San Ramon, California, last week announced several platform upgrades in Flosum Winter Release 2023. New feature announcements centered around developer platform activities like branch-based development, domain-driven security, plus new integrations with Veeva and ACCELQ. "Our new release simplifies Salesforce DevOps and offers new and better ways to manage and secure development activity. Our first-to-market demerging branches feature alone will save weeks of manual work for customers, especially those with development teams of 50 or more developers," said Girish Jashnani, CEO of Flosum in a press release.
Intense Focus on Branch Management
This update of the Flosum Salesforce devops platform feels to me like Flosum is responding to customer requests for feature updates. This is apparent in an hour-long webinar presenting the update that includes a demo with customer questions. In the video, Flosum senior director of product marketing, Veroljub Mihajlovic, gives a detailed overview of the new features and updates. I also had a chance to correspond with Mr. Mihajlovic via email to answer some additional questions.
The centerpiece of the branch management updates is the new "demerge" function. This is where Flosum removes a previously merged branch from the current branch. "This gives you the capability to undo branches and avoid manual rework, making the release process even easier than before," said Mr. Mihajlovic in the webinar. Several other updates to branch operations were also announced. "Multi-branch merge is the most requested feature in this release," added Mr. Mihajlovic in the webinar video.
Repository Quality Gates
Another new feature added in this release is the ability to insert arbitrary logic "gates" into repository management. This feature allows you to insert a Salesforce Validation Rule or Apex Trigger into repository operations.
This allows Flosum to execute custom validation logic before merging branches. With this capability, users may evaluate extra metadata, such as a completion stage, before allowing a branch to be merged.
Hardened Domain Management
Continuing with the theme of new features designed for large enterprise users, Flosum also unveiled Domain Management and Multi-Domain support. This is essentially a security function that allows Salesforce org platform owners to restrict devops functionality for groups of developers.
Domain management allows teams to segregate developers into different groups who need different security postures. "This feature helps organize and structure work by introducing hardened domain management and support for enterprise-wide environments or system integrators with multiple customers, where multiple production organizations exist with many project teams, developers and differing release schedules with varying and complex processes," said Mr. Mihajlovic in our email exchange.
New Flosum Integrations and Trust Center
Although technically not new, Flosum also highlighted Trust Center, which was released earlier this year. This is a command center that allows for viewing metrics related to Salesforce org security. Trust Center supports org monitoring, security templates, remediation planning, devops pipeline security, audit trails, and data masking.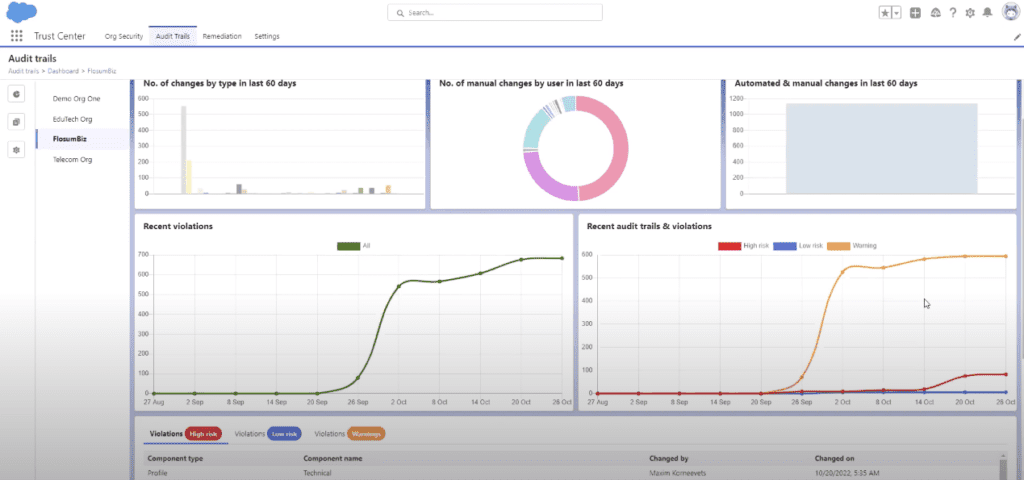 Continuing with the theme of providing features of interest to larger Salesforce customers, Flosum also announced a new integration with Veeva Vault. This allows users of the hugely popular life sciences Salesforce vertical application to use Flosum to manage their release processes. This is notable because Veeva users are subject to some of the most stringent regulations concerning software quality and documentation.
Flosum also announced they are adding an integration with ACCELQ for continuous application testing. This is in addition to an existing testing partnership with Provar.
Flosum Keeps Pace
In this release announcement, Flosum clearly demonstrates they are keeping pace with their competition, while maintaining an intense customer focus. The new Demerge functionality, along with the new Quality Gate feature, shows they are listening to those "I wish I could have" statements in customer meetings.
Some of this customer focus is on very large Salesforce customers who maintain developer teams who number in the dozens if not hundreds. Dealing with customers of this size can tend to drive features in that direction. We should expect Flosum to continue its focus on the top end of the market as we go into 2023.