Gearset Pipelines Announced for Salesforce Devops Environment Management
Gearset, a leading Salesforce devops platform vendor from Cambridge, UK, this month announced Pipelines, which is a fully featured graphical user interface for multi-org Salesforce release management. The enhancement adds release management features on top of the existing org management and devops features of Gearset. "Pipelines combines powerful new functionality with Gearset's incredibly successful tools for deployments and automation, all displayed in one intuitive UI," said Matt Dickens, chief product officer at Gearset in a press release. Pipelines is immediately available to Gearset Enterprise customers. It is also available for a 30-day free trial.
Gearset Pipelines – A Layer on Top
The Gearset platform already has a great deal of features for devops-inspired Salesforce release management. This is because it manages source code repositories with a variety of source code management systems. It also integrates with popular application lifecycle management (ALM) tools like Atlassian Jira. And Gearset manages and executes the steps in a devops pipeline using a scripted command server. The company is also praised for its org-comparison features, which demonstrates advanced metadata intelligence capabilities. The Gearset Enterprise license currently allows customers to use source code repositories and branch-based release management between multiple orgs.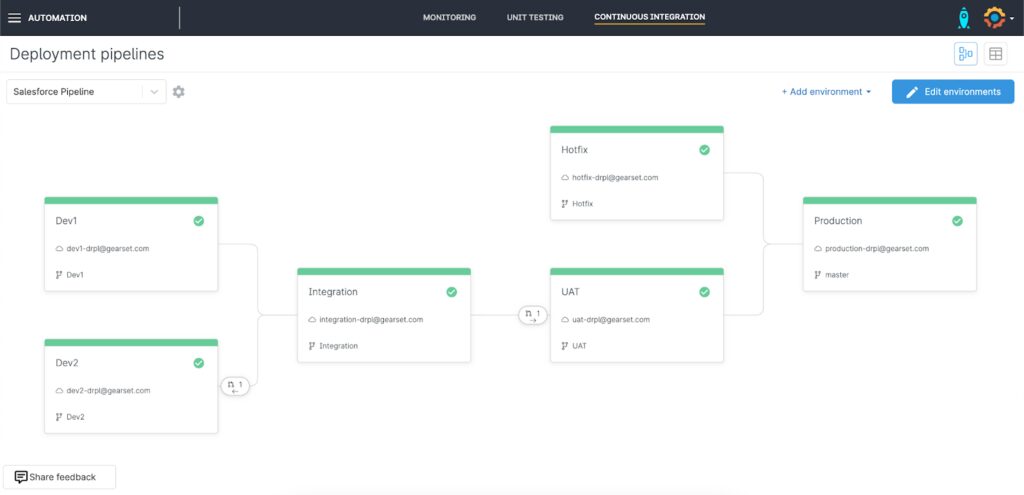 Pipelines is a new graphical user interface for managing a multi-org, branch-oriented release process on top of existing Gearset Enterprise functionality. This lets users organize the flow of release activity between a development sandbox, another sandbox for user acceptance testing, a hotfix branch, and the target production org, for example.
Behind the scenes, Pipelines adds powerful new metadata intelligence features to Gearset. "Intuitive back-syncing of changes to parallel environments makes it easy to keep development sandboxes in sync, while our semantic merge process dramatically reduces the number of merge conflicts teams encounter, allowing them to release more frequently and successfully," said Richard Owen, a senior product manager at Gearset in an interview with SalesforceDevops.net.
Gearset Rides the Salesforce Devops Wave
Most of Gearset's competitors are focused on Salesforce customers with difficult devops problems in financial services, life sciences, and other critical functions. Those activities frequently require a lot of wrap-around services, like consulting, implementation, and support, which results in a high price tag for devops. That is OK because those customers are already paying a much, much higher price for their Salesforce licenses. In those cases, devops costs are a risk management expense.
Gearset marketing seems to be different from some of the other top Salesforce devops platform vendors. Instead of cultivating top Salesforce customers, the company is cranking out its SaaS service to as many orgs as possible. They do this using content marketing and its training site, DevOps Launchpad, to draw in customers. Gearset is also a reasonable price of $300 per user per month for the Enterprise license. That makes it easier for Salesforce customers to add it to a consulting engagement, which makes Gearset a popular choice among consultants.
Timely Release
In some ways, Pipelines seems like a feature that should have already been in the Gearset user interface. Nevertheless, besides adding an expected feature, the release of Pipelines is timely for Gearset. Salesforce DevOps Center, due for release in summer 2022, has a similar environment management user interface. As some users experience low code release management in DevOps Center this summer, Gearset may showcase its deeper functionality in a similar interface.