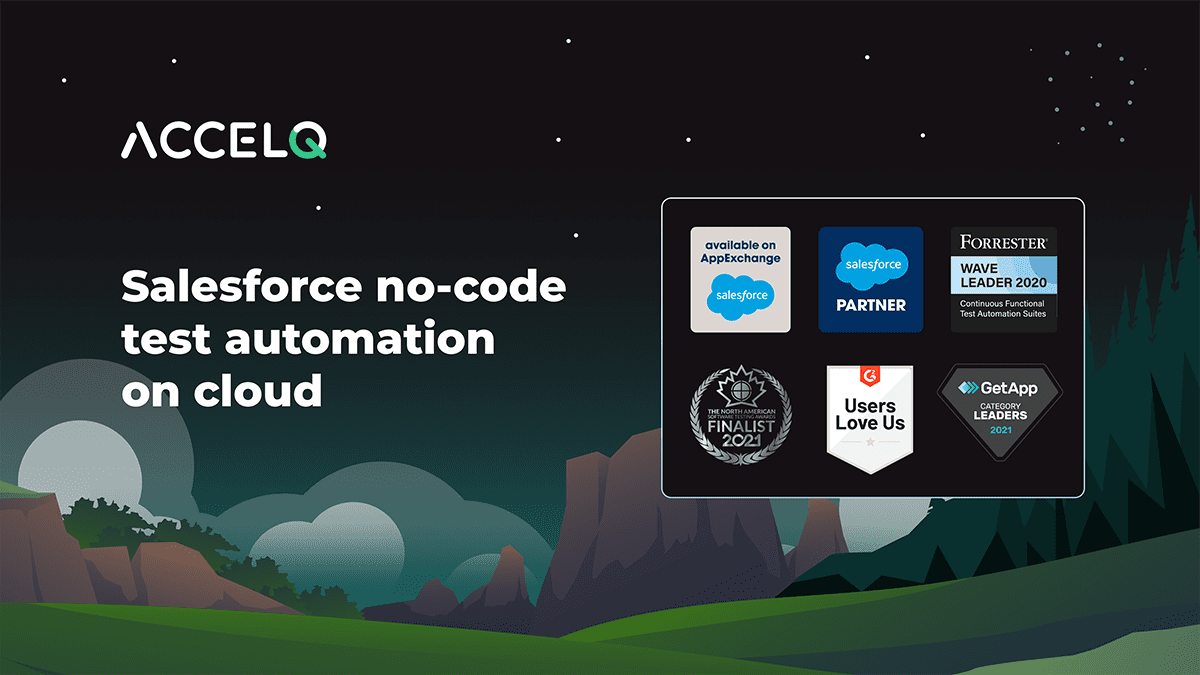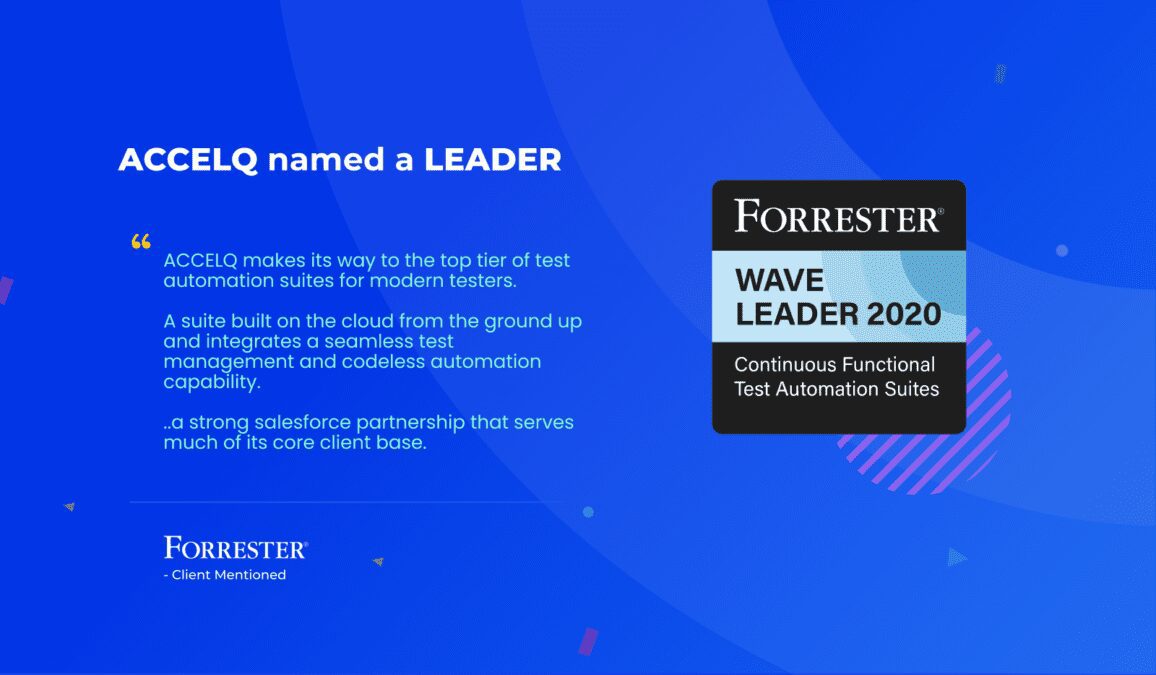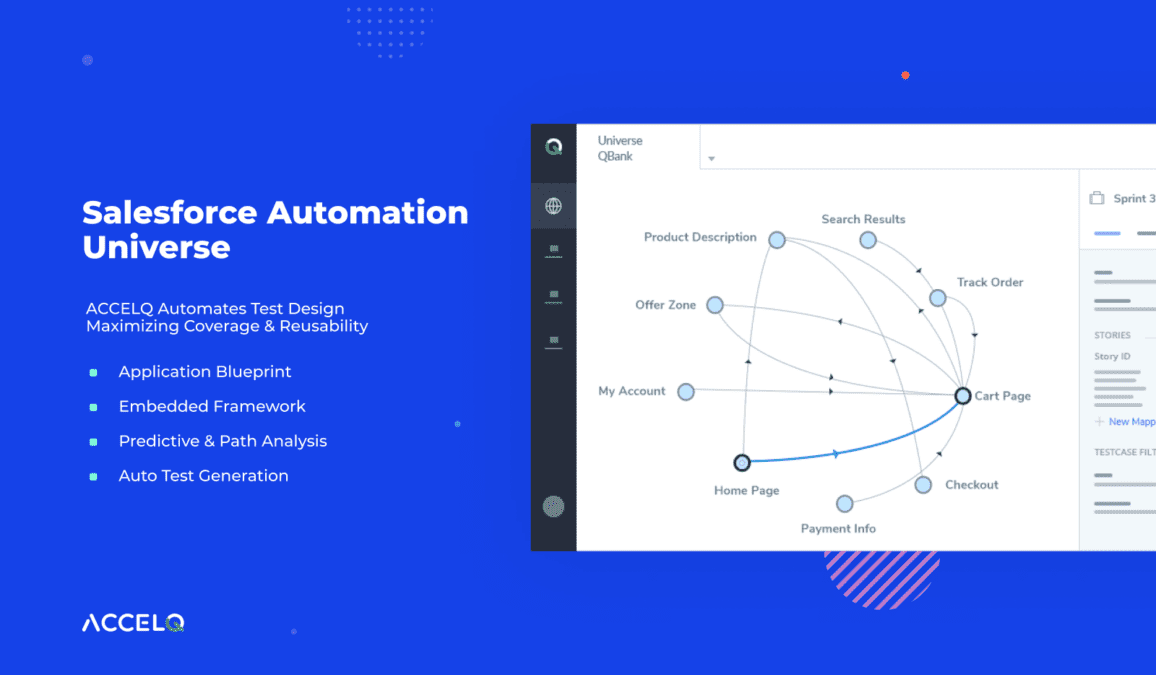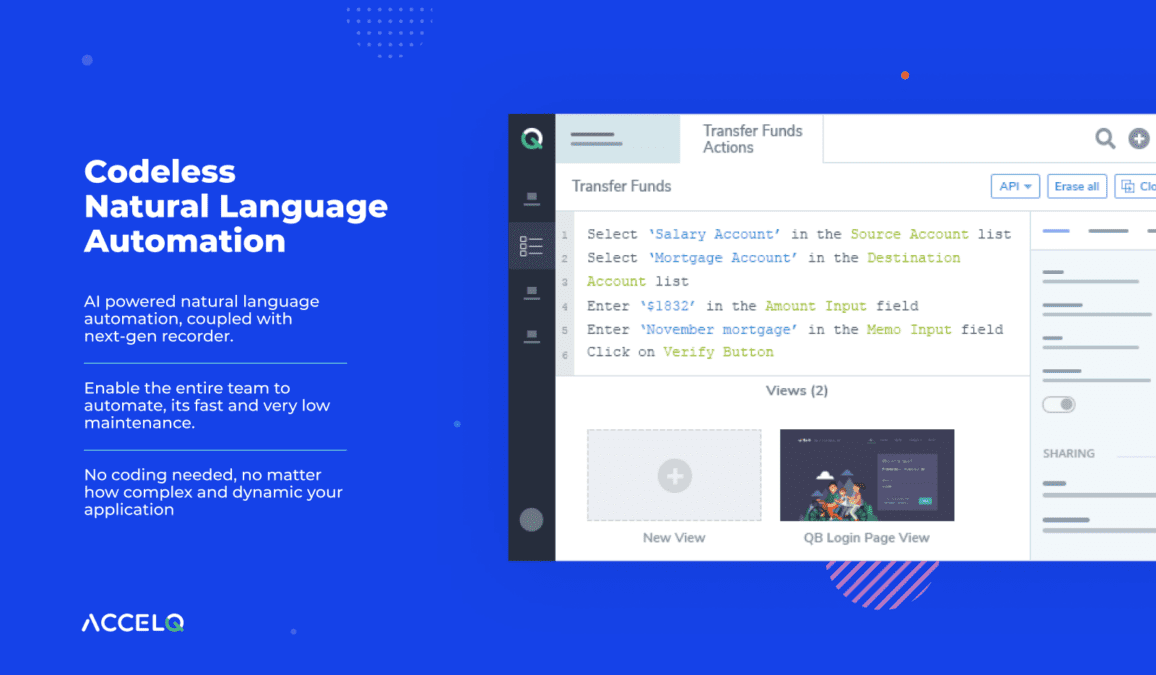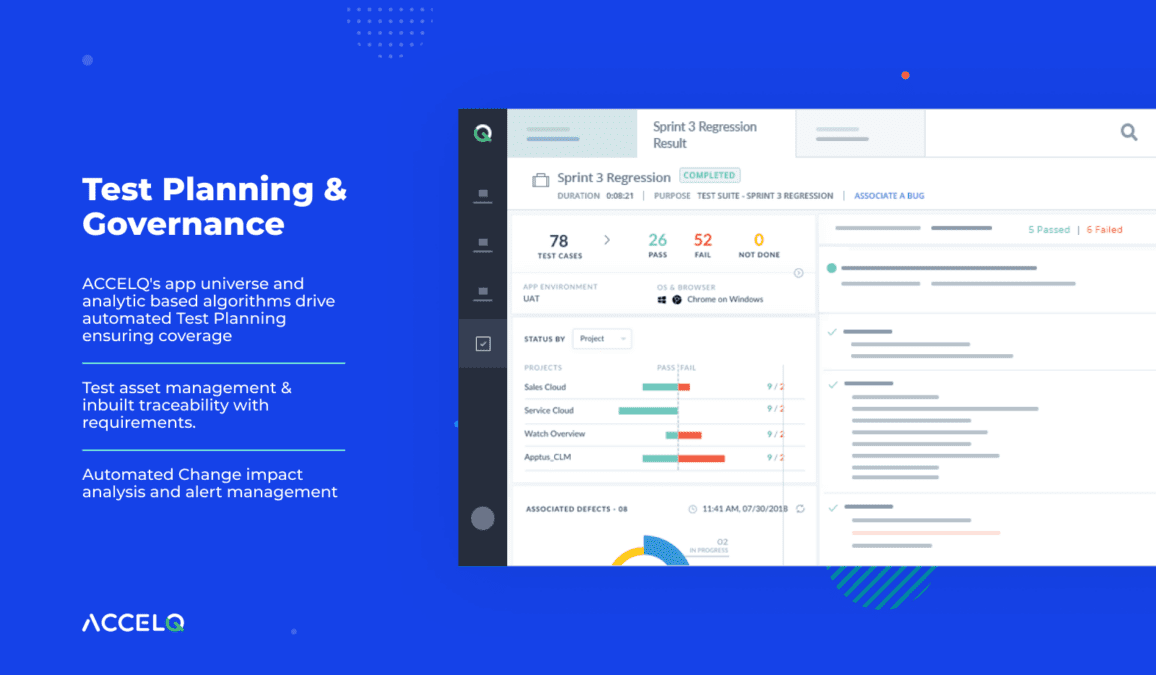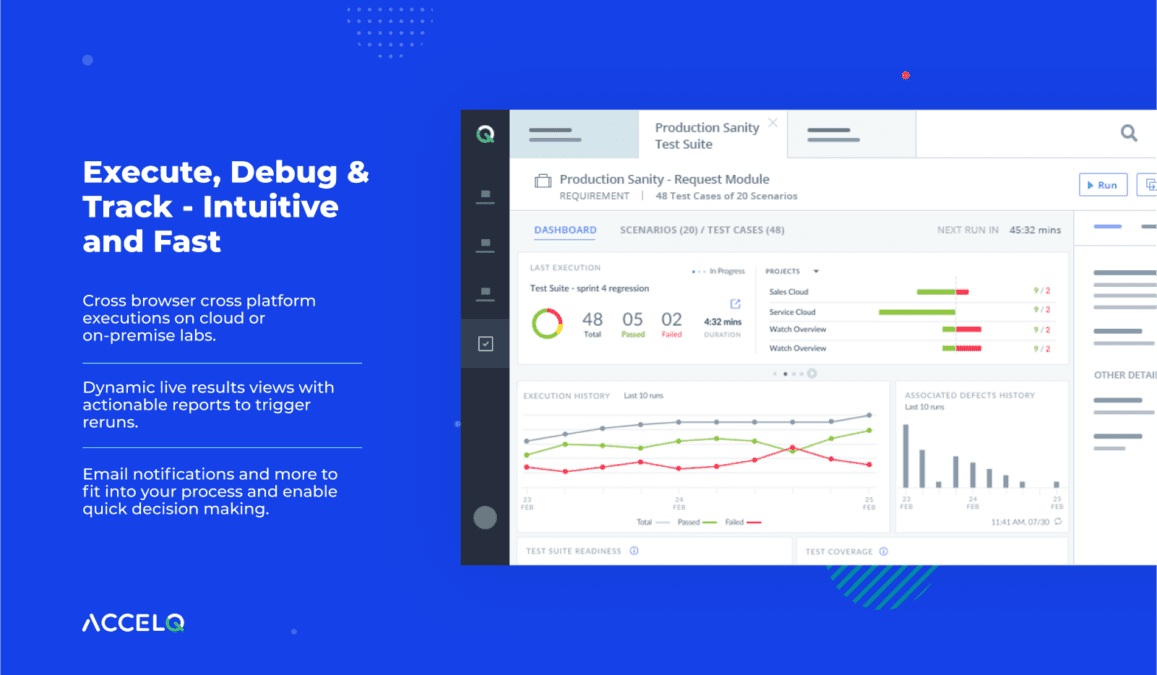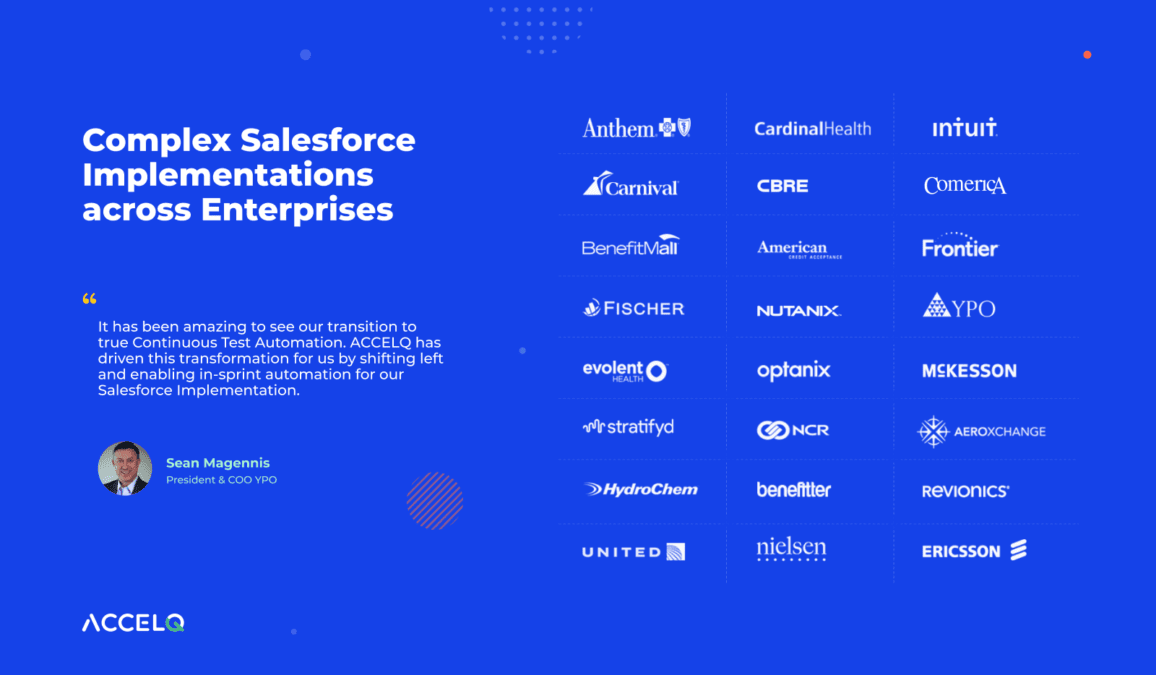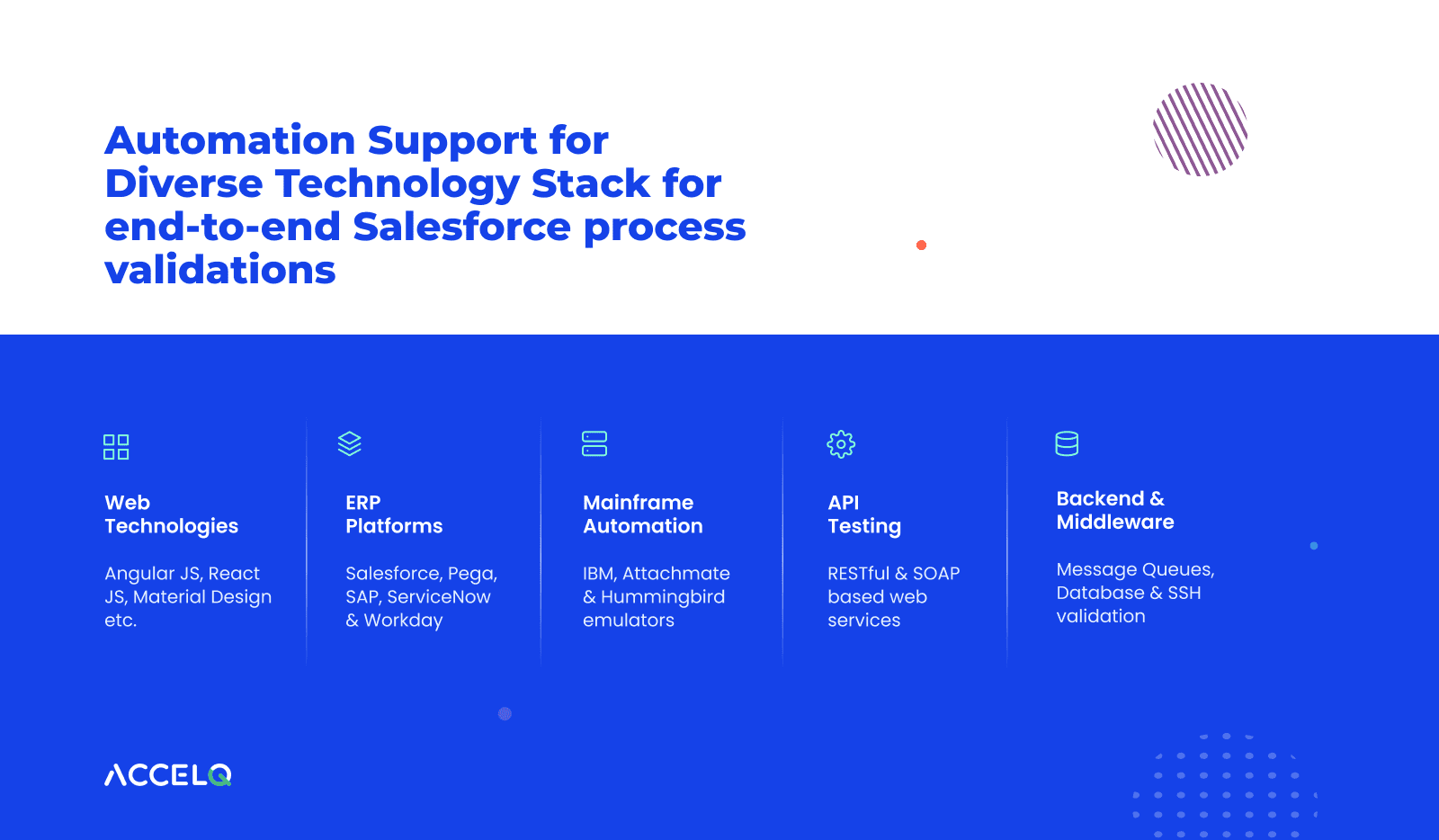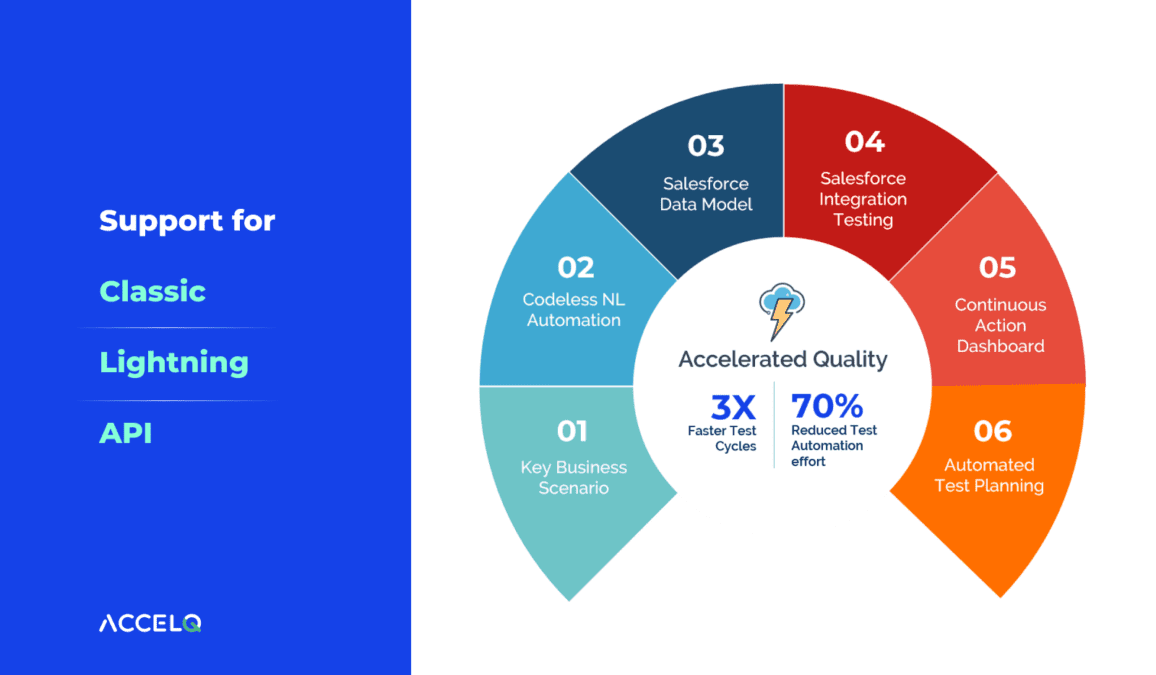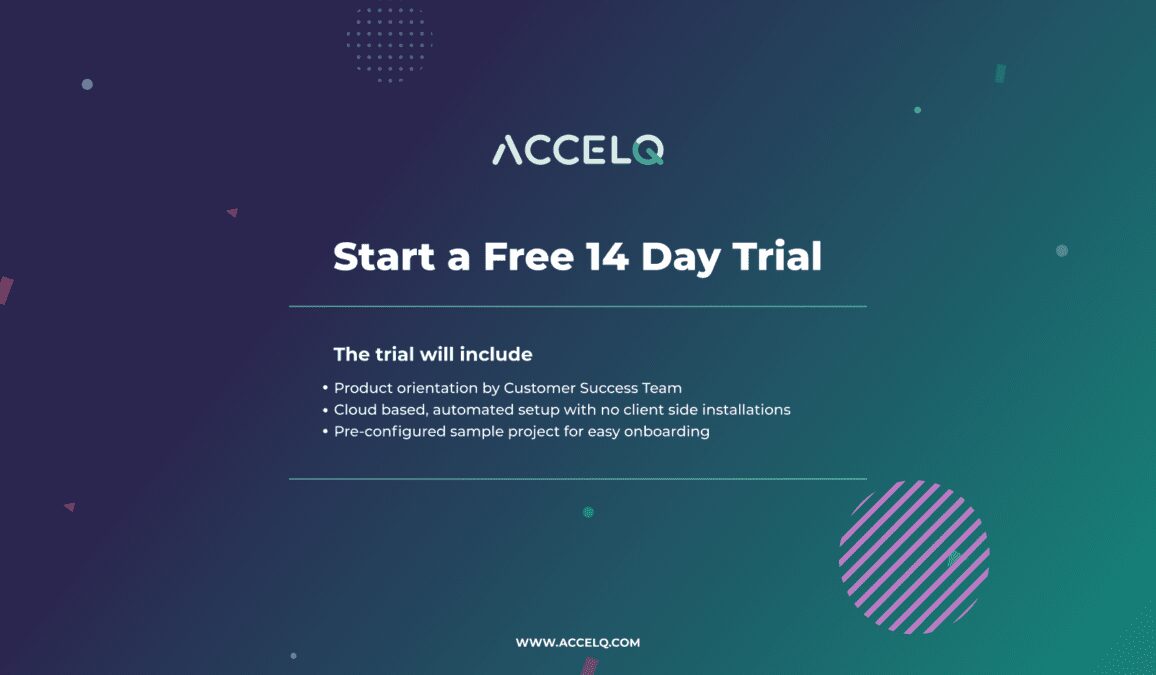 Full Product Description
ACCELQ offers AI-powered codeless test automation and management built on a cloud-native platform. ACCELQ provides a unified platform for web, mobile, API, database, and packaged apps. Automation-first, codeless capabilities make it easy to use for testing teams without deep programming expertise. 
ACCELQ uniquely and closely aligns with Enterprise, Packaged, and Cloud Apps like Salesforce, nCino, MS Dynamics, Oracle, SAP, Workday, etc., and vertical Industry Apps, including traditional desktop-based Apps. ACCELQ can automate these Apps with native alignment to their complex dynamic technology and aligns to their changing releases. 
ACCELQ is proven to speed up automation development by 3 times and bring down the maintenance by 70%, which translates to over 50% of cost savings and enables alignment with Continuous Delivery. ACCELQ customers are Fortune 500 enterprises across industry verticals globally, and they have adopted ACCELQ to accelerate their automation objectives significantly. ACCELQ was named a leader in The Forrester WaveTM: Continuous Test Automation Suites, Q2 2020 report.
ACCELQ for Salesforce
ACCELQ for Salesforce makes test automation that's lightning-fast & easy, just like Salesforce! Here is what makes us a leader in Salesforce test automation –
Salesforce Release Alignment:

Being an ISV partner, ACCELQ is aligned to Salesforce releases to ensure smooth Salesforce upgrades with robust Automation testing

Codeless Salesforce automation of Web, Mobile & API:

AI-driven no-code test automation on cloud optimized for Salesforce-specific Dynamic technology

Used by Internal Salesforce Teams:

ACCELQ is used by internal Salesforce teams like the Pre-release Business scenario testing team.

On Salesforce AppExchange:

ACCELQ is the only cloud-based Continuous testing and automation platform on Salesforce AppExchange.

Seamless Support for Salesforce Technology Stack:

ACCELQ seamlessly automates Salesforce classic, lighting, and lightning web components.
The ACCELQ Difference
ACCELQ brings the discipline, flexibility, and the power of conventional code-based setup into a codeless world to give your testing real acceleration and achieve sustainable automation with no technical barriers. Here is where we stand out –
AI-Powered No Code Test Automation on Cloud.

Fastest Test Automation Development with the lowest maintenance.

Web, API, Mobile, and Desktop automated in the same flow.

In-sprint automation to align with DevOps and Agile.

Enable manual testers to automate testing without the need for programming

Visual application model for business process validation.

Self-healing autonomic test automation to align with fast release changes.

AI-based automated test case generation and data planning.

Built-in test management, Version control, and governance capabilities.

Seamless CI/CD integration and natural traceability.
ACCELQ LIVE
ACCELQ LIVE is a revolutionary approach to Digital Assurance for Cloud and Enterprise Apps. Below are the reason why this is transformational –
Real-Time Release Alignment:

Deep vendor alignment with live cloud link that auto-updates automation assets

Pre-built Codeless Test Assets:

Business process modeled no-code automation assets with real-time vendor release alignment.

Multi-cloud Integrated End-to-end Automation:

One-stop approach to Test Automation across all Enterprise Apps and technology stacks

Q-Live Marketplace for Industry's best ready-made solutions:

Platform approach to bringing partner SME delivered via ACCELQ live technology
 To learn more, visit accelq.com.