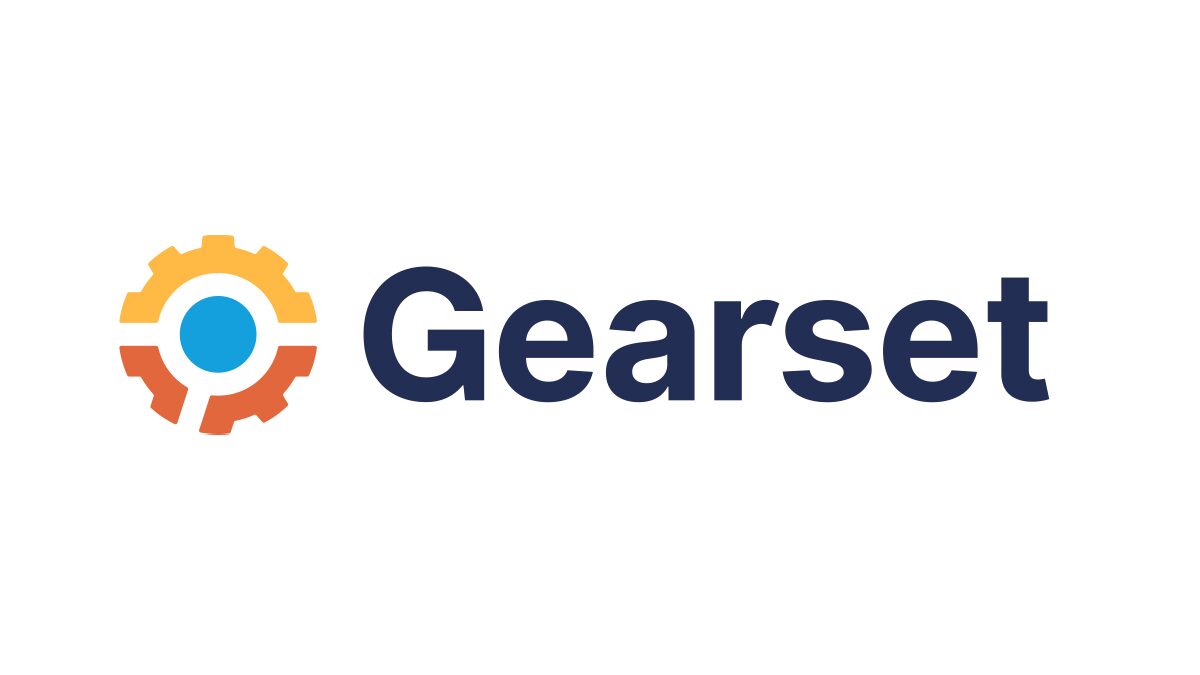 Complete Salesforce DevOps: All the tools you need for unparalleled deployment success, continuous delivery, automated testing and backups.
Product Page URL: https://gearset.com
Sales Contact
https://gearset.com
[email protected]
+1-833-441-7687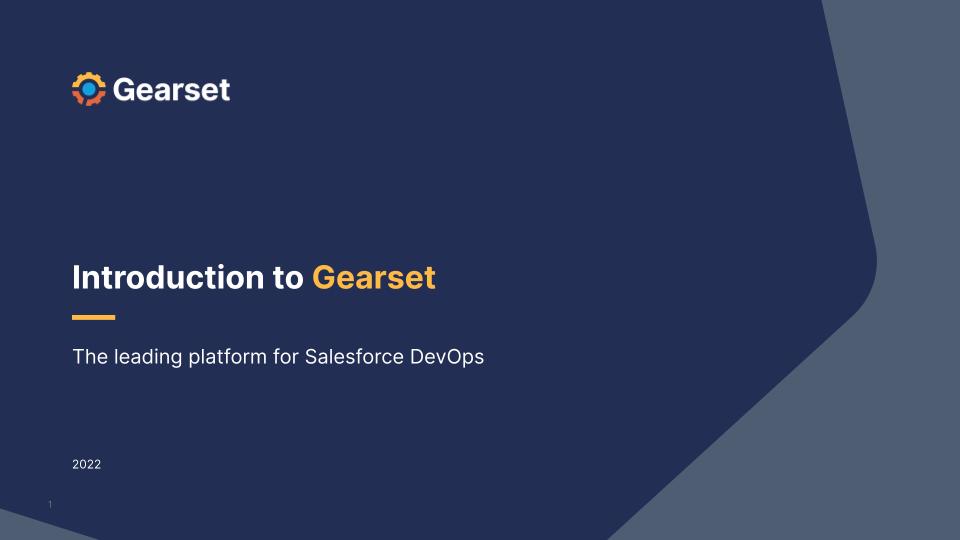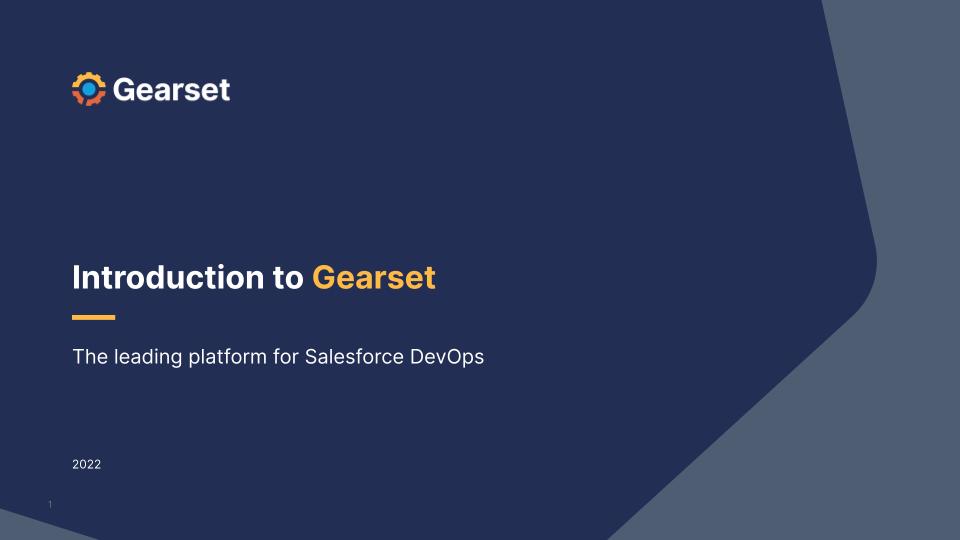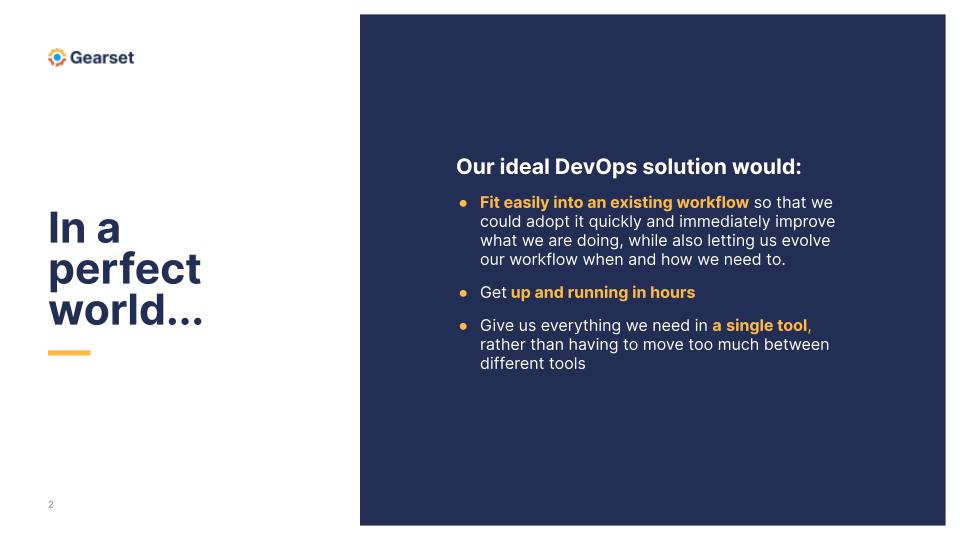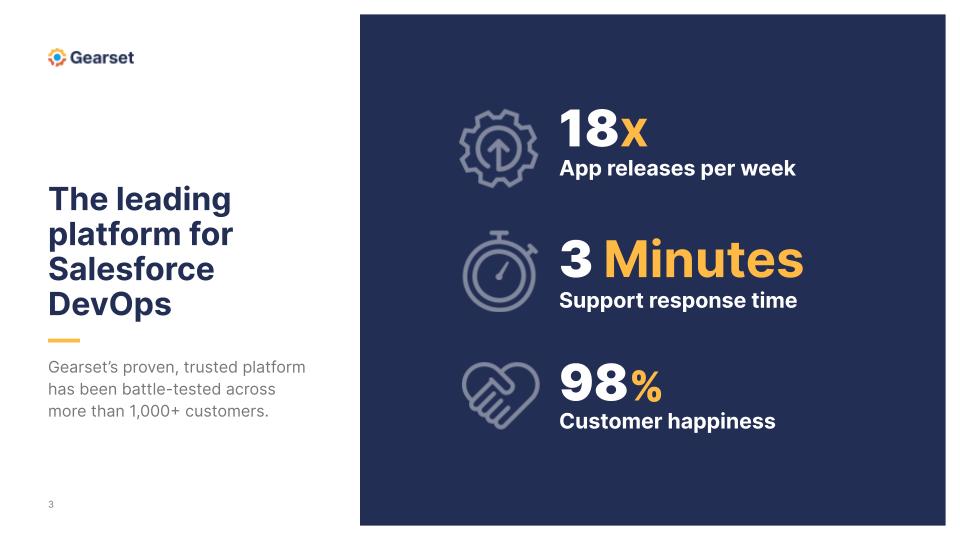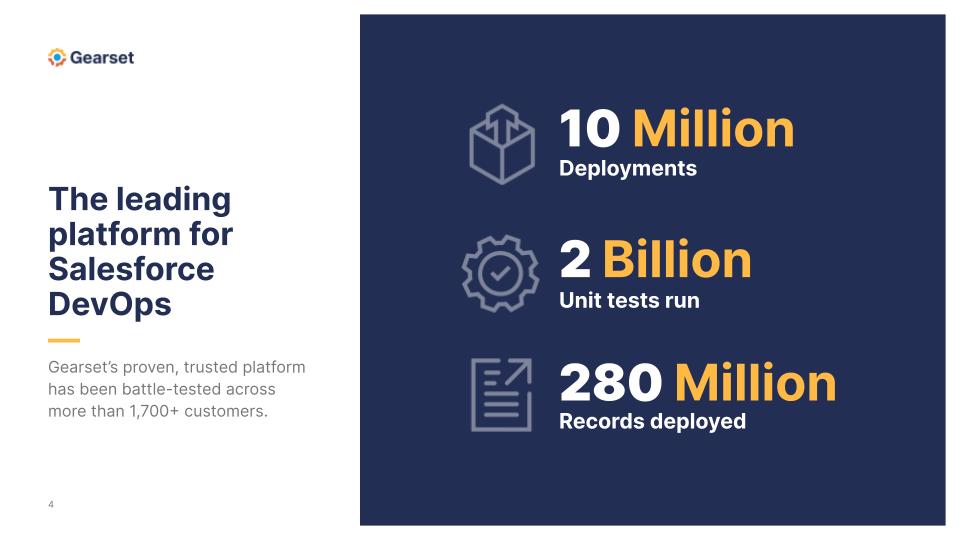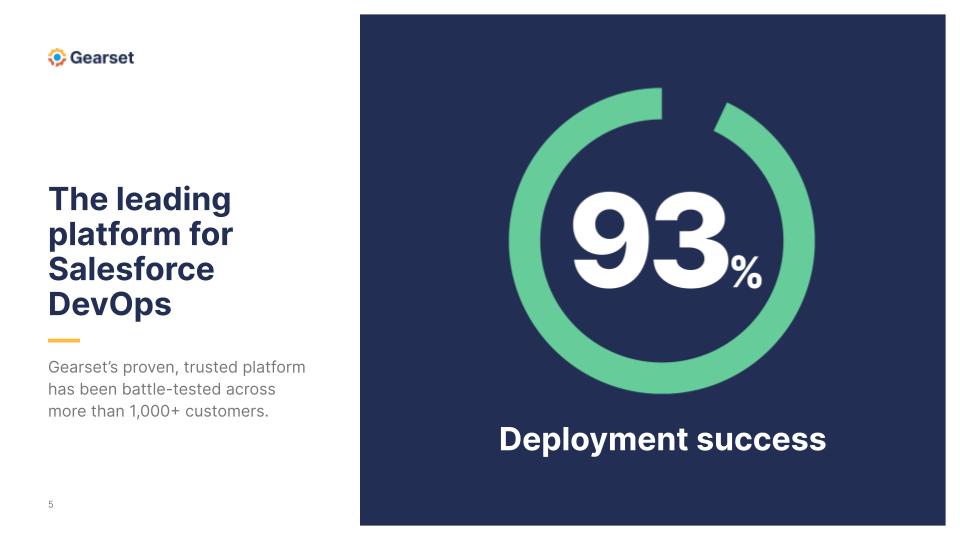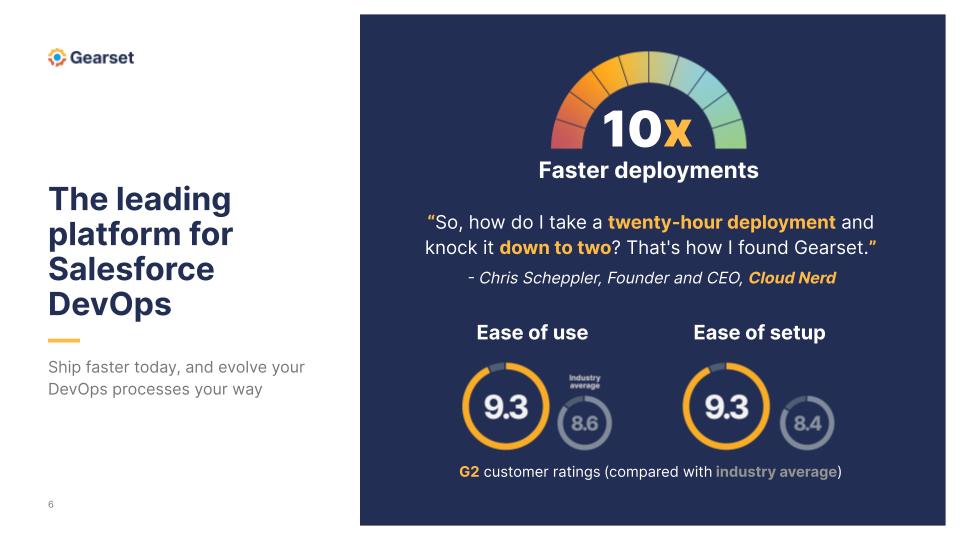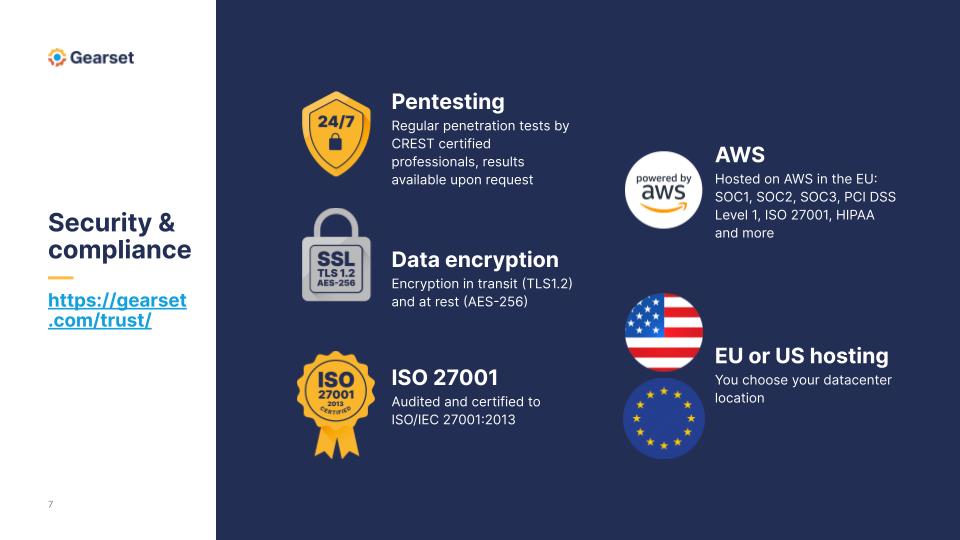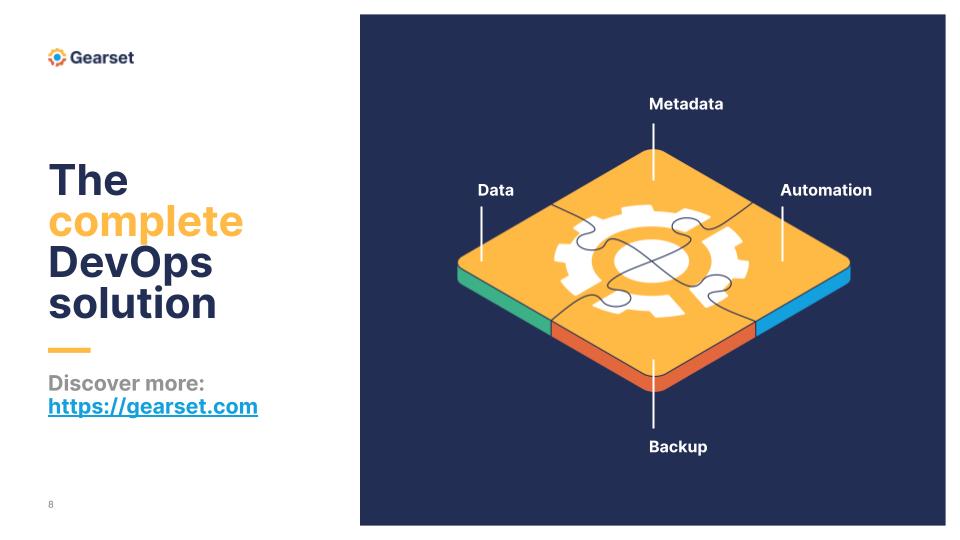 Full Product Description
Gearset is the leading DevOps and disaster recovery solution for Salesforce.
Compare and Deploy
Compare environments live and deploy metadata between Salesforce orgs, source control repositories, local files, and Salesforce DX scratch orgs. Gearset has full support for developer, sandbox and production Salesforce orgs, and you don't even have to install anything into them.
Easily identify new, changed or deleted objects between your source and target environments with Gearset's detailed line-by-line diff viewer, and select only the changes you want to deploy.
Gearset's proprietary problem analyzers find and fix problems like missing dependencies – before you try to deploy, making deployment failures a thing of the past.
For every deployment performed with Gearset, you can view the full deployment report, rollback unwanted changes, and clone existing deployment packages.
End-to-end release pipelines and continuous integration
Configure release pipelines in a matter of clicks to give you complete visibility and management of your release pipelines. Gain visibility into all branches and environments with status and change flows in a simple, scalable UI. Promote changes along the pipeline and effortlessly keep environments in sync. Integrate with your preferred source control system, Jira, and other tools through our public API, as well as setting custom notifications to Slack, Microsoft Teams, Chatter or email to make sure the team never misses a beat.
Retain complete control over your changes by including or excluding specific metadata types and managed packages for every CI job you create, as well as maintaining high code quality with built-in static code analysis for Apex, catching any bugs early. 
Automated Change Monitoring
Create automated jobs to monitor and detect every metadata change made across your entire Salesforce landscape. Receive notifications when unwanted changes to your metadata are made straight into production. Keep up-to-date with changes so you never overwrite a production hotfix again.
Receive daily alerts when your unit tests begin to fail, help prevent deployment failures, and stop falling code coverage by automating your Apex unit testing process.
Data management
Gearset plans and executes complex data deployments for you – just pick the records you want to deploy, and we'll handle the rest.Get realistic data sets into testing environments by migrating and masking records from production. Deploy Salesforce Industries (Vlocity) items and manage complex data structures -such as CPQ configurations -with smart relationship handling, cross-referencing of source and target, plus options for masking confidential records or PII to comply with GDPR or CCPA. 
Data Backup & Recovery 
Designed specifically to handle the unique complexity of Salesforce environments, Gearset will safely back up all data and metadata while preserving any parent-child relationships. You can analyze Salesforce objects to see the changing shape of your org's data over the course of your backup history, and set up configurable smart alerts that warn you when unusual amounts of data have been changed or deleted -so you know straight away when it's time to restore data.
Gearset restores your metadata, and then restores your data – be that one record, a complex hierarchy of data, or your whole org – in just a few clicks.