Welcome to SalesforceDevops.net! My name is Vernon Keenan (LinkedIn) and I am your guide to the the Salesforce devops ecosystem. No matter if you are the person responsible for building solutions, the IT leader who wants to learn more, or an industry geek like me, I aim to give you interesting and actionionable content on SalesforceDevops.net.
What Am I Doing?
In early 2021 I looked around the Salesforce ecosystem for interesting growth areas. What I noticed was that a new unicorn job description had emerged — Salesforce Architect with a Devops background. Certain vendors kept popping up in these unicorn job descriptions. And then I noticed four successful vendors were working hard to productize the space, all with large, devoted customers.
There were no other industry analysts exclusively focused on the subject, so I assembled a list of Salesforce Devops ISVs & Tools as a Google Sheet. I had found an intersection of interests where my skills as a analyst, industry consulting, and content producer filled a needed gap in the Salesforce ecosystem.
If you are interested in engaging me as an industry analyst for your company, then please be sure to browse the Services page and book a meeting!
Industry Content
I monitor the industry news feeds, constantly looking for content relevant to making Salesforce software and services. I find the new products, services, startups, and investors and let loose with my independent commentary.
I also feature Salesforce devops vendors in a way that helps new Salesforce devops buyers make choices about which product or service they should pick for investment.
Map Making
Another for project SalesforceDevops.net is to build a new map of the Salesforce ecosystems as it relates to the way I perceive the industry, depicted below. Be sure to checkout my cornerstone article, Segmentation Model for IT Success, for more information.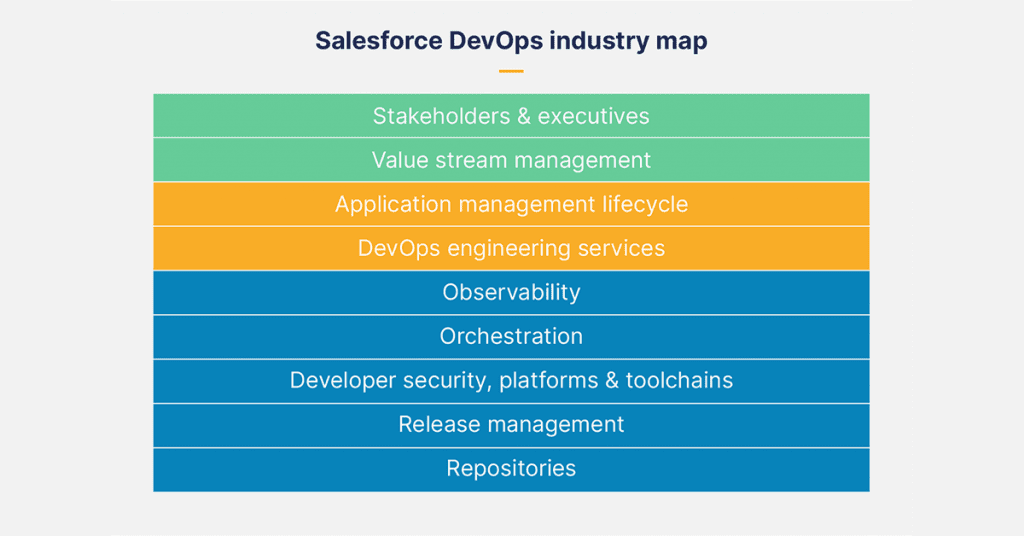 Much More To Say!
This field is so exciting now because the vendors are starting to solve the metadata mess and putting enough workflow tools on top of Salesforce, so that we soon we won't have to be as ashamed with our microservices colleagues anymore. There still so much work and explaining involved in filling in my map! I hope you stay in touch along this journey of discovery.
Vern's Salesforce Devops Posts
About Vernon Keenan
Vernon Keenan (LinkedIn) works as a senior information technology industry consultant based in Oakland, California.
He earned his B.Sc. in Biomedical Engineering at Northwestern University where he programmed a PDP-8 with punched paper tape.
In his 34-year-long career he has been a teacher, SPSS programmer, database administrator, clinical researcher, technology journalist, product marketing manager, market researcher, management consultant, and industry analyst. Most recently he is a telecom operator, cloud architect, Go devops engineer and Salesforce Developer/Architect.
For inquiries about Salesforce strategy briefings or solution architect work please contact Vern directly at +1-510-679-1900 or vern@vernonkeenan.com.